Inspirational Layers – Wendy Dominguez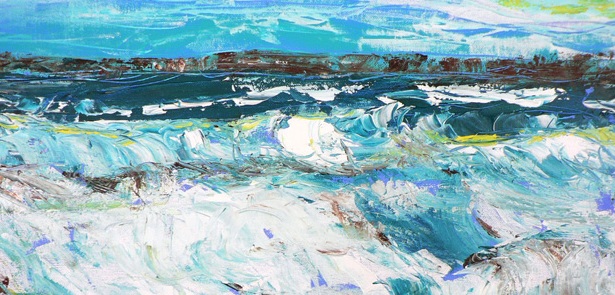 The art of Wendy Dominguez is a direct expression of an intensely vibrant, colourful and spontaneous persona
As with many women artists, it is only later on, after the duties of family and motherhood have subsided that an almost repressed urge to create is finally unleashed. As a young girl she was always making, creating something out of nothing and in recent years she has finally enjoyed the very real opportunity to resume her passion.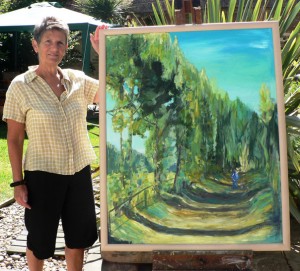 Whether, portrait, figurative, landscape or still life, the Dominguez style is inimitable, very distinct. It's semi abstract, colourful, textured with layers and movement, charmingly erratic and with a hint of humour. The first painting I saw was in 2010 at the Cavell Centre Gallery, The Field. I made a note of this painting and its creator. Quite by chance, out with art colleagues, I sat next to a new effervescent and fun lady, the artist herself, who was delighted to discover that her painting had been noted.
In a very short space of time, Wendy has gained a reputation both locally, nationally and now abroad as a serious and desired artist having exhibited and sold regularly. I think it's because she is confident about her style. She knows herself and her art and will stick with it. She has had her spirits knocked like all trained artists, having felt overwhelmed and inadequate at serious London art colleges.
Although the Prince's School of Drawing at Shoreditch really taught me how to draw, I sometimes felt bereft of confidence. The tutor seemed to sneer at my work. At that particular time, I happened to acquire a book on the work of Art Deco artist Tamara de Lempicka which gave me the strength to carry on and persist with my own style. Quite amazingly, this very same disparaging tutor eventually looked over my shoulder one day and uttered the words Keep doing this! From that moment I never looked back.
So what does Wendy keep doing? I asked her to explain to me exactly how she creates these appealing, impressionistic textured paintings, over a coffee in her lovely Castor cottage full of her work: "I can think for years about an image, a picture. There are loads going on at the same time on hold. I see the world as a potential canvas. Something catches my eye. It's the shapes, the colours, the different weathers. Then quite unexpectedly, one of these ideas bursts to the fore and I have to paint there and then. It has to come onto the canvas as quickly as possible. I'm never quite sure where it's going to take me. After a couple of hours, if the idea isn't coming alive, it is abandoned."
I never draw anything just the horizon. I paint blocks of acrylic colour with a palette knife, reds, blues, yellows, anything rich and distinct. I love working with a knife as it gives relief and texture.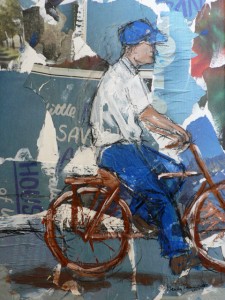 I notice however that on nearly all of her paintings there are different coloured layers coming through as if from behind. She explained. "I always start off by covering the canvas with a base colour usually the opposite colour to what I envisage or what I love to do is use an abandoned painting as the base. It's stippled, providing an already made texture with light, shadow and movement coming through the superimposed creation. The bits underneath are as important as what's on top. For each painting at some point either before after or during, I start making massive almost erratic strokes with the knife up and down and from side to side. This is what gives all of my paintings movement…even the still lifes." She gesticulated with great sweeps of her arm. We were both wide eyed and burst out laughing, for Wendy has a great sense of humour and says one should never take oneself too seriously.
But Wendy is very serious about her art. She has been diligent in her quest to develop her techniques, attending regular art and life drawing classes, gaining inspiration from her tutors' constructive criticism. The blocks of Picasso, the unfinishedness of Monet and the unusual coloured faces and nudes of Hockney have also inspired her.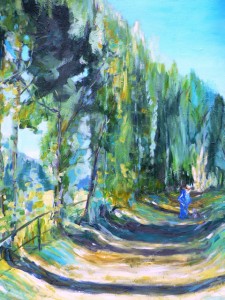 Wendy's work can be viewed at her home studio in Castor by prior appointment. She is always happy to talk about her work and there is a story attached to each of her creations. She is exhibiting at the Visitor Destination Centre, Bridge Street, Peterborough; East Gallery, Leicester in March-April, the Still Working Exhibition, Victoria Hall Oakham 6th -13th May, and the Peterborough Artists' Open Studios in June.
07779 296457
Leave a Reply