Designed Domes of Determination – Hannah Souter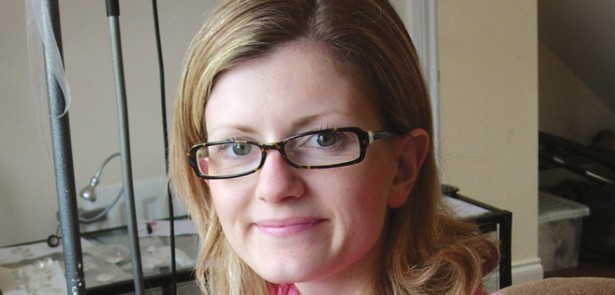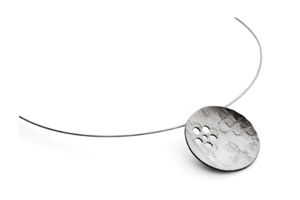 Artists who have sought to perfect their craft can usually relate stories about their resolve at key points in their artistic journey: the rejection of what is expected, the determination to adhere to specific pathways. Hannah Souter, jeweller and designer is one such artist.
Most of Hannah's contemporaries went on to study A Levels while she, against popular opinion, insisted on a more traditional vocational course, namely textiles at Cambridgeshire Regional College. Although she had a passion for textiles, she soon realised the orientation of the course was not for her. It was at this point the seed was sown for the exquisite pieces she creates today.  'At the college, I found the metalwork department and I never looked back!' she explains. 'I began to nurture a real love for design through the medium of metal. But I knew I needed to persevere with the textiles course to get to where I wanted to be.'
Hannah graduated with a first class honours degree in goldsmithing, silversmithing and jewellery design. Her commitment had been such that she won an award from the Worshipful Company of Goldsmiths. She was then accepted into the highly prestigious Bishopsland, known as the Sandhurst for Silversmiths, for a one year post graduate residency. 'I had a unique opportunity to perfect my craft as well as building up indispensable contacts with important exhibitions and galleries. It was the perfect springboard. The highlight was being invited to craft a silver fish slice to exhibit alongside the Gilbert Collection at Somerset House.'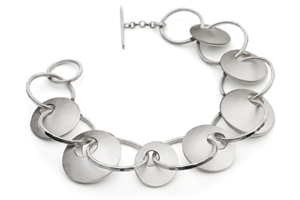 Hannah became hooked on intricate work, loving the control she can attain with individual small pieces. With this focus and passion, she has worked relentlessly to develop distinctive contemporary jewellery collections based on tactile three dimensional shapes, more specifically dome shapes – now her trademark. 'A sphere is so complete, satisfying and tactile,' she adds, standing in her well- ordered but busy workshop. She explains to me how from a flat sheet of silver, she painstakingly creates, through shaping, soldering and filing, beautifully sculpted and textured domes of precious metal, involving varied processes and finishes: satin and oxidised domes, textured domes, etched domes (launched this year) and lace imprinted domes. Intriguingly the inspiration behind the lace design was the discovery of a box of beautifully designed antique lace in her great uncle's house. I love this transformation of an antique pattern into an altogether more modern design . . . a textured vintage imprint in the smooth contemporary metal.
So rare in artists, Hannah through trial and error has come to understand her product and market well. Although she exhibits and sells in twenty some galleries throughout the UK and important specialist trade and retail fairs, she explains that she never wants to lose sight of her individual craft, preferring to create each piece herself rather than expanding and employing studio assistants. Her clients love her direct and personal relationship with each creation.
Hannah's jewellery can be viewed and purchased at the following local outlets: Made Gallery, Uppingham, Robert Fogell Gallery, Stamford. She is also happy to talk to clients about commissioning one off individual gold, silver and platinum silver pieces; engagement and wedding rings, even silver spoons for christenings. See her commissioned jewellery archive at www.hannahsouter.co.uk
Contact Hannah Souter
07789910928

www.hannahsouter.co.uk
Leave a Reply