Xidus Pain | Book of Xidus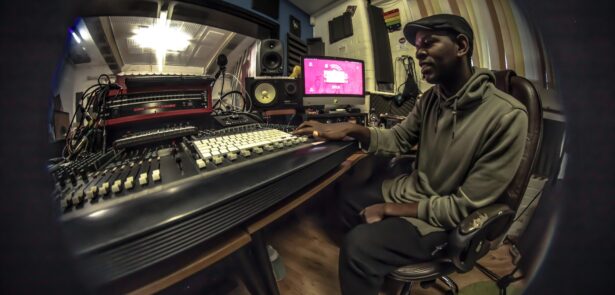 Xidus Pain is an award-winning music practitioner, rap artist and a hip hop educator. Mentored by hip hop legends Sugarhill Gang and Grandmaster Melle Mel, he's performed at countless festivals and venues all over Europe including The Great Escape, BoomBap Festival and the Royal Albert Hall. One of the directors of music charity Beat This CIC and manager of Generation Hip Hop UK – a global youth empowerment and development programme – he is a tireless worker in the community and beyond, using his art to educate, inspire and bring people together. In 2021 he was recipient of the AIM (Association of Independent Music) Local Hero Award presented in association with the BBC. He's also a fiercely proud Peterborian. Moment editor Toby Venables talked to him about his work, his heroes and how he's putting Peterborough on the map.
You maintain a packed schedule of teaching and workshops, but I read recently that you also produce an album a month… Can that be true?
Every single month for three years I've put out a project which has at least seven songs and at the most 21 songs, all new. For one of them I asked people that were on my Facebook to get involved and send me voice notes. And I did one full album in three days. I was just testing myself; I've been testing myself for three years, improving my skills, doing an album every month without fail. I've actually done lectures on this for Wolverhampton University – I even did a lecture at Howard University in Washington in the States. I loved that because I was reading a book called The Beautiful Struggle by Ta-Nehisi Coates, and the book mentions Howard University – that's the university he went to. I'm a big Marvel fan, and Chadwick Boseman, rest in peace, went there as well, so it was nice to be able to do a talk and reach out to the students, and have them ask me about lyric-writing and my African roots.
Music is something you can easily continue to do during lockdown, but face-to-face classes and workshops… not so much. How did COVID impact upon that side of your work?
Before COVID I was working for an organisation called Finding Rhythms. Basically I was doing workshops in prisons, working in Chelmsford on these projects where we work with the inmates for a week, Monday to Friday, and then we make an album from scratch with them. And then, also, they get a qualification at the end of it – a BTEC in Music and Production. So I was doing that. And they were approaching Peterborough prison to start doing some workshops there, but then we went into lockdown. Also, someone who is quite high up within the prison system had sat in on one of our sessions, because she had heard some music from it, and she thought it was amazing. She
was going to share it with a primary school and different groups from within the area, then a few politicians got involved and we were meant to do a performance and a speech about what we do within the prison system. But then that all stopped. Then I had some contracts from Russia, about delivering lyric-writing workshops. That had to stop. Also, I was going to be part of a global summit for an organisation called Hip Hop Loves, who are based in New York. The head guy is Rene John-Sandy who managed the Spit Kicker tour, which was a big tour that involved rappers Talib Kweli, Tribe Called Quest, Phife Dawg, Common, De La Soul… So, he's big within the industry and his knowledge is extensive. He's based in Rio, so we were planning to do a massive global summit in Rio, getting together loads of different MCs, rappers, performers. Yeah. That got cancelled because of COVID. Loads of workshops and performances that I was meant to do got cancelled and put on the backburner as well. So it did stop a lot of things.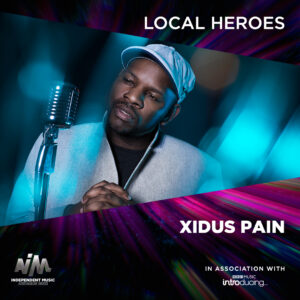 You don't seem like someone who is content to sit still.. What did you find yourself doing instead? And did it push you in any positive directions that you hadn't expected?
Yeah, definitely. I delivered lots of online masterclasses for local people within Peterborough, but because they were online they could also reach out to include people from around the UK. It was really good – and I learned how to do certain things and use certain programmes online, as well. So in that sense, I was learning. I also ended up doing some online workshops with organisations such as Little Miracles, who work with young people with additional needs, and learning a lot from the young people about the way they learn and how to deliver my workshops online. And even though there were a lot of restrictions, we still made it work. We had a young person in one of the workshops who was deaf. And he was only like, eight or nine, and he had just come from a sign language workshop. This little boy was feeling left out, and then his mother explained about the sign language workshop, and he ended up signing the rap that we wrote together as a group. And for me, that was like a whole different experience. I was learning from a young person, and we're all having fun. And that boosted that young person's confidence, because he was teaching me, and it was really fun for the group. So that, for me, was a major highlight. I was on these online panels as well, which were amazing; talking about hip hop and mental health and education within hip hop, and I don't think we would have thought to do the panels the way we did if it wasn't for COVID. It ended up bringing together a really diverse group of people – some in Indonesia, some in New York, some in London – all around the globe. A lot of the people that were in these online groups – like Hip Hop Loves, and Generation Hip Hop – are legends within rap. Just to give you some names, we had a guy called Chip Fu who was in legendary rap group Fu-Schnickens which worked with the likes of Phife Dawg (A Tribe Called Quest ) and Shaquille O'Neal. He actually taught a young guy called Astro who was a hit on America's Got Talent.
So it was cool to speak on education with these people who actually teach and do the same thing that I do but in different countries, and to share methods and thoughts. We also had Generation Hip Hop, where we would have online panels and get together for discussions, and those were special because we had Ndaba Mandela, grandson of Nelson Mandela, who is the chairperson for Generation Hip Hop. He was there. And we had Curtis Young who is executive producer and brand ambassador, and is the son of Dr. Dre. So we had conversations with these people, just sharing knowledge, and I gave them the invite to come to Peterborough when everything settles. And they accepted, and said 'Yeah, that'd be good!' I thought it'd be good for Peterborough, and give young people a chance to see these legends whose music they're really into.
Because you know, rap and hip hop has been the number one music for over 30 years. And it's the voice of the youth, isn't it? Whether it's rapping in hip hop, or drill, or grime, it's their voice. I think that's why I can connect with the young people the way that I do, it's because of that music and how it keeps me youthful.

Did these connections made through lockdown provide opportunities for your own creative work as well?
Over lockdown I managed to do a track with Chuck D (Public Enemy) – he features on my song Golden Ratio doing an intro, which is really cool. And I've kept in touch with the poet Benjamin Zephaniah, because we did a few studio sessions where I was doing the engineering and then we'd just talk about life. He really inspired me from when I was eight years old and I saw him come to my school. I was always a fan and followed him since. Same with Chuck D. It was just amazing to get to work with these people later on in life.
When I was on the panels, I also got to show my lyrics to Abiodun Oyewole from The Last Poets – who were actually like the godfathers of hip hop – so it was amazing to have him listen to my lyrics. He didn't even critique them, and I thought he was just being kind, not wanting to hurt my feelings, but then others showed him their work and he was brutally honest with them! So I knew what he was saying, he really meant. I was just really happy to have such a legendary figure give me words of encouragement.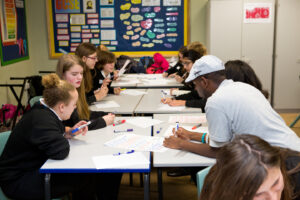 You mentioned poet Benjamin Zephaniah coming into your school. What made that moment so significant?
Seeing Benjamin Zephaniah just sparked something because it was seeing someone positive, who looked similar to myself, and was creative. His poetry just inspired me to write in the next couple of years. My older brother was a huge inspiration for me musically, but Benjamin Zephaniah was one of the first people that I saw perform poetry live. Then getting to meet him was just amazing. I was on radio, actually, and he came in and I was like 'Oh my gosh!'. I was really unprofessional… My friends took the Mickey but, for me, Benjamin Zephaniah is huge. When Nelson Mandela came out of prison, he asked for Benjamin Zephaniah. That's how huge he is!

I understand that you also got mentored by rap legends Sugarhill Gang and Grandmaster Melle Mel after literally bumping into them as a kid. What's the story there?
When I was 14-15, I used to live in Cambridge, and I did club nights at the Junction for people my age, up until about 17 or 18. And one day our rehearsal date happened to clash with Sugarhill Gang's rehearsal date. I was grounded, but I was allowed to go out there because it was like work.
So I went to the Junction – this was early, like 8am – and we were looking in to see where we could put our props on stage, and I was like 'What? That's Sugarhill Gang!' They were rehearsing with Melle Mel. I was in shock. I couldn't really move, but everyone was like 'Go and speak with them…' Eventually I went over and just said 'I'm a huge fan…' and they said 'Are you coming to the show tonight?' And I said I couldn't, because I was grounded. So Wonder Mike said to call home, and he spoke to my stepdad and said 'Hi, we're Sugarhill Gang. Is it OK if George [Xidus' real name] stays with us? We'll bring him back…' But he put the phone down because he thought I was playing a prank on him! So I rang back and said 'No, really, that is Wonder Mike…'. And he said 'OK, if you guys look after him and bring him back, he's allowed.' So Sugarhill Gang had to look after me for the whole day. I didn't leave the Junction or them until about four in the morning and I got to chill with them all day. So that's how I was mentored by Sugarhill Gang! They made me feel like I was part of the group. I thought Melle Mel was really moody and didn't like me because I was young – but at the end of the show when they did Rapper's Delight, Melle Mel picked me up and put me on stage and gave me his microphone – then I got to perform Rapper's Delight with them, which was amazing. That experience with them was like a whole movie…
What is it about rap that makes it so engaging for young people?
Rap is good because it's their voice and it's instant gratification. Singing is quite a difficult thing to do, technically, and if we were having a singing workshop you'd tend to be a lot more shy, because it's hard to hit certain notes. But with rap it's instant gratification. It's as simple as talking. It takes a lifetime to master, but you can learn to do it in minutes. Rhyme is also easy to remember, hence why you have the African griots [storytellers] that historians used to talk about in the 1800s telling stories of their tribe over a beat. They were rapping even back then! So it's not as young as people think – but it's a great way of remembering, and that's why we're using it within schools and other places.
What about rap's reputation for being about drugs, guns and gangs?
I don't glorify things like that. That's what I install in the students that I work with. It's about empowering them and helping them develop as human beings, first and foremost. Rap is about self expression and being yourself. That's a key element. When I'm doing sessions with young people, they often start off with 'Yo, yo!' like they're mimicking rap. By the end of the session, you're yourself – you're, you. That's why you have rappers from Manchester with a northern accent. That's the beauty of rap, because you talk about yourself and your experience, rapping your accent. That's why it was cool for Peterborough poet and rapper Mark Grist to come out in a suit for his rap battles. He's representing himself. And that's what he's like; he's a teacher. So it's good that he's gone out there and put a new face on it.
It seems you could be incredibly successful just doing your music – why do the teaching?
I have always had a passion to be a teacher. Even when I was like five or six I wanted to be a teacher. Bringing people together – not just rapping about it, or complaining, but actually being that bridge – is really important for me. It's important that we give these young people an opportunity. Your story is important. It's about allowing people to know that their stories are important and connecting them with other people that are into music or creating; taking them out of gangs, out of the knife crime culture, and showing them that there can be another way where you're not constantly anxious, where you're not harming anyone, where you can make money through your talents through telling your story – or just feel good about yourself.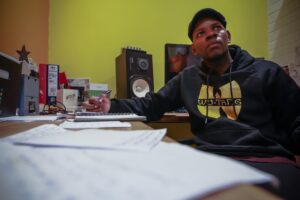 Do you have any examples of how that works?
There's a programme called Break 4 Change, working with young people who had issues at home with parents or carers. They would all come together, and the parents would go off with training specialists to speak about their experience, and then the young people would stay with me and my colleagues. And we'd ask these young people about themselves, do various exercises and we'd ask what they'd like to say to their parents, and get them to write it in rap. Then we'll come together after the program and the parents would listen to what they've created. That often brought families to tears – but in a good way. It brought them closer.
There was one student who struggled communicating with her parents. She's a young lady now, with a baby, and I saw her pushing her pushchair with her mum and they were smiling and laughing. This was evidence that the programme had worked. That's one of the main reasons why I do what I do. It brings people together and forms more of a community. It bridges that gap that happens when people have lost each other.
What's next for you?
I've been pitching some ideas to the BBC to do documentaries and a few ideas they really liked, so there may be some future projects in the pipeline, exploring language from Shakespeare to rap, grime and drill. I'm doing a TED talk on 8 Dec 2022 at the Midlands Art Centre, Birmingham which is going to be cool. I'm in talks with the British Embassy on doing some workshops again, and going abroad. So there'll be more of that. Then there's working in more schools, universities and prisons. Just continuing to help people, help communities everywhere and bring them together. To keep improving and do stuff outside my comfort zone. And continue creating.
Leave a Reply