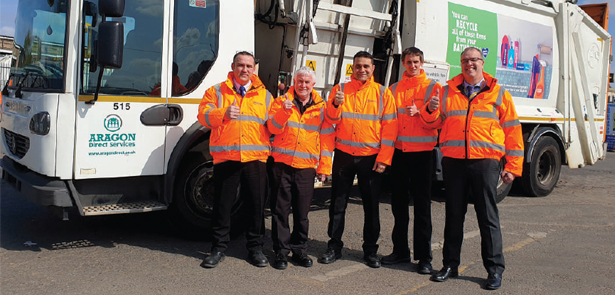 This spring has seen the launch of Peterborough City Council's new trading company Aragon Direct Services. What prompted this new direction and what does it mean for residents and businesses?
Keeping our streets clean, bins collected and grass cut are important services for the residents of Peterborough. Since early February the new trading company Aragon Direct Services, owned by the council, has taken over services previously provided by contractor Amey. Aragon Direct Services has already begun delivering these key services, taking over waste collection from April and grounds maintenance, street cleansing, home-toschool transport and building maintenance services from May. For Peterborough residents, who rely on the council to empty their bins, sweep their streets, maintain parks and recreational spaces and provide school transport, there will be little obvious change other than the name. Bin collection schedules and services remain unchanged and will continue to be delivered by the same team of frontline staff within the new trading company, Aragon Direct Services. There are no changes to the dates your bins are collected, what you put in your bin, fortnightly collections for green and black bins, weekly collections for grey food waste caddies or paid-for brown bin collections. Residents are reminded to put bins out by 6.45am, with the lids closed, and to not exceed 50kg.
New trading company
So why has the council launched this new trading company rather than simply delivering the services back in-house? There are two main reasons for this. The first reason is that the council has constraints on how it can raise and retain income from commercial operations. By creating a private limited trading company, it has more freedom to trade with commercial businesses. The fact that the company is wholly owned means the council can retain a level of control and benefit financially, helping offset some of the financial pressures that all local authorities are currently under. Therefore businesses and residents buying additional services from Aragon Direct Services are directly helping to invest in the city, protect front-line services and create more local jobs. The second reason is it will give the council greater control over how services are delivered, which means more flexibility in its approach. For example, should priorities change and schedules for a service such as grass cutting need changing, then this can be arranged more easily than if through an outsourced contract. Aragon Direct Services is the trading name of Peterborough City Council's registered Local Authority Trading Company, Peterborough Limited. As such, it is fully accountable to the council and its elected representatives.
Getting started
As Aragon Direct Services is the first Local Authority Trading Company that the council has set up, great care has been taken to ensure all the correct governance and associated requirements have been addressed, which has required input from a number of sources. Amey has fully cooperated throughout this process. Now this work has been done, future work in this area has been simplified. The council initially earmarked budget to transfer services from Amey to a new contractor in late 2017. These funds have now been used for the creation of Aragon Direct Services. There have been some additional costs associated with setting up the infrastructure of the new company, but these haven't been significant and are part of the business plan. We are keen to support the local people delivering our local services agenda and have worked with all members of Amey staff to ensure training and support have been provided while transferring them to Aragon Direct Services, resulting in no job losses. Some 95% of staff are local and keen to take ownership of the services they deliver.
Potential profits
The council expects savings of around £1million against last year's costs. This will be validated once the last services have transferred to Aragon Direct Services and full control reverts to the council. As a Local Authority Trading Company, Aragon can deliver up to 20% of its turnover outside the council. This can be via the private sector or with other local authorities. At the moment the focus of the company's activities has been on the transition of the services from Amey. Once this phase has been successfully completed more focus can be made on expanding the commercial offering. Any possible surplus funds that are generated will either be reinvested in the service or returned to the council.
Services in numbers
Aragon Direct Services will continue to: ● Clean up approximately 6,500 fly-tips ● Plant thousands of bedding plants across the city ● Look after more than one million trees in Peterborough ● Maintain areas of grass equivalent to 800 football pitches ● Transport more than 400 pupils to school each day ● Manage 1,450 allotment plots ● Collect around 350 tonnes of food waste each month
Profits for Peterborough
Aragon Direct Services will return 100 per cent of its profits back to the city of Peterborough, benefiting the community as a whole, rather than private shareholders. That money will help to offset the impact that the removal of Government grant funding has had, allowing us to maintain – and improve – council services. Our number one focus remains on continuing to improve the services we provide residents and businesses. But we can now expand our services to include commercial contracts with businesses and other organisations that will generate additional income for the council, while at the same time continuing to innovate and becoming more efficient. This includes offering services privately, such as grounds maintenance, waste and graffiti removal, building maintenance, cleaning services and much more. Kieron King, Managing Director, Aragon Direct Services  Getting in touch
Residents and businesses can continue to contact the council to discuss any services. The best way to report issues is to visit www.peterborough.gov.uk/report, email or call 01733 747474.
Leave a Reply