Who tells Peterborough's story? Why is this important?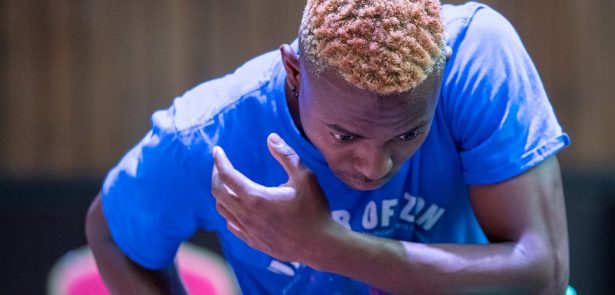 Faith Falayi, Peterborough's Young Poet Laureate & member of the Jumped Up Theatre's Youth Sounding Board, was commissioned to explore the lived- experience of a central theme of Peterborough's new Cultural Strategy – the importance for the arts scene to reflect the diverse community voices of Peterborough.
Peterborough often gets a bad rep – many claim that 'nothing happens here', that 'crime rates are too high', that 'it's not even a real city'.
The Peterborough of newspaper articles and social media posts exists in beige, black and white. The youth are bored, the aged are asleep. The city is stagnant, sluggish, static… at least according to some accounts.
But what is the real story? I would argue that Peterborough's true story is yet to be told. If this version isn't a true reflection of Peterborough, what is?
Growing up here, the Peterborough I know is colourful, loud and vibrant. People from all walks of life have come to call it home. There are languages, foods, customs and beliefs here from across the globe. Poets, artists, musicians, dancers and theatre-makers are found everywhere. Why isn't this the story of Peterborough? Why are its culturally diverse groups forgotten in the narrative?
Although Peterborough has a bustling multi-cultural presence, its diverse communities are still a minority. Despite all the richness they contribute to Peterborough's cultural landscape, cultural voices are swept aside in favour of those who exist in the majority.
When I interviewed some of Peterborough's community leaders, including Saskia Cole and Paige Fraser, co-founders of Peterborough Black Lives Matter, and Lara Samuel, founder of Peterborough-based charity, High Heritage, I found that we shared similar views.
'People are always more comfortable with what they know,' Saskia tells me. There is a reluctance
to acknowledge that 'it's not the same experience' for those from diverse backgrounds. There is little space in Peterborough's narrative for its minority groups, leading to a disconnect between the city and these communities. 'Lack of conversation means people don't feel empowered,' says Paige.
Lara Samuel's work at High Heritage supports young people from the Black community. She expresses that those 'who can shout the loudest' dominate. These voices quickly drown out all others. Often those from minority groups are shouting but are simply not being heard. Despite the marches and protests, Paige tells me that some are reluctant to accept the reason for BLM, especially its relevance to Peterborough. 'Just because people are quieter with their racism doesn't mean it doesn't exist,' she says. Multi-cultural communities are also viewed as 'quieter' and not all voices are valued the same.
Overlooking stories from a multi-cultural perspective risks ignoring a crucial part of Peterborough's identity. Certain voices are underrepresented, or worse, misrepresented. 'The Black community,' says Paige, 'is overrepresented in criminality and underrepresented in everything else.' Peterborough's cultural groups are overshadowed, drowned by a story that is not their own.
The key part of sharing stories is not in the telling but in listening. By not paying close enough attention to Peterborough's minority groups, there is a danger that we might impose upon them a narrative that doesn't truly represent them, further disconnecting communities. 'We have to listen to the voices that are here now,' Paige tells me.
Another group often left behind are Peterborough's young people. I've always felt that there weren't spaces for young people to feel heard and listened to. We have never been asked for our side of the story.
I spoke to award-winning music practitioner, MC and hip-hop educator, Xidus Pain, about the role
young people play in Peterborough's story. He described a city that was 'out of touch' with its youth and its diverse communities. 'We need a place where people can come together and talk about their cultures and share their experiences… somewhere for [young people] to go and… express themselves'. Peterborough's younger citizens are eager to contribute their stories, but their ideas are rarely listened to.
But it's not enough just to listen. Xidus expresses an opinion shared by many others: that words are rarely translated into action. He describes a 'catch-22' situation, of conversations where solutions aren't applied and therefore issues stay the same or get worse. 'It would be better if people listened and acted.' Listening must be active and responsive. The only way people will feel truly listened to is if their words have a tangible impact, manifesting themselves physically within the city's landscape.
Telling the 'quieter' stories, taking new action, sharing an accurate version of Peterborough – these are all aims of Peterborough's new Cultural Strategy. This strategy is dedicated to celebrating and developing the city's cultural and creative scene, inviting conversations between Peterborough's various and diverse groups. This strategy embraces exactly what Peterborough needs – spaces and opportunities for people, especially young people, to speak and be listened to.
'Listen and learn and people will show you what needs to be done,' agrees Lara Samuel, whose charity, High Heritage, is already building the new links that Peterborough's Cultural Strategy says are important.
Another organisation is Culture Community, founded by Precious Graham to teach young people in Peterborough about Black history. For Precious, Culture Community is an opportunity for the Black community to 'celebrate our history, not just for us to acknowledge but for others to acknowledge', creating an environment for anyone to 'ask questions in a safe space'.
High Heritage and Culture Community are examples of organisations that arose from the community itself. Recognising a lack of opportunities for young people, their leaders decided to create the space for those who need it most. 'There aren't organisations that are there to celebrate [young people],' says Precious. 'At Culture Community, that's what our aim is – us teaching them that we can be celebrated.'
Here is evidence that people care about the city and about creating a more representative story. 'I know what Peterborough means to me,' says Lara, 'But are we invested in it? If we are, we will showcase it.'
Smaller organisations can make a huge difference, but they can't do it alone. This is where the new Cultural Strategy must step in: 'We need more support for the groups that are already trying to bring culture to Peterborough,' says Precious. Peterborough's Cultural Strategy is a 10-year bridging scheme, but if we 'support the work that's already been done… then it would probably take half the time.'
There are signs that change is coming. Zimbabwean theatre-maker, John Pfumojena, is bringing his new show, Bunker of Zion to Peterborough's Key Theatre in June. Bunker of Zion imagines a dystopian world where music and culture have been banned. People secretly meet in a bunker,
a space where dance and song explode in a colourful celebration of heritage, history and culture using traditional Zimbabwe Mbira and Marimba instruments and multiple African languages.
Speaking to John about his vision for the show, he hopes it will help bridge communities and 'celebrate the diversity that exists in the UK'. He explains that it is 'more of an experience than a show… a space to experience the colourful culture of Zimbabwe. The audience is not the audience; they are part of the experience we're here to share together.'
John shares with me the African philosophy of 'ubuntu' which means, 'I am, because you are'. 'In our culture,' John says, 'community is a circle. There is never an onlooker… there is no one more important than the other… everyone's story is important.'
Bunker of Zion tells the stories of the people. Running workshops with association artists and schools in each touring location, the show incorporates creatives from the community itself, building an experience that's 'created communally'.
Storytelling is also at the core of John's work: Bunker of Zion declares that 'everyone, everywhere has a story.' For him, storytelling is about the 'balance of hearing and telling… [where] everyone equally listens, and everyone equally tells their story.'
Storytelling has the power to change the perception of a city and the perception of its people. The ethos of Bunker of Zion must extend beyond the walls of the theatre and into Peterborough itself. Sharing stories empowers people, builds confidence and bridges communities. It's essential that everyone is given the opportunity to shout and spaces to speak. Storytelling and education go hand-in-hand – the more we listen, the more we learn about each other and how best to serve everyone's needs.
We must create a new narrative where everyone is included. But, as Saskia Cole reminds me, 'We can only speak for ourselves' – only we can tell our own stories. Peterborough is not black and white. It is multi-cultural, multi-coloured and diverse, energetic and awake. Creativity is bursting through the cracks and writing on the walls. A new story is emerging, and we are the only ones that can tell the tale.
Faith Falayi, June 2022
Bunker of Zion, by John Pfumojena, is at The Key Theatre on Thursday
23 + Friday 24 June, and has been co-commissioned by Peterborough's Jumped Up Theatre.
Leave a Reply