Turning anger into action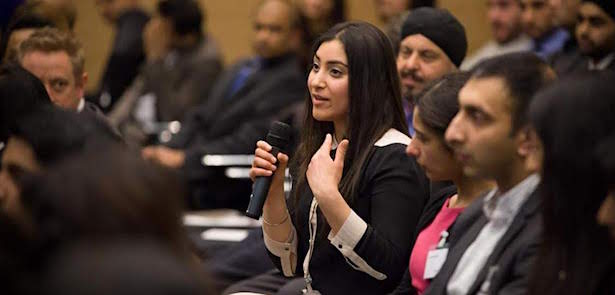 What makes you angry about the way we live? What frustrates you about Peterborough? These are the kinds of questions being asked by newly-established community organisation Peterborough Citizens, a local chapter of Citizens UK. But it's not just about venting – Peterborough UK aims to turn those frustrations into positive action for change. Moment editor Toby Venables talked to organiser Dilraj Kaur
What is Citizens UK?
Citizens UK is a national charity based around the methodology of community organising, which came fromAmerica. So when we hear of Martin Luther King and Rosa Parks, for example, we generally think that one day Rosa Parks got up and said 'I want to sit on a bus filled with white people and start a movement for equal rights…' What most don't know is that it wasn't spontaneous. She was trained in community organising, as was Martin Luther King. Similarly, Emmeline Pankhurst hired 150 organisers to start the whole suffragette movement. So, it's a methodology which is not very well-known, but Citizens UK has spread the idea in the UK. So far it's got 17 Chapters across the country, made up of alliances of local member organisations. That's thousands of leaders committed to fighting for change in their local communities. Over 450 civil society institutions make up our diverse membership in these Chapters. Our members represent faith institutions, universities, colleges, schools, trade unions, community groups and many more organisations. Peterborough's Chapter was created in September 2020.
How does it work?
What we do is we say to institutions within the city that we have a methodology of community organising, and we are fighting for social justice and the common good of our city. And the way we do this is nonpartisan, so we're not involved with any political parties or any political agenda. We want to give voice to the common person, but give power to the common person as well. As the Dalai Lama says, it's not enough to be compassionate – we also need to act. And the way we can do that is by working together. So, institutions – such as educational institutions, faith groups, charities, trade unions – all come together, and they say: 'Yes, we want to create an alliance in the city, which gives power to our people…' And we also train leaders. So, we're not a movement that is just saying 'Join this institution and do what we tell you'. We say: 'We're going to train you up to lead, and then you can spread that training'. Our ambition is to create leaders.
What are some examples of that?
The biggest story that I can tell you is the Living Wage Foundation. Abdul Durrant was a cleaner working two jobs a day, really struggling to make ends meet and provide for his family. He worked in the high-rise HSBC building in East London, and as he was finishing at 7am after working 12 hours, to go home for a nap before starting his second job, the CEOwould be chauffeured in on his six-figure salary. And Abdul Durrant thought this could be remedied if he was just being paid the living wage – because as we know, London is more expensive to live in. There is a difference between a minimum wage and a living wage, and it's also different between each city as well in different parts of the country. He was part of a union, which was part of the Citizens Alliance in East London, and he went to an assembly and he saw an imam, a priest, a head teacher, and CEOs of these charities and all his fellow trade unions in this incredibly diverse room. If you go to a citizens event like this, the first thing you do is go 'Wow, how are all these weird, wonderful people all in this one room..?' It takes people by surprise and is quite beautiful – and just on that note, people tend to be intrigued… And so he went to this delegates assembly where they were talking about issues within the area. One of the questions we ask – which is a rather provocative question is: 'What makes you angry?' or 'What makes you frustrated?' – because we can either just stew and be angry about it, or we can create an action out of a reaction, and that's part of the training that we do. So Abdul Durrant got trained up and through the Alliance sent a letter to his CEO – not signed just by him because, you know, the PA would probably ignore just one person – but a letter with the backing of all these institutions, churches, trade unions, schools, and so on. All supporting Abdul Durrant's cleaning company to ensure that they got paid a living wage. They had a meeting with the CEO and he said: 'I didn't even know this was an issue. Yes, I'd like to sign up and be living wage accredited…' That was the start of the Living Wage Foundation, which is now the sister organisation of Citizens UK it's become so big. The last statistics in November 2020 showed that it's put 1.3 billion pounds in the pockets of people today. So that's one example. And there are lots more scenarios where there have been actions.
There's a school with students who walk through a park which has no street lighting, and they feel unsafe. Through the methodology of community organising and being trained by Citizens UK, they've got the Chancellor to agree to having seven lights in this park – we've been very specific about what we're asking for. Because not only does the school feel unsafe, but so do people that go to the church, and the uni. And using community organising, getting power through all these institutions, we can present a very specific ask once they get trained. So that's the background on the national level of Citizens UK.
How did Citizens UK come to Peterborough?
Politics lecturer Tim Hall, who started teaching at UCP four years ago, was part of the East London Citizens UK for 10 years prior to that, and listening to his students he felt we needed a Peterborough Citizens. So, he started off conversations, and ended up getting funding for a local organiser, and I got employed as that organiser. I come from a teaching background. I was trained in London – I'm originally from London, and my family are all there – and then I fell in love about eight years ago and my husband asked me if I wanted to move up to Peterborough, and I started teaching at Bourne. So, when I heard Citizens UK was coming to Peterborough I'd already heard of the great work they'd done in London and was very keen to be involved.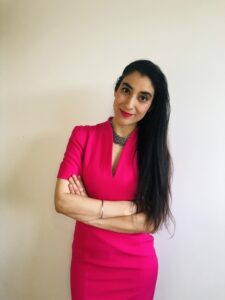 What was it that made you want to get involved?
The reason I went into teaching predominantly was because my little sister has special needs. She'd been declined mainstream education, and it made me think that we don't see disabled and special needs people in society or schools. They're just put on a bus and sent to a special school, but we don't actually see them, and there's something wrong there. That started opening my eyes from a very young age. Then, when I was 11, I got racially attacked. My dad came to help and my mum called the police – but when the police came, they arrested my dad. A white woman had also called them to say that a man was driving fast in the park, and they responded quicker to that call than my mum's call saying her daughter and her friend had been attacked. That made me jump out of my skin thinking: 'Wow, I'm really being highlighted for being a different colour. I'm being treated differently – and systematically. The system has not worked…' My dad's a deputy head teacher who is well-respected in society and has done a lot of work for the community – and still does. He's CEO of a charity now. And yet he got arrested, and not these people who were about to drown my friend in a lake. So, in essence, I was angry for a lot of injustices in my own life, and went into teaching because I felt I've got to be in the system to talk to students and young people about opening their eyes about misrepresentations within the media – and I did a media specialist course to inform that. But after 10 years of teaching, I thought, I want to do more. I felt very upset after the whole George Floyd situation, which brought up lots of racial stuff that I had gone through in my life, and I wanted to do something in Peterborough. I also have a huge passion for fighting misogyny – within not only my culture as a South Asian woman, but wider society as well – so I launched a Goddess Project. I wanted to do all these projects! But I was aware I needed an umbrella organisation to kind of lead on this, or create power to make these changes that we wanted. And I really felt alone – not making any difference. So when I heard that Peterborough Citizens, were coming to the city. I thought 'Yes, this is exactly what I need.' And I still get to teach and lead. And we've done some amazing work with young people within the last six months.
What kind of work have they done?
It started off with Thomas Deacon Academy. We led a group of sixth formers in community organising, and they created a mental health summit, because mental health had come up as a priority for a lot for young people. So we trained them in community organising, they invited all the schools across Peterborough – 12 schools attended – and they had a summit talking about mental health. The MP was invited. We always invite the decision maker as well – anyone who has any power to potentially create any change – and our specific ask was 'Can you get us a foot in the door with the CCG [Clinical Commissioning Group, responsible for commissioning the best services for their patients and population, with command of 60% of the NHS budget] so we can start having conversations about the issues of mental health within Peterborough?' We've met with the CCG. And they've been really forthcoming with the students saying 'We really want to work with you…'
How does this process actually work?
We use a methodology called the cycle of action, with five steps of social change. We begin by organising – so, we organised a group of TDA students, and we trained them up. They identified mental health as the action that they want to lead on, and then invited all the other schools and organised them, and asked them to run a listening. So they asked: 'What are the biggest issues in Peterborough for mental health?' Each school listened to about 500 students – so we listened to several thousand students in total. The biggest issue that came up was access – that they have no idea how to get any help. So, that's a very specific ask; that there's an issue with accessing mental health. We then planned an action. We planned the mental health summit, invited all the schools, the students, and the local MP. And then the action was the mental health summit itself, where we shared testimonies. So, we do research and give statistics but the main power is stories – the power of storytelling, and students actually sharing their experiences. So we do training on how to listen for stories, not just people ranting with random opinions about things that should be changed, but asking 'Why is it important to you? What's your experience and story behind that?' And then we negotiated with the decision maker. So, we said to Paul Bristow 'Will you get us a foot in the door with the CCG?' He was fully in support, and said he'll also bring up issues in Parliament. And we did end up getting a meeting with the CCG, and since then, the students have been working with the CCG to create better access. The CCG has a website called Keep Your Head and they've admitted that it's terrible… It had never occurred to them to ask young people what they think of it and how they access it! The key value of Citizens UK is to speak to the people, not about them, and the CCG have been very welcoming about that. It's been great. So now the students are giving their feedback and talking to the web designer on how to improve it. Can we have an interactive map to see where we live? Do we need to take a bus to access certain mental health services? Which one is the nearest and could we just type in our postcode to find out? So that is all going ahead, and they've agreed to our asks. And it also spurred BBC Radio Cambridgeshire to create a series of a talk show called Happy Heads where they are talking about mental health of young people, hosted by young people – the young people we've trained up.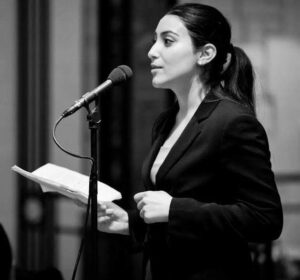 What happens next for you?
On a bigger level with Peterborough Citizens, we've also got the institutions of Peterborough College, ARU, UCP, TDA, Kings, the Peterborough School, the Cathedral, a few churches in Orton, the mosque and Jumped Up Theatre, as well as Soul Happy all confirmed as part of the Alliance. In October, we had a listening launch where every institution asked two questions. One is: 'What makes you angry about Peterborough?' And also 'What is putting pressure on you and the people that you care about in Peterborough?' And we had a delegates assembly in February, and the leaders of all these institutions told the top issues that came up, and then everyone that attended voted on the top two issues that we want to campaign for. Mental health and crime and safety were the top two. So currently, we've got a campaign team that is meeting every fortnight to talk about how we're going to organise ourselves and we're also researching what ask we're going to work on and campaign for. We've also got a mayoral assembly which the candidates for mayor will be attending where we tell them that Peterborough Citizens are here and ask 'If you win the mayoral election this summer, will you pledge your assistance and support with whatever campaigns we run?'
How has COVID affected what you're doing?
I got hired right in the middle of the pandemic in September. And they did that because Citizens UK realized that social justice work is still needed and wanted over the pandemic. And I think a big thing is that people are in their homes, and they're having this feeling of wanting to feel connected. So when we did our listening launch, we had over 100 people turn up on Zoom. I definitely don't think that would have happened pre COVID. Nobody had really heard of Zoom until the pandemic hit, so access was a big thing, but then COVID has exacerbated the feeling of people wanting to connect and still feel like they're doing something in a sometimes hopeless situation.
It's been a tough time politically and socially. Are you finding that young people are disheartened or is it actually emboldening them?
I think it's really individual to schools, and what opportunities that they have been presented with. I hear some students just not motivated to do anything. And then on the other side, what I've experienced with Peterborough Citizens is that when we've given these students the opportunity to not only talk about what makes them angry and frustrated, but to actually act on it, that there's been a massive appetite for it. They've really valued having this platform, and also they've just met a whole new network of other students from other schools – because we're working across so many schools in Peterborough – and they've created action groups on their social media. They're talking to each other. They're creating agendas. It's given them purpose and a community of like-minded people that have been able to connect during the pandemic. So not all schools have been proactive, but my experience with Peterborough Citizens is that they've really flown with it and valued the opportunity to do something and have a new community of people and students.
Peterborough Citizens launches officially in September 2021. To find out more, visit: www.citizensuk.org/chapters/peterborough/
Leave a Reply