Tackling food waste in Peterborough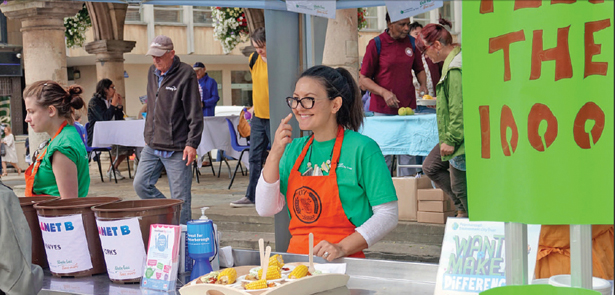 One charity is making it its mission to reduce the high amounts of food waste in the city in order to achieve a big environmental impact
The charity PECT is leading a campaign to reduce food waste in Peterborough, after being chosen to be a Sainsbury's 'Discovery Community' as part of the supermarket's 'Waste Less, Save More' campaign. The environmental charity has received a grant to carry out a variety of activities across the city to tackle food waste. 'Waste Less, Save More' was launched by Sainsbury's in 2015 to help combat the growing issue of food waste. Following a 12-month trial in Derbyshire, the retailer has unveiled a further £1 million investment to support 147 UK-wide projects – which includes this one in Peterborough. 'The average family throws away £700 worth of food a year,' explains PECT's Communities Team Manager Karen Igho.
'With this project we aim to supply local residents with the knowledge needed to cut down on their waste and save on their food bills. By delivering a combination of awareness raising events as well as practical cookery skills sessions, the cumulative impact will be greater.'
The exciting activities running as part of the project include installing two community fridges and a freezer. These fridges will store excess food from farms and supermarkets, which local residents can then take home to feed their families. To ensure the food waste message reaches hundreds of local school children, PECT is also rolling out Fab Food in 15 Peterborough schools, supporting teachers and developing resources that help embed knowledge around food waste into the curriculum.
In addition to this, eight Food Saver Champions have been trained to run waste saver and cooking sessions. Hubs will receive a small grant and resources to help them along the way. In August, the charity also ran a 'Feed the 1,000' event in Cathedral Square, to show people the value of food that would otherwise have gone to waste. The city has a strong network of organisations with the expertise, knowledge and passion to support food waste projects. 'Waste Less, Save More' brings PECT together in partnership with Cross Keys Homes, FoodCycle, Peterborough City Council, Public Health's Healthy Schools programme and primary schools across the city.
The first Community Fridge in Peterborough
In a bid to tackle high levels of food waste and to redistribute food to those most in need, PECT launched a community fridge project in Peterborough at the end of 2017. Two community fridges and a freezer are being installed at easily accessible locations across the city, to enable local residents to access free food – sourced from farms, cafes, stores and supermarkets – that would otherwise have gone to waste. The first fridge to be launched, and now open to the public, is located in WestRaven Community Café (Hampton Court, Westwood PE3 7LD). 'Around £3 billion worth of food is wasted each year by the food industry,' explains Karen. 'With this project we aim to supply local residents with surplus food to help ease deprivation, provide residents with access to nutritious ingredients, and to prevent food waste.' Any member of the public can access the fridges to gain access to the excess or surplus food, which is collected and distributed by the new food waste community interest group Food for Nought.
PECT aims to 'Feed the 1,000'
In summer 2017, there was a fantastic opportunity to get outside and a enjoy a delicious, free meal at the charity's 'Feed the 1,000' event, which took place in Peterborough's Cathedral Square, as part of the wider two-week Green Festival initiative 'Planet B'. As the title suggests, the aim of the picnic was to feed 1,000 people in the community with locally sourced food, making use of ingredients that would have otherwise gone to waste. The event highlighted how much food is wasted by the average family each year – equivalent to 1,000 portions of food. Members of the PECT team and volunteers were on hand to serve up not only the food, but some advice and recipe ideas for using leftovers and ways to cut food bills.
In addition, guests attending the event were encouraged to share their own ideas on reducing food waste with recipe ideas and other creative solutions to making better use of the food we typically throw away. The event used 1.5 tonnes of vegetable produce, two large sacks of bread, and 12 dozen eggs – all of which would normally have gone to waste. Karen said: 'I've been stunned by the food waste I've discovered in the city since working on this project, but also heartened by the organisations who are willing to donate food rather than see it go to waste. 'We are particularly proud that every portion served was accompanied by a conversation about food waste issues and also of all our volunteers who worked extremely hard to make this event happen.'
Get involved For more details about PECT's 'Waste Less, Save More' activities, visit www.pect.org.uk or call 01733 568408. Donate to the charity or register your interest in volunteering online. You can also find the charity on Facebook, Twitter and Instagram. 
Leave a Reply