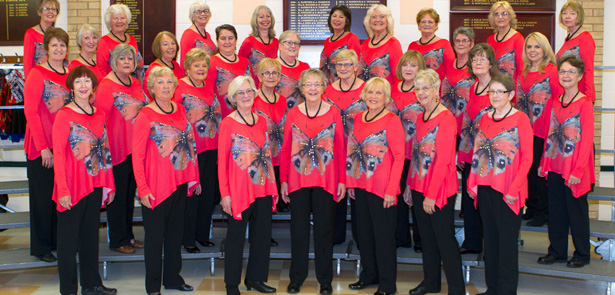 The name 'Sing-chronicity' (derived from 'synchronicity') gives you a clue as to what we are about. 'Synchronised singing' or 'singing in harmony' is what we do as a ladies four-part harmony chorus
We have been singing together now for around nine years and we are still loving every minute of it. That doesn't mean it's been easy, because a lot of hard work is involved. Singing in a chorus rather than a choir is extremely challenging, which is what makes it so much more enjoyable. Rather than the easy option of straight singing with musical accompaniment and reading the words, we do so much more! Singing in four parts – bass, baritone, lead, tenor – with no musical accompaniment is a big enough challenge in itself, but throw in a few moves, facial expressions, learning the words by heart and it becomes a true performance. You feel more like an actor on stage trying to convey, through movement, expression and intonation, all the emotion and feeling of the songs to the audience.
There is so much involved and so much to go wrong, which is why all the hard work in striving to accomplish the end result – a quality performance that the audience appreciates – is so rewarding. We all enjoy singing and our aim is to share that enjoyment with as many people as we can. As singers, the choice of songs we sing is our primary focus and we try to choose songs that people can identify with emotionally.
Our repertoire covers popular songs and songs from musicals, ranging from early songs such as Under the Boardwalk (The Drifters) and Let it Be (The Beatles), songs from musicals such as I Will Follow Him (Sister Act) and I Dreamed a Dream (Les Miserables), right up to more recent songs such as The Climb (Miley Cyrus) and All About That Bass (Meghan Trainor).
Our main asset is our musical director, because he is the one who keeps us all in sync! He works very hard with us and when we are performing all eyes are on him to guide us through the song at every level. Throughout the year we sing at various functions – charity events, weddings, parties, local festivals, local group meetings, care homes, etc. Recently, we have put on our own shows and also taken part in the Peterborough and Oundle Music Competitions, where we have won twice in our category! As a group of around 30 ladies we have a lot of fun, both at rehearsals and socially, and we welcome any other singers out there who might be looking for a different kind of singing experience.
● We meet on a Tuesday, 7.30–10pm at Napier Place Community Centre, Orton Wistow PE2 6XN. Check out our website at www.singchronicity.co.uk for further details, or contact Jude Valentine by email at or telephone on 01733 346502.
Leave a Reply