Plans for The Vine library, culture and community hub progress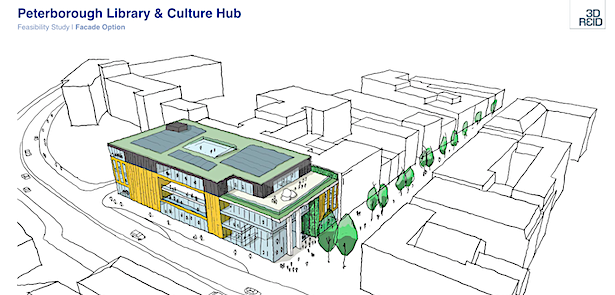 Plans are being developed to create a new city centre library, culture and community hub in Bridge Street, which will be a must-visit venue for residents, business and visitors alike.
Situated in the 89,000sq.ft three-story TK Maxx and former New Look building on 62-68 Bridge Street, the new hub – which will be named 'The Vine' – could accommodate:
A brand-new city centre library
Business space with specialist support for start-ups businesses in digital, creative and design sectors with access to meeting rooms and rehearsal studios.
A learning resource centre which could include testing and assessments for T Levels (recognised technical based qualifications).
Gallery space for artists.
A community café
A visitor information hub
A study area for young adults
A creche with informal learning spaces, such as a group reading room for parents with young children
Meeting rooms for council/community use
Support for voluntary sector
Final costings for the scheme are being developed and will be funded by the government's Towns Fund. The hub will be made possible thanks to the purchase of the building by Peterborough City Council for £3.98million which took place in 2020.
The building's aim is to drive visitor footfall that will be of wider benefit to retail and other businesses in Bridge Street and will be ideally positioned in a key route from the city centre, towards the new University and the refreshed Embankment/River Front and Fletton Quays.
Matthew Bradbury, private sector chair of the Peterborough Towns Fund Board, said: "The Vine will have a use for all, including residents to meet up with others, socialise and access culture and services, tourists looking for information on where to visit in our city and start-up businesses and voluntary organisations looking for support or a base to work from."
Councillor John Holdich, leader of Peterborough City Council, said: "This is a great opportunity to take a much-loved city centre building and create a new landmark for our city centre, driving traffic through from the new University and Fletton Quays."
Public consultation on the plans for the Hub will be taking place in 2021/22.
Leave a Reply