Peterborough Innovation Week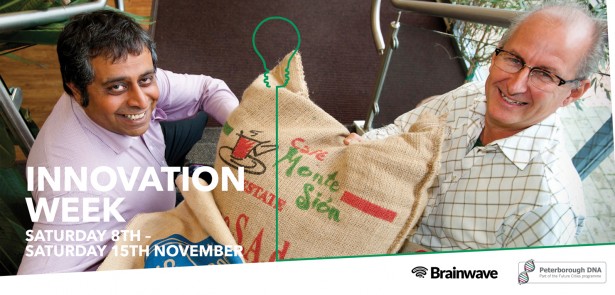 Peterborough Innovation Week runs from 8 – 15 November with lots of events and activities for local people and businesses to get involved in
Run by Peterborough DNA the aim of the week is to celebrate and encourage creative thinking and innovation and to help get good ideas off the ground.
Steve Bowyer explains, 'Peterborough DNA is all about shaping a smarter, more sustainable city – a better place to live and work. Encouraging new ways of thinking to address local challenges is a key part of our work. Through advice, funding, and the development of new tools we're already supporting communities, entrepreneurs and businesses to take ideas and turn them into reality.
'We hope that Innovation Week will get more people involved and we've got lots of events planned to get the creativity flowing.'
Innovation Week Events:
Saturday, 8 Nov: Children's University – An interactive workshop for children to learn more about the environment and the importance of sustainability
Monday, 10 Nov: Smart Supper Workshop – The first of two events inspiring young people to think innovatively about solutions to city problems.
Wednesday, 12 Nov: Brainwave Innovation Workshop – This event focuses on skills development by gathering together a cross section of people from the local business community, entrepreneurs and community groups and getting participants to think creatively about solutions to specific city challenges.
Thursday, 13 Nov: Smart Supper Presentation Evening – Giving young people the chance to pitch their ideas for local innovation to a 'Dragon's Den' style audience. The winning team will receive £150 to help launch their idea. Tickets are available at £10 each.
Saturday, 15 Nov: Open City Hackathon – We're inviting Peterborough's creative and digital people to come together for a 24hr Hackathon and help design content for an exciting new interactive screen that will be installed in the city centre.
There are a number of funding opportunities available through Peterborough DNA including up to £20,000 to support the development of innovative ideas and up to £50,000 to test-bed products and services in live business environments.
To see all available funds go to: https://www.brainwaveinnovations.co.uk/funding
To find out more about Innovation Week and get involved go to https://www.brainwaveinnovations.co.uk/peterborough-innovation-week/ or call Juliet on 01733 317404 or email
Peterborough DNA and University Centre Peterborough are working in partnership to embed an aspirational and innovative culture within the city.
Leave a Reply