Perkins: Part of the Community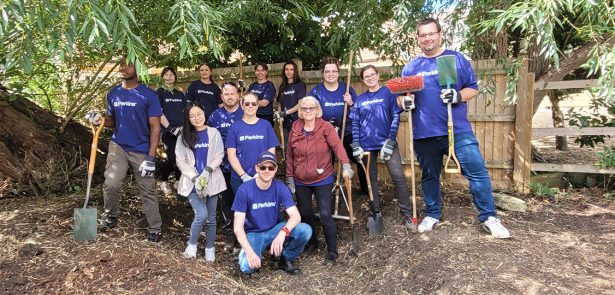 When Frank Perkins founded Perkins Engines Company Limited here in Peterborough 90 years ago, he didn't just create one of the world's most respected engineering companies – he created a living, community legacy. We spoke to Julia Edwards, internal communications manager, Vanessa Relph, Peterborough site communicator and Corporate Social Responsibility (CSR) coordinator, and Annette Ward, Perkins' external communications manager, to find out more about the extraordinary amount and range of charitable outreach work, undertaken by Perkins employees, every year.
Frank's altruism, his desire to 'give back to Peterborough', it's like a continuing thread running through the company to this day, isn't it?
Annette Ward: Yes, and that bedrock was there in terms of the employees who carried it on. And, you know, we're obviously here to talk about Perkins, but for Caterpillar, who has owned Perkins for nearly 25 years – charitable endeavours are a key part of their ethos, too.
It's got to feel like a really positive benefit for anyone thinking of applying to work at Perkins?
AW: We'd like to think so, yes! We do a lot, as you can see from the summer we've had. There's a new generation of potential employees, and one of the first things they ask is: what's your CSR strategy, what is your approach to sustainability, and so on?
So if we at The Moment were to come and get jobs at Perkins, would we have a choice of how we could interact with the charities? Could we volunteer on-site as well as fundraise, for example?
Julia Edwards: We have two core charity partners – CPSL Mind and Sue Ryder Thorpe Hall Hospice, who we do a lot of fundraising and volunteering for. We also support employee fundraising for any other charity that they choose, and we match-fund that as well. We encourage employee volunteering – we have a volunteering policy where employees help in various organisations. That includes our graduates who often opt to become 'STEM ambassadors', because STEM is very close to our hearts, of course being a manufacturing business.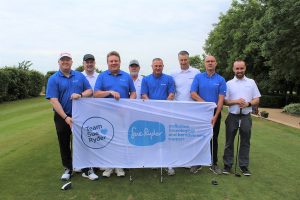 Can you tell me a bit about your Charity and Sponsorship Team?
Vanessa Relph: The Charity and Sponsorship Team and Fund is something I look after. It's split two ways – we look after the charity partners that we've mentioned, and then there's the rest of the community support with which we help wherever possible. We encourage applications from local charities, communities and organisations, through our employees and directly. Each year we help wherever we possibly can. The team meet bi-monthly and represent a cross- section of the business, and a lot of them have been part of the team for a long time – they feel very passionate about it!
Tell us more about the work you do with young people through schools, colleges and apprenticeships.
VR: As part of our STEM strategy, we have supported First Lego League, which involves primary schools, and also British Science Week. These are annual events that we've supported in the community, approximately ten schools locally for First Lego League and six schools for British Science Week.
JE: We also partner quite closely with what was known as the Skills Service [now Growth Works]. It's so important to us, because it acts as an intermediary for all the schools in the LEP (Local Enterprise Partnership). They do all of the liaising between schools – for example, if a school needs volunteers to go in and help children with mock interviews, or someone to come in and talk about engineering at a careers fair, Growth Works contact us with the requests.
It must be exciting building up a relationship with the new university!
JE: Yes! We have held a number of meetings with the ARU (Anglia Ruskin University) management team, sharing our business needs in terms of skills development and employment opportunities.
Following a recent visit to the new university, our engineering director Matt Nurse said it was fantastic to see the investment in the new university campus, which will benefit the city of Peterborough and us as a local employer. ARU are planning to offer a range of Level 3 to Level 6 apprenticeships, which very much align with our STEM skills requirements, and we are really looking forward to collaborating with them to help with upskilling our employee's and our early talent recruitment.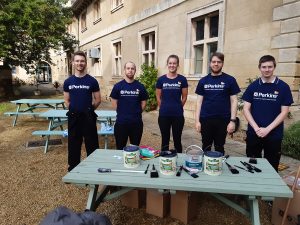 It's a great example of how cutting edge tech used in business is also having an effect in the community – you're reaching out and helping schools and colleges to shape the learning that they're providing.
JE: Absolutely. We used to run a programme (interrupted by the pandemic) that was a teacher placement. For one week we brought teachers into the business and went through each discipline, providing them an overview of the business where leaders and employees spent time with them, giving them an understanding of what a modern manufacturing organisation looks like and the required skill sets.
That's a fantastic community resource!
JE: It was brilliant!
What have been your favourite community projects, that you personally have enjoyed the most?
AW: One of the most exciting things has been our charity partnerships, over the last ten years. Those partnerships tend to stay in place for two to three years, and we get to know many of those charities so well, and so closely over that time. But it's not just been about what we can do for them, and how we can help them – it's about what it gives the volunteers, our employees, as well.
NILESH PATEL
Senior Community Fundraiser Sue Ryder Thorpe Hall Hospice

Nilesh Patel, Senior Community Fundraiser at Sue Ryder Thorpe Hall Hospice, shared just how much Perkins' support means to the charity, "We're extremely grateful for the immense support of our friends at Perkins, who are always completely engaged and supportive of our work here at the hospice. Whether through their incredible fundraising support or by staff volunteering their own time and skills, Perkins are actively involved in helping our charity be there for people when it matters.

"From volunteering in our hospice grounds, painting and decorating and re-gravelling our car park, through to staff taking part in our fundraising events like pounding the pavements of Peterborough for the Great Eastern Run or entering multiple teams in Peterborough's Dragon Boat Festival, Perkins' support means the world to us here at Sue Ryder."

"We're especially grateful for Perkins being our sponsor for this year's Starlight Hike Peterborough, which takes place on Saturday, 22 October at the Ferry Meadows Country Park. We're thrilled Perkins staff will be joining us on the night too, providing valuable volunteer support."
BRIAN PEARCE MBE FRSA
Volunteer & Trustee, Railworld Wildlife Haven

Perkins have been absolutely brilliant – in fact I would go so far as to say we couldn't have created the Railworld Wildlife Haven without them! They were the inspiration to create the place and helped in every way, shape and form – including in 1998 when they arranged for their parent company, Caterpillar, to provide us with the Caterpillar Demonstration Team: two machines and two drivers for five weeks, to dig out and landscape the ponds and waterfalls.

They provided employees for team days – must be 100 a year – and helped financially with the signal box bird hide and viewing platform.

I worked for Perkins all my adult life, from 1965 to 2009 (I am now 75, and retired) and loved it. I was brought up from my apprentice days helping others – we always have done at Perkins, it's bred in us!
GARY SUTCLIFFE
Fundraising Manager, CPSL Mind

"I love working with Perkins, one of our corporate partners. They are willing to get involved in anything we are promoting, and it was brilliant to see six of their staff jump out of a plane in July at a Peterborough Airfield for the Perkins Skydive Sunday, raising thousands as they went. We've also had a bake sale, Yorkshire 3 Peaks, and so much more. They're really dedicated to our cause, and great to work with – thank you, Perkins!"
LOCAL CAUSES PERKINS HAVE SUPPORTED THROUGHOUT 2021 AND 2022
CROPS – Perkins donated to this charity mentoring recruits, training and supervising volunteer mentors who wish to support young people in local secondary schools who are going through difficult times.
Community 4×4 Response – This charity was set up to support Lincolnshire by providing volunteers in capable and well- equipped vehicles during times of crisis, major incidents or emergencies. Perkins donated towards urgently required specialist communication devices.
Defibrillators For All – Registered charity providing defibrillators for public access to the town of Whittlesey and surrounding areas. Also provide training and education in the use of defibrillators and CPR. Perkins donated towards the maintenance of their current defibrillators.
Parnwell Community Hub – 'Parnwell Together' is a community development project, promoting integration, increasing wellbeing and developing community resilience. Perkins donated to their 'Easter Egg initiative' – delivering an Easter egg (in a secure way) to every household in Parnwell during lockdown.
COPS (City of Peterborough Swimming Club) – Perkins donated to support the purchase of heart rate monitors for the swimmers.
Up The Garden Bath – Perkins provided funding for two bathtub planters at Railworld Wildlife Haven and Kids Country. These will be used to educate people all about recycling, gardening and sustainability.
Stamford Rotary Club – Perkins donated towards the Stamford Santa Fun Run, an event that raises funds for local charities.
Sports Connection Foundation – Perkins donated towards their Sporting Wishes programme, supporting local families.
Peterborough Rink Hockey Club – Perkins donated to help fund the purchase of several pieces of equipment.
ICA Italia (local under 11s girl's football team) – A donation from Perkins provided equipment for a new under 11s girls' team.
Peterborough Town Cricket Club – Money was donated for five Level 1 cricket coaching qualifications for junior and girl's sections at the club.
Deeping Swimming Club – A donation from Perkins to enable the club to get a volunteer coach trained to a Level 2 standard.
Deeping Rangers Football Club – Perkins made a donation towards a football kit for the children to play their team games against other teams in their league.
Gedney Hill Golden Link Club – Funding was provided by Perkins to help pay for the rent on the room the Club use, plus overheads.
Peterborough Rugby Club Girls Academy – Perkins provided funding towards training for the new season, starting in August 2022.
Dimension Skatepark – Funding was made towards the cost of a sign and bench at the skatepark's new multi- wheeled sports facility in Bourne.
New Ark Play Association – Perkins made a donation to renew and update the animal enclosures and play equipment.
Leave a Reply