Pboro City Council COVID-19 updates 2 & 4 June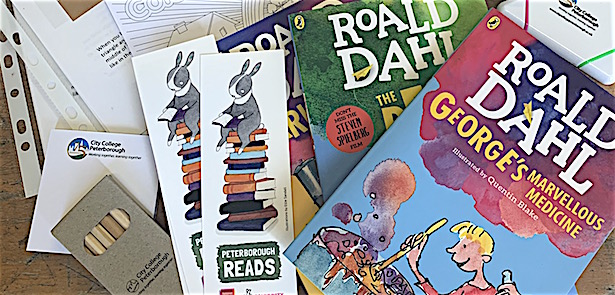 UPDATES: 2 & 4 June 2020
Keep Active with Oaks – Judith says go for it! – Simple strength and balance exercises twice a week are proven to keep you stronger for longer and ready to enjoy the great things you like doing when life returns to normal.
Whether in the future it's playing with grandchildren, shopping, or socialising with friends, Cambridgeshire County Council and Peterborough City Council are encouraging people to keep active at home so they'll stay strong, steady and be able to keep doing the things they enjoy – for longer.
Judith, 70, who lives near Ramsey, has been doing the Keep Active with Oaks classes every day during the stay at home situation since finding them via Facebook – as the COVID-19 outbreak meant she was no longer able to go to her regular seated-fitness classes at Ramsey Library.
Judith is waiting for a knee replacement – her original operation was cancelled at the end of March due to the coronavirus outbreak. However, doing the exercises with Lou from Oaks Activities sets her up for the day, puts a smile on her face and cheers her up. Judith shared a video of herself taking on a Seated Beginners Class. She also shared her thoughts about the classes and what they mean to her and has some advice for anyone who might not be sure if online classes are for them.
Judith said: "I have a good laugh and I work hard. I used to go to keep-fit years ago and every class was the same, so it was boring, but with Lou every class is brilliant.
"I use a walking stick at the moment and I can only walk so far before wondering if I'll be able to get back. So exercising at home is the perfect solution for me and Lou is fantastic. She manages to cheer me up with her new routines every day.
"I have to do exercise to prepare for my hospital appointment so watched my first Keep Active with Oaks class on YouTube. I now watch them through Facebook, which I can do via my television or sometimes just on my mobile phone – which I put in front of me while I exercise, like you can see in my video.
"I like the 9.30am class but sometimes it doesn't suit me to do it then, so I watch it back when I can and do it a little bit later. I watch the next one at 12pm too, which I can sometimes do most of and then I also watch the 3pm one even though I can't do it! Lou always brings a smile to my face.
"The classes look easy, but you do work hard. Lou can't see you while you're exercising of course, but she will remind you to 'breathe' while you're taking part which I find helpful.
I never wanted to go to an exercise class on my own before but was brave and had done some seated-exercise classes run by Oak Activities at Ramsey Library before having to self-isolate. I met some brilliant people when I did that, as we had a laugh together while doing the exercises, so I knew I'd enjoy doing the same sort of exercises online."
Councillor Peter Hudson, Chairman of the Health Committee at Cambridgeshire County Council, said: "It's really important for older adults to keep active while spending more time at home due to the coronavirus lockdown. If you have limited mobility or are looking for something gentle to complement the activities you are doing, there are simple strength and balance classes for all abilities online. They are a great way to keep you moving and will boost your health and wellbeing"
Cllr Wayne Fitzgerald, Deputy Leader of Peterborough City Council and Cabinet Member for Adult Social Care, Health and Public Health, said: "Older adults should do some type of physical activity every day. Any activity is good for you and the more you do the better! From breaking up long periods of sitting by getting up every 20 minutes, to doing activities that improve strength, balance and flexibility on at least two days a week."
Judith added: "If anyone is thinking about taking part, but hesitating, I say go for it. I wish I'd started doing this years ago. Go at your own pace. Listen to your body – and go for it!
"I'm really looking forward to having my knee operation and will definitely continue to follow the Keep Active with Oaks classes afterwards as I enjoy them so much."
To join a class or find out more about the importance of strength and balance activities visit the Cambridgeshire and Peterborough websites.
Watch Judith take on a Seated Beginners Class online.
---
Sensory service finds new ways to provide support to sensory impaired people throughout coronavirus – The Cambridgeshire County Council Sensory Service Team is continuing to provide vital support to sensory impaired people throughout the pandemic. Due to the nature of the work, staff often work in close proximity with the service users, but because of social distancing rules, they have had to make some changes.
Alongside other prevention and early intervention teams, sensory services work with people with sensory impairments, such as those who are deaf, deafblind, hard of hearing, severely sight impaired and sight impaired. Normally, qualified visual impairment rehabilitation workers would visit service users in their home and help them gain skills and independence or assist them with daily tasks. This can include things such as helping them change duvets or learn cooking skills.
But because of the pandemic, staff are unable to carry out their work as they usually would. Instead, the team has been looking at new ways to complete rehab and work with people. This includes setting up calls and video calls and talking them through daily tasks.
Below is one example of that changes we've made and feedback from a service user.
Nic Poole, rehabilitation worker at Cambridgeshire County Council, said: "We are all having to find new ways of working during the pandemic which is not easy when working with visually impaired people in their own home in a role which requires you to work in close proximity.
"I had been working with one of our service users, Sue, for many weeks, teaching her how to use a long cane in the community and building her skills within the home, when Covid-19 struck. She had continued to receive regular calls from us as she was on the vulnerable persons list, but I decided to see if we could get her using Zoom, which we managed.
"This enabled me to read some of her correspondence which she had been unable to access and then discussed trying kitchen skills the following week. I set up a makeshift kitchen in my home office with good lighting and contrasting coloured equipment to enable her to use her residual vision to see a demonstration before trying herself. Sue set up the camera in her kitchen so I could clearly see what she was doing whilst she was following verbal instructions. This was a great success."
Though this method would not be suitable for many people it worked well for Sue and this is the feedback she provided:
"Hi Nic, thanks for continuing my training on Zoom. It was easy to access via your email and once you had gone through the options on my device, easy to navigate. Though for many reasons it doesn't match up to having you with me in person, I was able to increase my kitchen skills and have you check them after your demonstration. It's really helping to keep my spirits up whilst in isolation. Really appreciate that. Thanks again. ''
Cllr Anna Bailey, Chairwoman of Cambridgeshire's Adult Services Committee at Cambridgeshire County Council, Cllr Anna Bailey, said: "Despite the huge challenges our team are facing, they continue to do a brilliant job and provide an excellent service to people in our community with sensory impairments.
"It's fantastic to see this feedback and I'd like to thank our staff for working so hard to support those who need it most."
Sensory workers for Peterborough City Council are also continuing to provide help and support for residents during Covid-19.
---
City College Peterborough nominated for award – Pupils, teachers and staff at City College Peterborough are benefiting from new digital technology which has transformed working methods, particularly during Covid-19 and has led to the college being nominated for prestigious awards.
Pupils, teachers and staff at the college have been using the software, which has really come into its own during the past few weeks. They worked with Phoenix Software for several years and in 2019 underwent a move to using Microsoft 365. This saw pupils and staff start using the online communication platform Microsoft Teams and portable Surface Go devices were provided for students.
The move has led to a number of improvements and seen Phoenix nominate the college into the Microsoft awards for the following areas:
• UK Partner of the Year
• Surface PC Award
• Diversity & Inclusion Changemaker
Previously, the college used on-site servers with staff and pupils printing off work as paper copies. All students now have access to a Surface Go with work completed on the devices and submitted via Teams – saving print and paper costs as well as time and making continued learning during Covid-19 possible.
So far, they've seen cost savings of around 48 per cent and a 38 per cent reduction in paper usage last year. Many pupils are benefiting from using Surface Go devices, ensuring they can work and get support both in and out of the classroom.
Pat Carrington MBE, Principle, City College Peterborough "Our ethos is about being accessible and looking at how we can enable people to achieve the best that they can achieve.
"Through the use of technology and looking at different ways of working, we can make things bespoke to each individuals needs and what we've seen with the investment of the new equipment and the use of Teams is a transformation in the way that we're operating."
Councillor Lynne Ayres, Peterborough City Council's cabinet member for education, said: "It's great to see the college benefiting from new technology, they fully deserve their nomination for the awards.
"Most importantly of all, the technology is helping pupils to learn more effectively. They can get help and support whenever they need it, so nobody is getting left behind, something which is needed now more than ever."
Ziah, a student at the college, said: "It's better as I do more work on the computer than writing by hand, which helps me be more independent. I like that I can chat and send messages to my friends in the classroom. It means I can ask for help if the classroom is too busy or noisy. I feel happy as I can complete the course on my own."
To find out more watch a video produced by Phoenix Software here
---
Cambridgeshire charity receives the Queen's Award for Voluntary Service – March Amateur Boxing Club has been honoured with the Queen's Award for Voluntary Service, the highest award a voluntary group can receive in the UK.
The Queen's Award for Voluntary Service is the highest award given to local volunteer groups across the UK to recognise outstanding work done in their own communities. It was created in 2002 to celebrate the anniversary of The Queen's coronation and is always announced on 2 June to tie in with Volunteers Week – which runs 1-7 June every year.
Established seventy years ago, March Amateur Boxing Club provides boxing training, including general fitness and a gym for children aged eight upwards and adults. The club is run entirely by volunteers and achieves remarkable results with little funding, relying entirely on the goodwill of the volunteers, who are clearly committed to not only the club but also the success of its individual members.
There are 10 coach volunteers, who come from a variety of backgrounds and have gained All England Boxing coaching accreditation at their own expense. Overall, it has around 250 active members, of which around 150 attend in any week.
The Cambridgeshire winners are one of 230 charities, social enterprises and voluntary groups to receive the prestigious award this year. The number of nominations and awards has increased year on year since the awards were introduced in 2002, showing that the voluntary sector is thriving and full of innovative ideas to make life better for those around them.
The Queen's Award for Voluntary Service aims to recognise outstanding work by volunteer groups to benefit their local communities. Winners are announced each year on 2 June – the anniversary of the Queen's Coronation.
Award winners this year are wonderfully diverse, and include volunteers helping people overcome mental health problems through sport, volunteers who use music and groups who help the homeless.
Representatives of March Amateur Boxing Club will receive the award from Julie Spence, OBE QPM, Lord Lieutenant of Cambridgeshire, later in the year.
The Lord Lieutenant said: "I want to congratulate all the inspirational volunteers at the March Amateur Boxing Club for their exemplary contribution to the health, wellbeing and life skills of generations of young people in March over the last 70 years.
"The selfless giving of their time, skills and enthusiasm has been rightly recognised by Her Majesty the Queen, who has awarded them the Queens Award for Voluntary Service – the nation's top award for Volunteer led organisations.
"I must also congratulate the nominator because, without their initiative, this brilliant organisation would not have been recognised. So, if you know a volunteer led organisation that goes above and beyond with their care and commitment – we are a county full of amazing people doing amazing things – please nominate them.
"Today however is March Amateur Boxing Club's day and a big well done to them."
More information on the Award can be found at https://www.gov.uk/queens-award-for-voluntary-service – any group of two or more people that has participated in voluntary work for more than three years can be nominated for the award. Full details on how to nominate are available at http://qavs.direct.gov.uk/ and nominations for the 2021 awards close on 25 September 2020.
---
Cambridgeshire birth registrations to resume – Cambridgeshire County Council registration services team is set to re start birth registrations from next week, in a way which meets coronavirus restrictions and keeps parents, their young babies and registration staff safe.
Since birth registration services were suspended by the Government on the 23rd March, an estimated 1,600 births have occurred across Cambridgeshire, all needing to be registered.
"Our staff are really pleased to be able to resume birth registration appointments, but we would ask everyone to be patient while we get through the large backlog whilst still registering deaths", said Cambridgeshire County Council's Registration Service Manager, Louise Clover.
From this Friday (June 5), parents will be able to call the Council's Contact Centre on 0345 045 1363 to arrange a birth registration appointment. Opening hours are 8am – 6pm, Monday to Friday and 9am – 1pm on Saturday. Initially all bookings will have to be made by phone (no on-line option at this stage). All appointments must be booked in advance with dedicated time slots – to ensure social distancing and hygiene measures can be assured for everyone who attends.
Appointments will be available from Monday (June 8) onwards. Once booked you will receive a confirmation email giving you your dedicated time slot and the process to follow on arrival, which will include waiting outside the building. It is advised that everyone attending one of our offices for an appointment wears a facemask or other suitable face covering while on site.
The pre-booked 30 minute slot includes time for the registration service to ensure hygiene measures can be carried out, so that staff remain safe and healthy so other services like death registrations can continue. The service has increased capacity to around 230-300 birth slots per week, and of course more babies are born every day, which means the team expects it to take a few months to bring registrations totally up to date.
Prioritisation for appointments will be given to parents of babies who were born in February, March or April, and the registration service will seek to offer them an appointment as soon as possible – over the next 4 to 6 weeks.
Parents whose babies were born in May or June will be booked for mid-July onwards. If you are one of these we'd ask you to wait for at least a fortnight before phoning to book your appointment, as we are expecting a large number of calls from parents with older babies in the first couple of weeks.
During your phone call with our Contact Centre, you will be asked several questions, including whether you or anyone in your household are displaying COVID-19 symptoms or are in a period of related isolation. If you are, you must call another time to book at a later date.
For safety reasons please do not bring your baby or any other child to the registration offices and if you are married, only one parent should attend – we will be unable to proceed if this guidance is not followed. If you are not married and the mother wants to include the natural father's details then both parents will need to attend.
If either parent is in the shielded group, or you have no-one to look after the baby and / or other children due to the current Public Health guidance, then you will need to book an appointment for August. At present the normal requirement to register babies within 42 days or face a fine is suspended. This requirement was lifted by government due to the current pandemic, and parents are still able to use the NHS number given when their baby is born to claim child benefit and other government benefits – until the registration can take place.
If you book an appointment and begin to display coronavirus symptoms, or are contacted by the new Test and Trace service and are asked to isolate because you have come into contact with someone who has tested positive for Coronavirus, for your and others safety, you must call and move your appointment – please have your booking reference to hand when you do so.
Our staff will be able to deal only with customers who have a pre-booked appointment and at the time offered, so you will need to be prompt, and not arrive at our offices without an appointment.
Services will start at all four of our locations across Cambridgeshire – Cambridge, Huntingdon, Ely and March. A one way service will be in place throughout the buildings. Staff will not be operating from the Wisbech office at this time.
As a safety precaution, the service will not be handling cash at this time so only card payments for certificates (£11 each) will be accepted (you can get someone else to do this on your behalf if you have no debit / credit card).
"It's understandable that new parents are keen to get an appointment as early as possible after this period of disruption. However, it is important that we keep those who need to register a birth, and all our staff, safe and healthy so we can continue to offer this service, and fulfil our other duties, like registering deaths, which has continued throughout the lockdown period", said Cllr Steve Criswell, Chair of the Council's Communities and Partnerships Committee.
"For that reason we would urge everyone to follow the rules."
More details can be found on Cambridgeshire County Council's website
In Peterborough, the Register Office remains closed to members of the public and ceremonies remain suspended until further notice. Full information about registration services in Peterborough can be viewed here and updates will be announced in due course.
Normally parents must register their babies within 42 days or face a fine.
This requirement was lifted by government due to the current pandemic, and parents have been able to use the NHS number given when their baby is born to claim child benefit and other government benefits – until registration was made possible again.
---
A big thank you to all our amazing volunteers this Volunteers' Week – As part of Volunteers' Week a huge debt of appreciation is being paid to the hundreds of volunteers across Cambridgeshire and Peterborough who are working hard to support people during the coronavirus pandemic.
Volunteers have always been a crucial part in supporting communities and individuals across Cambridgeshire and Peterborough, working alongside councils and other organisations to help and support people.
The coronavirus pandemic has shone an even brighter spotlight on their work and encouraged thousands more people to volunteer.
In addition to the many people who have supported their local mutual aid group and community groups which have been set up and adapted to provide local support, the Countywide Hub put a call out for people to consider volunteering to support the work of the hub and the many essential services that people still rely upon, such as social care. Just under 2,500 people got in touch and we have been able to deploy a large number of them into volunteering roles across the county. This has included additional support to care homes, community groups and voluntary organisations.
The Countywide Hub has been working with the district and city councils to see how volunteers can support their work. So far, 500 volunteers have been assigned to projects across the county and have supported in providing food and medicine deliveries, but also linked into established networks, for example local community transport services and the voluntary and community sector.
Close to 200 people in total have indicated they are willing to go into care homes and many are now going through either personal care or general care home support training.
Matt Oliver, part of the team leading the work of the countywide hub, said: "Never before have we seen so much support for our community and we have been truly overwhelmed with the number of volunteers who have come forward. It is heart-warming that the amount of people who have offered their time and help has outnumbered the calls for help around the county, at a time when calls for help are so high.
"During Volunteers' Week in particular, we want to thank those volunteers who have been helping neighbours and strangers get through this crisis. Our support for the most vulnerable people could not have been delivered without the support of volunteers who have helped with practical tasks like grocery shopping and collecting prescriptions for people who are housebound or self-isolating.
"On behalf of the councils of Cambridgeshire and Peterborough and the people you have helped, we say a great big thank you."
With the number of people wanting to volunteer being greater than the level of demand, a team has been set up to help people who have not yet been assigned a role to access volunteering opportunities where they live, to support the efforts taking place now around the pandemic and longer term.
As part of this, a survey has been sent to all these volunteers asking if they would be willing to volunteer long term and if they would be keen to support other voluntary and community groups, charities or organisations such as the police, NHS or other councils. So far, of the people who responded, 87% are keen to help during the next three months, and 66% would be willing to volunteer long-term.
For more information about volunteering in general and to find local opportunities you can visit or contact your local volunteer centre, or search via https://do-it.org/. Alternatively, you can visit the NCVO (National Council for Voluntary organisations) web page 'I want to volunteer' for everything you need to know to get started or you can also search for volunteering opportunities in your local area on the Volunteering Matters web pages.
In Cambridgeshire the district and city hubs are also handled by Cambridge City Council, East Cambridgeshire District Council, South Cambridgeshire District Council, Fenland District Council and Huntingdonshire District Council. Please contact them for their details.
---
Leader's Vlogs – Councillor Steve Count, leader of Cambridgeshire County Council and Councillor John Holdich, leader of Peterborough City Council have recorded separate vlogs for residents across Cambridgeshire and Peterborough. They both thank volunteers as part of National Volunteer Week.
Watch Councillor Steve Count's vlog here
Watch Councillor John Holdich's vlog here
---
Volunteers praised by villagers – Dedicated volunteers in Isleham have been thanked for ensuring that vulnerable residents are regularly provided with essentials and support during lockdown.
A volunteer group run by Isleham Cricket Club and supported by local suppliers has been busy preparing and delivering weekly boxes of fresh fruit and vegetables, biscuits, potatoes and other essentials.
The group recently took over a phone box in the village where residents can leave non-perishable foods free for anyone in need to collect, with a volunteer visiting daily to help maintain its stock.
The group has also collected and distributed over 500 medical prescriptions and completed over 400 shopping and errand requests.
This week several villagers have taken to social media to express their thanks for the group's sterling work.
One said: "Fantastic team, doing a fantastic service. Heartfelt thanks to you all."
Another resident added: "Thank you all so much. It has been so good not having to worry about collecting prescriptions."
Councillor Mark Goldsack, ward councillor for Soham North and Isleham, said: "The group is doing a fantastic job, really going above and beyond and the feedback from residents has been amazing.
"Before lockdown the group came together to assess the needs of residents who are isolated, vulnerable or simply in need of some help. The boxes have been a lifeline for several people.
"With collecting and delivering prescriptions, each trip is a journey that we have saved vulnerable people having to make. So not only have we supported residents, we have supported the lockdown rules and helped the environment by reducing car journeys.
"Other errands have included dog walking, grass cutting, and regular good neighbour phone calls. These have seen new friendships blossom where people call each other for a chat and catch up. Some of these chats have resulted in future promises of seaside trips and cafe days."
---
Youngsters given special lockdown learning packs – Youngsters in Peterborough have been given some fun-filled activities to enjoy during lockdown based around the work of a famous children's author.
Special leaning packs, including Roald Dahl books and a series of fun and practical challenges, have been provided as part of a continuing partnership between Peterborough City Council, City College Peterborough and the National Literacy Trust.
The packs have been developed for vulnerable families who may not have access to online learning materials during the lockdown. Around 60 packs were recently sent to youngsters linked to Barnardo's Children's Centre in the central area of the city.
Sally Atkinson, National Literacy Trust Hub Manager in Peterborough, said: "Working with long-standing partners, like City College and Barnardo's, the National Literacy Trust Hub in Peterborough provides a fantastic opportunity to join together to support vulnerable families to engage in some exciting reading activities linked to Roald Dahl books. I hope that families will enjoy sharing the Roald Dahl stories, challenges and craft activities together. Thank you to Penguin Random House for providing the books."
Pat Carrington MBE, Executive Principal, of City College Peterborough added: "I am delighted that City College Peterborough can be a part of such a great initiative. Learning something new or discovering new things is a great way to keep our minds active, firing up our imagination and supporting our wellbeing. I hope the parents and children enjoy getting creative together and discovering the worlds of Roald Dahl. "
Councillor Lynne Ayres, cabinet member for children's services, education, skills and the University of Peterborough said: "Reading provides an important life skill and opens up a world of imagination. I hope the parents and children will enjoy sharing the books and participating in the activities."
City College Peterborough would like to hear from anyone who can provide materials which they can use for producing future craft packs. If you have, please contact 01733 761361 or
For more information about reading activities visit
https://www.facebook.com/Peterborough-Reads-108138410830824/
https://literacytrust.org.uk/communities/peterborough/
---
Dr Liz Robin vlog – Dr Liz Robin, Director of Public Health for Cambridgeshire County Council and Peterborough City Council, talks about the new NHS Test and Trace service launched last week – why this will be so important in helping us control coronavirus and stop the spread of infection – and explains how the more people who use it correctly, the more effective it will be at stopping the spread of the virus and the safer it will be for all of us and our loved ones.
More information is available https://www.gov.uk/guidance/nhs-test-and-trace-how-it-works Click here to watch today's video blog.
Dr Liz Robin is available for down the line interviews about the current COVID-19 situation or the contents of today's Vlog. Please contact the newsdesk to check availability.
---
You can keep up-to-date with any changes to our services on our websites:
Our advice and latest information on Coronavirus can be found on both websites – www.peterborough.gov.uk/coronavirus and www.cambridgeshire.gov.uk/coronavirus
---
Coronavirus: what you need to do
Stay alert
Control the virus
Save lives
Socially distance – stay 2 metres (6ft) away from other people
Wash your hands
Anyone can spread the virus!
Full guidance on staying alert and safe can be found here.
Leave a Reply