Pboro City Council COVID-19 update for all media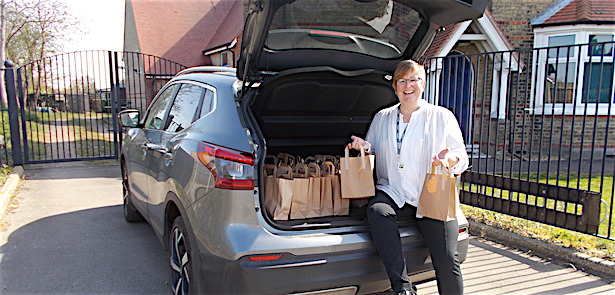 Cambridgeshire County Council and Peterborough City Council communications team will be providing a daily media update with a round-up of any changes to council services arising from the Coronavirus. Please note – all information is correct at the time of publishing.
UPDATE: Wednesday, 15 April 2020
March and Surrounding Coronavirus Facebook group – We're delighted to have so many fantastic examples of communities supporting one another to share, as part of our ongoing Cambridgeshire and Peterborough Together campaigns.
Many council staff are doing their bit too in order to help others in their communities.
Rebecca Garry, occupational therapy team manager for Cambridgeshire County Council, recently set up a group on Facebook to offer support to vulnerable residents in March.
Since the creation of the 'March & Surrounding Coronavirus Support' group on 15 March, Rebecca has been joined by over 2,400 members – and the list is still growing.
Using their collective knowledge and skills, the group are carrying out many tasks including collecting residents' prescriptions and directing them to where they can find items commonly out of stock. They are able to assist with the majority of these requests on the same day they are received.
Rebecca said: "I'm so proud of what the group are doing, it really has been invaluable for our town."
The group has brought together the Fenland Association for Community Transport (FACT), which offers a daily shop-and-drop service, two local hubs where people can donate food and other household essentials, as well as a local pet food hub and the March Food Bank.
Councillor John Gowing, at Cambridgeshire County Council and local member for March South and Rural said, "It is amazing to see how the community in March has come together to offer support to local residents through this online community group. The group has also been receiving generous donations from local shops and businesses which members have then been able to distribute to the community.
"I think it shows not just the amazing community here in March, but also the other communities across Cambridgeshire that are all likely doing the same type of good deeds."
The group also offers support to residents of March's surrounding villages, including Manea and Wimblington.
For more information visit the Facebook page, or on the FACT and food bank websites
---
School meals on wheels in Manea (see pic) – Many of our local schools are coming up with new ways to support their students and wider communities at this time.
Manea Primary School has been delivering lunches to vulnerable students giving the students themselves and their families one less thing to worry about.
Staff have been picking up meals each day and delivering them to children in the local area. Observing social distancing advice, they place the lunches at the door and move back a safe distance so that they can say hello to the families as they gather the lunches from the doorstep. This provides the families with some much-needed interaction and a familiar, friendly face to talk to each day – not to mention a nutritious meal.
Nicky Froggatt, Head Teacher at Manea Community Primary School, said: "It's even more important to make sure that people have what they need to keep them going at the present time. I'm really proud that I, and my senior leaders Frankie Lenton and Emma Revell, have been able to keep providing lunches to our children who are in receipt of free school meals via this 'school meals on wheels' service. It's lovely to be able to say hello to the children and their families, and to let them know that although the school is closed to the majority of children, we're still here to support them."
---
Bus companies and Aragon Direct Services help essential food workers get to work safely – Aragon Direct Services has worked with bus operators to help a Peterborough based recruitment agency to get its staff to work safely.
The recruitment company provides transport for its workers to get to and from food production factories in Chatteris and Spalding. When Covid-19 social distancing guidelines were brought in, it was finding it difficult to fully adhere to them as it didn't have enough vehicles in its fleet.
Peterborough City Council's trading company Aragon Direct Services, heard about this and wanted to offer its three home-to-school buses which were not being used. However, it didn't have enough available drivers to help and also needed the permission of the company it leases the buses from for the change in use.
A solution appeared just a few days later, after Whippet Coaches agreed to lend some of its drivers and Dawsongroup bus and coach agreed to allow permission for the vehicles to be used at no extra charge.
Councillor Mohammed Farooq, chairman of Aragon Direct Services, said: "The recruitment company was doing all it could to ensure its essential workers were able to get to work to produce food for others to eat, however it was really struggling to maintain the guidelines around social distancing due to a lack of vehicles.
"When we heard about this, we wanted to do all we could to help and just a few days later, with the help of Whippet and Dawsongroup bus and coach, we came up with a solution. I'd like to thank both companies for working with us so quickly to enable this to happen."
You can keep up-to-date with any changes to our services on our websites:
Our advice and latest information on Coronavirus can be found on both websites – www.peterborough.gov.uk/coronavirus and www.cambridgeshire.gov.uk/coronavirus
---
Coronavirus: what you need to do
Stay at home
Only go outside for food, health reasons or work (where this absolutely cannot be done from home)
Stay 2 metres (6ft) away from other people
Wash your hands as soon as you get home
Anyone can spread the virus!
Full guidance on staying at home and away from others can be found here.
Leave a Reply