Mask Theatre: 1947 – the start of something great…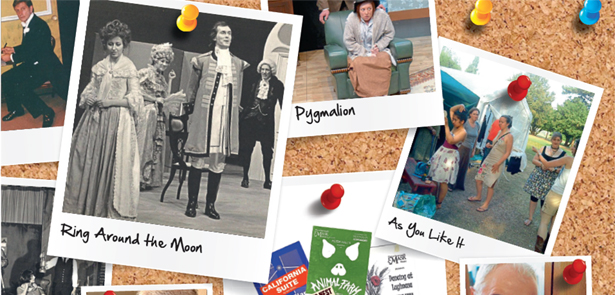 As Peterborough Mask Theatre marks its 70th year, director Emma Goldberg looks back over the history of the company
In October 1947, a small advert was run in the Peterborough Telegraph calling for actors. On 11 February 1948, Peterborough Mask Theatre ran their very first show, Mister Bolfry, which opened in Elwes Hall, a venue that no longer exists, but which was to house our productions for the next 20 years. The first review showed we had mettle, and that the critics liked it, but was Peterborough ready for such culture?
Peterborough Mask Theatre has produced a varied repertoire of high quality theatre over its 70-year history. To succeed in the heady world of local theatre is a testament to the enviable and consistent high level of Mask productions. Since the Company was formed back in 1947 it has worked to the basic rule of performing 'plays of merit'. The quality of the script leads to the quality of production.
It seems that over the last seven decades, we've maintained our strapline pretty well, and stuck to 'plays of merit' – however one might define that – with a varying repertoire of classics, farces, comedies and modern plays, not really straying into musicals or (heaven forfend) pantomime.
This year, as we celebrate 70 years of laughing, friendship and high dramatic tension, we've started to pull together some stories, photos and programmes from back in the archives. It's been a rewarding and fascinating experience. We've created a display board which will be at all our productions this year, and encourage you to have a read when you come to see us.
What strikes me is that throughout Mask's existence we've always welcomed new members, be it for acting, directing or backstage roles. No previous experience is necessary and we usually have plenty going on. If you show some promise and fit the director's image for the part, then it could be you treading those boards. The Mask prides itself on its ability to find new talent, whether it is someone who has never tried theatre since the school play, or looking to get back into acting after a few years out or newcomers to the city. We've convinced folk who've sworn they'd never go up on stage to try it out, and we've expanded skills (often by cajoling) into the vital support that goes on behind scenes.
Furthermore, we've tapped into skills that people never knew we'd be interested in. Artist Emma Picknell joined us to have a go on stage, and is now also an invaluable asset in art and design, having drawn a rooster on set for Jerusalem, designed our 70th logo, and realised the director's imaginings for the Macbeth programme!
We try to get a great team together for each production, which takes a lot of time and patience, but means that with full commitment – and not just from the actors (why, they simply have to show up and say the wretched lines!) – we can get a show together that we're really proud of. Many Mask productions require our actors to learn new skills such as stage combat, voice and accent coaching, movement and dance, and interpreting text. Sometimes we find the skills for these within our numbers, and sometimes we bring in expert tuition – often a mixture of the two. As long-standing member Peter Crerar said recently in a workshop he ran on the language of Shakespeare, we're all on a journey together… Some of us are a little further along the road than others, but we'll always help the others on their way.
In the past few years, we've been involved in an outreach programme run by the Royal Shakespeare Company called 'Open Stages' and have been delighted to hear from the experts that they regard the gap between amateur and professional companies as very marginal indeed. They've been extremely impressed by the skills they've seen in the companies engaged in their programme. And we've developed in both confidence and ambition, through working with them, and have tried new techniques that we might not otherwise have attempted – especially incorporating dance into a traditional theatre play, and becoming very much more physical in movement.
We've taken on new ventures in recent years, but have always grabbed an opportunity when we can. We're proud to have expanded our Shakespeare in the Park tour in recent years to include Crowland Abbey, Moonhenge and Oakham Castle; to have taken a show to the Edinburgh Festival; and even, not so recently, our international tour to Gogh.
While we have hopes to make another tour in the future, we're Peterborough Mask Theatre, and our home is here in Peterborough. We're proud to have been given a Civic Award by the Mayor of Peterborough in 2015, and we're proud of our association with Vivacity and the Key Theatre. Mask Theatre is the first Amateur Drama Company to tread the boards both at Peterborough's premier theatrical venue, the Key Theatre, in 1975, with a production of Three Sisters by Anton Chekhov and we also christened the black box Key Studio in 2009 with Two Short Plays, The Lesson and La Musica.
We've had a long history of producing plays of merit for Peterborough, and we're looking forward to a long future, embracing new ideas, finding new talents and tackling new (and old) plays!
Leave a Reply