Lost World play at Serpentine Green Shopping Centre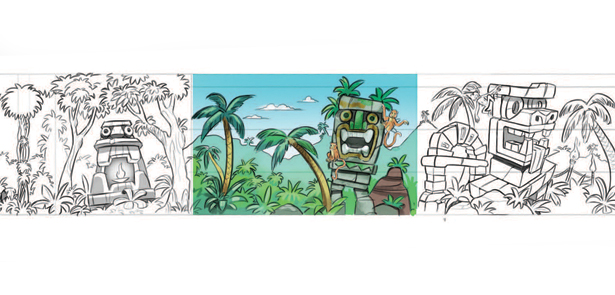 In February, Vivacity is bringing something amazing to Serpentine Green Shopping Centre... A volcano! It forms part of a brand new family area featuring soft play, volcano climb and slide zone, climbing walls and a café, all designed around a theme of a jungle lost city. The Moment talked to Vivacity's Marketing Director Nick Bull about the project and what it will mean for families visiting the centre
First of all, how did the project come about?
Vivacity is a charitable trust that runs the museum, the libraries, Key Theatre, and various culture and heritage sites around Peterborough. We also undertake a number of community and charitable projects such as our annual inclusive sports day. We fund the majority of these through commercial activities such as our gyms, and our overall strategy is to find more communityrelated commercial opportunities so we can increase our income and subsequently our ability to do more overall for Peterborough. That's partly how this came about. We were aware of the space being available in the Serpentine Green shopping centre, and the whole idea of the Lost World Play area was to provide somewhere that kids up to age 14 could enjoy something fun that was also physically active, and where families could come and spend a little time when shopping – or have a bit of relief from it! It'll be open between 9am and 8pm, Monday to Saturday, and until 5pm on Sunday, so it will be available the whole time the shopping centre itself is open.
So this is an additional reason for people to shop at Serpentine Green?
Yes, absolutely. It gives the shopping centre a new attraction, and gives parents with children an opportunity to have a bit of family time. But also it's a facility for the local community. If local mums or dads are at home with toddlers it's an opportunity to come out and meet friends in similar situations and let the little ones run around and be physically active whilst they sit over a coffee in the café. That bit of downtime is important for parents too… There will also be a small library and reading area, and possibly storytelling sessions – we're exploring the options at the moment – so essentially we're maintaining our corporate values of providing good leisure and community offerings, as well as taking the opportunity to tackle levels of literacy in the city and engage little ones in reading. As a commercial venture we obviously want as many people as we can to come and enjoy the facilities, and to use it as a venue for birthday parties etc. but we also want something that is going to address the wider needs of Peterborough and the commercial gains that we make at Serpentine Green will enable us to do more.
Can you describe the new facilities for us?
The space in which the volcano slide will sit is a large circular area with columns, which is currently a food court. The volcano will be the central feature of that space—but we wanted to offer a variety of propositions so it could provide entertainment in several different ways. The volcano will have 15 minute sessions, so parents who haven't got a lot of time can just give their kids a go on that, climbing and sliding. Parents with younger children can also access the volcano themselves, and we won't charge for the parents. We then have the soft play, which will have hour-long sessions for those with a little bit more time on their hands. There'll be an area for toddlers so they can play safely, and also a café area next to it so parents can sit and have coffee whilst the children play. Then there's the climbing walls, which are about 7.5 metres high, which will have 45-60min sessions, the first part of which be a safety briefing, getting people kitted out in the harness and so on. That's all fully supervised by trained staff.
The volcano slide is a stunning and unusual feature. How did that idea come about?
The volcano just seemed a great way to make use of the big circular space we had in the food court. We also decided to have a theme running through the whole play area that was a bit different, and had this idea of a lost Aztec or Inca city that has been partly taken over by the jungle. That fitted perfectly with the volcano. We may look to include some aspects of that in the reading area, too, so there are books and stories relating to lost civilisations, just to fire the kids' imaginations in a way that also has educational value – and maybe some environmental messages as well. That will be a feature of the café, actually, that it will have re-usable plates and cutlery, so we're not contributing to that disposable culture.
What will be the charges?
There will be slightly different charges for peak and off-peak. Peak is basically Saturdays and Sundays, and the rest of the week is off-peak. Adults on the volcano go free when accompanying children, and it will be £2.50 for a 15 minute session on a weekday, or £3.50 at weekends. For the soft play, accompanying adults also go free, and that is £4 off-peak and £6 peak. The climbing wall is £6 off-peak and £10 peak – a little more expensive, but that obviously requires full one-on-one supervision and equipment. We've tried to make it the best value we can; it's important that we're accessible. During the week, children under six months go free, and pre-school toddlers are 95p, so it's very accessible and affordable for parents with young children. Of course, toddler groups can come and enjoy the facilities as well.
What will be the capacity of Lost World Play – and when can we go…?
The climbing walls can have five people climbing at any one time. The volcano has a capacity of 22 people, and the soft play can accommodate 91 – so there's plenty of space for everyone. The café area will have a capacity of about 80, and the two party rooms, which can be privately hired, can accommodate about 15 each. It will all open in early April in time for the Easter holidays. Hopefully we will kick it off with a bit of a bang, and we're now planning what we're going to be doing to help launch it and welcome our first guests!
Lost World Play – opens early April 2020 Hargate Way Hampton, Peterborough PE7 8BE www.serpentine-green.com
vivacity.org
Leave a Reply