Sue Ryder: Lights of Love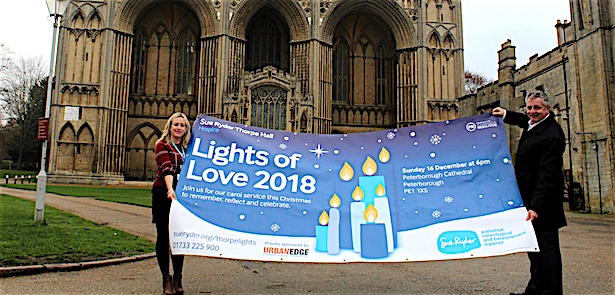 People across Peterborough are invited to join Sue Ryder Thorpe Hall Hospice for a special carol service this Christmas to celebrate and reflect on the lives of loved ones.
The hospice's Lights of Love event will, for the first time, take place at Peterborough Cathedral on Sunday 16th December and everyone is warmly invited to attend.
Pupils from Peterborough's St Augustine's Church of England Junior School will sing Christmas carols as guests arrive.
A candlelit service will follow, which will include readings from the hospice's director Allison Mann as well as nurses, doctors and volunteers. These will be interspersed with carols accompanied by music from the City of Peterborough Concert Band.
The gathering will also give people the opportunity to celebrate cherished memories of loved ones. Guests will be invited to write a dedication on a special candle and place it on Lights of Love Christmas trees.
Refreshments, festive stalls and a raffle will also be available.
This year's Lights of Love headline sponsor is Urban Edge Architecture and the event is also being supported by the Stamford Stone Co and Custom Choice Windows.
Lights of Love is free to attend and is open to all. Any donations given will help Sue Ryder Thorpe Hall Hospice to be there when it matters, supporting local people who have a life-limiting condition and their families.
Joely Garner, Sue Ryder Thorpe Hall Hospice's Senior Community Fundraiser, said: "For the first time, our Lights of Love event will be held at the prestigious and iconic venue of Peterborough Cathedral. Lights of Love is open to everyone and we hope people will be able to join us for a special evening of festive carols and readings to remember and celebrate the lives of family and friends. We look forward to warmly welcoming everyone."
Russell Gay, Director of Urban Edge Architecture, said: "As a local employer with staff drawn from all over the region, we have often been touched directly or indirectly by the care and support provided by Sue Ryder Thorpe Hall Hospice. The decision to sponsor Lights of Love was easily made and the least we can do to give something back to the community that surrounds our business. The volunteers and staff from the hospice are exceptional individuals, helping people through some of the most difficult times of their lives and they need all the support they can get. We're expecting 600 plus people at the event and it will no doubt be an incredibly emotional and special evening; one which we are beyond pleased to be able to support."
People are asked to arrive at Peterborough Cathedral from 5.30pm, ready for the service to start at 6pm. No tickets are needed and people can just turn up on the night.
For more information about Lights of Love or to request a dedication candle, please email the hospice's fundraising team at or call 01733 225 999. There is also more information at: sueryder.org/thorpelights
Sue Ryder Thorpe Hall Hospice is the only specialist palliative care inpatient unit in Peterborough and provides expert palliative care and support for people who are living with a life-limiting condition, as well as supporting their families.
Leave a Reply