Help Mia name Sacrewell's new wild mascot!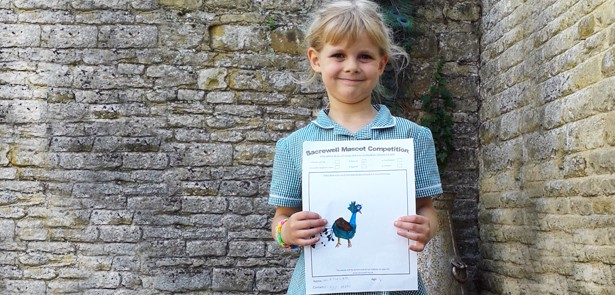 Help Sacrewell to show its true colours by naming its new mascot over the May half-term
Throughout the centre's wildlife week activities (Saturday, 23 – Sunday, 31 May), staff will also be asking visitors to come up with a suitable name for Sacrewell's new peacock mascot, which was designed by member Mia Barham, seven, from Market Deeping.
Marketing executive Megan Allen said, 'We ran a competition last year to design our new mascot and Mia won with her beautiful peacock.
'The design has been professionally developed and we're now looking to name him so that we can incorporate him into our learning and interpretation for children.'
Mia will visit Sacrewell over half-term to officially launch the new mascot and to be the first to receive the new peacock souvenirs, based on her design.
'It has been a long process, from design to the finished product and we can't wait for Mia to see her design,' Megan added.
Wildlife week will take place from Saturday, 23 to Sunday, 31 May and the centre will be running daily themed activities such as pond dipping, really wild tractor rides and the re-launch of its wildlife trail with new questions and an extended route.
A box will be put in reception for people to submit their name suggestions, and the winner will be chosen by staff at Sacrewell.
Megan said, 'Mia chose the peacock as our new mascot because of its bright colours, so we need an equally brilliant name.
'Peacocks are very proud creatures, so an ordinary name won't do. As we have six peacocks here to inspire them, we're hoping our visitors will come up with some really creative ideas, to help our new mascot to show his true colours.'
The winner will receive peacock souvenirs. For more details visit www.sacrewell.org.uk
Leave a Reply