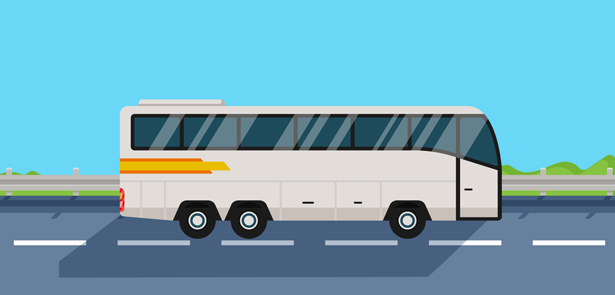 Whether you've never owned a car, chosen to give up your car, or had your driving license revoked because of a health condition, public transport can be just as effective at getting you out and about – and it's often a lot cheaper!
We all have our reasons for not running a car. For some it's simply a matter of choice. The cost of keeping a car adds up: road tax, insurance, servicing and MOT, breakdown cover, depreciation, fuel… it's anything but cheap! Then there are those of us who unexpectedly lose our driving license, often due to a medical condition. The sudden, unplanned loss of independence can come as quite a shock. It's easy to feel down when your mobility is compromised and you may feel completely reliant on others. The good news is that the public transport alternatives are more flexible and affordable than many believe. And with a little know-how and planning, there's no reason you can't get out and about, far and wide to catch up with friends, family – or to simply do the shopping.

All aboard
Numerous bus routes crisscross Peterborough, which means you're never far from a bus stop. The most frequent services depart up to every 10 minutes, while many other routes pass through from every 20 to 30 minutes. Anyone who reaches female state pension age, whether male or female, is eligible to travel by bus for free. Passes aren't issued automatically, so you will need to apply for one. With a concessionary bus pass you can travel not just the length and breadth of Peterborough, but the country! Travel free any time from 9.30am to 11pm Monday to Friday and all day at weekends and bank holidays.
If you are blind or partially sighted you can use your pass at any time, so long as you are starting or ending your journey in Peterborough or Cambridgeshire. Travelling by bus is undoubtedly convenient for local trips, but for longer journeys coach travel is quicker, more comfortable and involves considerably fewer stop! National Express remains the market leader in this area, offering air conditioning, Wifi, charging sockets and entertainment to make your journey a lot more relaxing.
There's a generous luggage allowance too, including a carry-on bag. Head online to pick up a senior coachcard for £12.50 and enjoy savings of a third on most journeys, irrespective of time or day. Amore recent entry to the coach market is Megabus, which offers exceptionally low prices to around 90 different city destinations. Because of their very competitive pricing, popular routes can sell out, so it's worth buying well ahead if you can.

Trains take the strain
The romance of train travel may have waned over the years, but trains still offer the quickest and sometimes – if you plan ahead – cheapest way to get around the country. Getting the right ticket at the right price can be a bit of a conundrum, but it isn't that difficult once you get your head around a few common tricks that will slash the cost of your ticket. First up, anyone aged 60 or older should apply for a Senior Railcard, which reduces the cost of most journeys by a third. A card costs just £30 a year and with annual savings averaging out at £150, this works out as a very wise investment. If you're likely to do a lot of travelling with the grandchildren, opt for a Family and Friends Railcard – it costs the same but gets you an additional 60% off fares for accompanying children aged five to 15. Furthermore, up to four children can travel with four adults on just one card.
If you don't want or have a national railcard be sure to travel off-peak, generally after 10am, for cheaper fares. Buying in advance and committing to a specific train time rewards the early bird with the best fares. These include a seat reservation, so you're guaranteed a place to sit. Tickets are usually released around 12 weeks before the date of travel, although you can buy up to the day before – and don't forget to use your railcard! For the very cheapest prices you'll need to split your ticket. This simple, savvy technique will dramatically collapse the cost of longer journeys. Ticket splitting simply involves breaking your journey up into two or more single tickets.
For example, by splitting a single ticket from Peterborough to Edinburgh into two singles – Peterborough to York then York to Edinburgh – you could save around £18. There are even websites that will work out the most efficient ticket splits on your behalf and, don't worry, you won't need to get off the train, just make sure you present the correct ticket for that section of the journey to the ticket inspector. It sounds like it shouldn't be allowed, but ticket splitting is completely above board!  

EASY ACCESS
Most public transport has excellent accessibility, with ramps for wheelchair or mobility scooter users and dedicated areas for travel. Regulations currently being phased in dictate that by this time next year all vehicles should be able to accommodate wheelchairs and scooters. Trains are especially accessible. Simply call 0800 022 3720 to plan ahead and arrange the help you need. You can also phone or go online to book the help you need direct with the train company. Examples of assistance you can request include help boarding the train, help transferring between trains or reaching the station exit, and help with your baggage.
There's also a Disabled Person's Railcard for a reduced annual cost of £20, which as well as offering you one third off travel, also gives a third off for an accompanying adult. Whether travelling by bus, coach or train, the options open to you are both extensive and surprisingly reasonable. Plan ahead, work out where you can save, be as flexible as you can – and get out there!

FURTHER INFORMATION
Travelchoice The go-to source of travel information for the Peterborough area. Plan your journey by public transport, look up ticket prices and times, apply for your concessionary bus pass or explore the interactive map to work out the best bus and cycle routes for you. ● 01733 747474, www.travelchoice.org.uk
National Express The market leader for coach travel, combining comfort with good value. Bookings can be made online or by phone, though phone bookings incur a £2.50 booking fee. ● 0871 7818181, www.nationalexpress.com
Megabus Often the very cheapest way to get around the country. Special offers available. Calls to the telephone booking line are expensive, so book online if you can. ● 0900 1600 900, www.megabus.com
National Railcards Find out the best National Railcard for you or buy your card online for the best price. A three-year Senior Railcard is currently available for £70, saving you £20. ● 0345 3000 250, www.railcard.co.uk
SplitMyFare Search Split Ticket Fares to get the cheapest train ticket. By splitting your fare into separate tickets you can slash the prices but travel on the same train. ● www.splitmyfare.co.uk
Silver Travel Advisor Travel reviews and advice for the over 50s, including a range of free miniguides for download or by post. ● www.silvertraveladvisor.com

Image: www.freepik.com/free-photos-vectors/background
Background vector created by freepik – www.freepik.com    
Leave a Reply