Anna's Hope go for world record!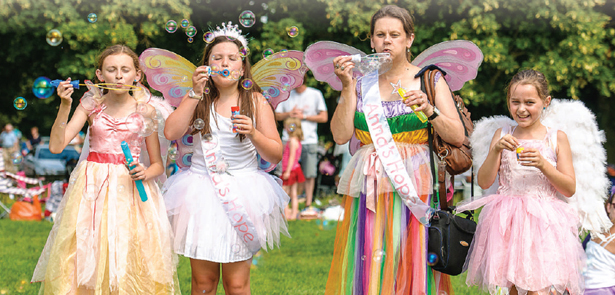 It's an ambitious attempt: A Guinness World Record for the most fairies. It's all for a good cause and everyone's invited!
Fancy becoming a Guinness World Record Breaker? Then dress up as a fairy and join local charity Anna's Hope in the World Record attempt for the Largest Gathering of People Dressed as Fairies in One Place. The attempt will take place in the grounds in front of Peterborough Cathedral on Sunday 10 June as part of Peterborough 900 Celebrates. To break the World Record, the charity needs at least 900 fairies, so clearly the message needs do go out far and wide.
Please tell your family and friends and bring them all along too! To qualify as a fairy and be counted you must wear a TUTU and WINGS and carry a WAND. Mums and dads, grans and grandads, girlfriends and boyfriends, friends from work – everyone is welcome – so long as they are dressed as a fairy.
Anna's Hope founder, Carole Hughes, explains what the record attempt is all about: 'The charity was inspired by my daughter Anna, who died from a brain tumour aged just three. She loved dressing up as a fairy. Anna's Hope now helps more than 120 children with a brain tumour each year. By breaking the World Record we hope not only to have a lot of fun and enjoy a great sense of achievement, but also help raise awareness of children with tumours.' brain tumours. The magical fun of this very unique World Record attempt will take place in the Cathedral grounds from 12.30pm and will conclude around 2.30pm. See you there – and don't forget your wand!
Anna's Hope Fairy World Record ● Sunday 10 June, 12.30- 2.30pm, Peterborough Cathedral ● Entrance is free but to register please visit www.eventbrite.co.uk and search 'Anna's Hope Fairy World Record'. ● For more information on the World Record attempt please visit www.annas-hope.co.uk or contact Carole Hughes by email at
Leave a Reply