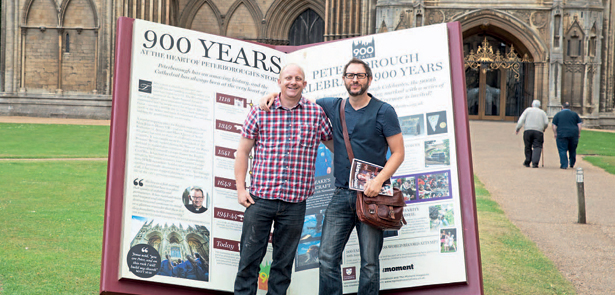 Local artist Neil Gavin has enjoyed an eventful career: touring the UK and beyond as a sound engineer, working alongside stars of the stage, then entering the sometimes eccentric world of public sculpture. The centrepiece to the new London Stock Exchange was Neil's idea, he's produced artworks for Northumberland's Alnwick Garden and now he's brought his talent home as part of the Peterborough Celebrates campaign. We had to meet him!
First off Neil, you happen to know our esteemed publisher Mark Wilson don't you?
We go back a long way, I've known Mark since primary school.
And would you say he's still an affable character?!
I can't possibly say! Yes, of course he is. He's a good bloke and I know he works very hard for Peterborough.
Tell us about the early years of your career. How did you get started?
After my A-levels I headed up to Yorkshire to study Technical Theatre – so lighting, sound, stage design and so on. Mark and I were very much into performance and drama at school, although I was realistic enough to know that a life treading the boards probably wasn't going to happen. So with an eye on actually trying to earn some money I had to think of something else. I love technology and design too, so it made sense to combine the two, which is what steered me towards Technical Theatre.
Your first major breakthrough was back here in Peterborough wasn't it?
It was working on the community opera In Search of Angels, which was performed at the Cathedral in association with Glyndebourne opera house. That was my first job, although I wasn't paid.
I'd finished college and unfortunately there weren't many theatre jobs in Peterborough. You've got The Key, but they weren't recruiting at the time. I'd been up in Yorkshire for three years and had come back to look around and find something. It was actually Mark who asked if I'd heard about the opera. He dragged me to the Town Hall where they were having a sort of meet and greet and I signed myself up as part of the technical team.
So you weren't dragged kicking and screaming, but you had to be given a bit of encouragement.
Absolutely, I don't think I'd have had the courage otherwise.
That opera had more than 500 performers in it, all drawn from the local community, which is incredible!
It was an incredible thing to pull off. It had its doubters. There were naysayers saying that although Glyndebourne was attached to it, it wasn't really Glyndebourne, and certain groups felt excluded. But from my point of view it was fantastic. They had proper, decent people there – set builders, as well as performers – and it was a big spectacle, a big thing. To get all that talent together was very ambitious, and all in a relatively short period of time. To pull it off was a huge undertaking.
What was your involvement?
I ingratiated myself with the set building people, so I helped to build the sets, albeit I confess with my limited skills. I'm more of a lighting person and during the performance itself I was up in the gods of the Cathedral doing a follow spot.
Being associated with Glyndebourne must have done wonders for the start of your career.
Absolutely. Having been at college it was great to be back amongst that kind of crowd and they were very generous. Strangely enough one of the lead guys on the stage management side, David Evans, who is still a good friend of mine, offered me a job straight afterwards. Although he did say I'd been nothing but cheeky to him! But he reckoned he could see some talent in me. And so my first paid job, straight after the opera, was to go on a world tour with Vanessa Redgrave as part of a theatre company.
Being a bit cheeky clearly paid off! Touring must have been an eye-opener.
It really was. I went to London and stayed at a friend's house. They did some shows in London and then developed those shows further. Then before you know it I'm off on a world tour as a sound engineer.
Were there any memorable moments?
One of them was in Newcastle where we were putting a big set together at the theatre there. It was a pretty ambitious set, with lots of scaffolding. Well, I was walking through the set when a scaffolding pole came crashing down onto my head, right on my forehead. It knocked me out for the count and when I come round there were all these big Geordie lads going 'why aye man, we've killed him!'
I was rushed to hospital. It was a Saturday night – in Newcastle – and as you can imagine it was just carnage! There were people with all kinds of wound and then there was me, this southern boy, all meek and quiet. I'm looking across at the bay next to me and there's a guy with a similar wound on his head. The nurses are sewing him up but because he's being loud and obnoxious they made him look like Frankenstein! Then they come to me and I'm all sweetness and smiling, so I get very delicate stitches.
When I get back to the theatre Vanessa Redgrave turns up and she's sporting a black eye. She had tripped and fallen. So there's this wonderful picture of me with my scarred head and Vanessa with her black eye. It was a very memorable evening!
Break a leg and all that!
Exactly!

What came after that Neil?
I did some work with theatre and touring theatre for a while, with dance companies and drama groups. Some of them are big names now but they were just starting off when I was with them. Then I got a job at the Millennium Dome looking after the sound systems, but with them being all new, nothing really went wrong. So it was pretty much me just standing around and eating bagels; it didn't do anything for my waistline! But it was a good year and I worked with some good people.
How did this all evolve into the world of public art?
At the end of that job I was asked if I knew how to make up some electronic sensing circuits. I said yes, I could do that, which lead me to work with a company called Greyworld, which creates public art in urban spaces. So working with them over the next 12 years really got me into art, public art and interactive works – I did some fantastic things.
One of the pieces you made was The Source – the series of balls at the heart of the London Stock Exchange that move up and down to reflect movements in the market.
That's right. They came to us saying that the New York Stock Exchange has got its bell that they ring, but they wanted something more impressive. So I scratched my head and came up with the idea of using the height of the atrium there by stringing wires from top to bottom and having things move up them.
Do the balls respond directly to movements in the markets?
There's an algorithm involved. It looks at trends and rising and falling markets, then at the day it will display what's been going on.
You're now based full-time in Peterborough. How is that going?
I've come full circle. I grew up here, went away to study, came back again and then went to London where I stayed for 10 years. I moved back to Peterborough in 2002 when my wife and I considered starting a family – the thought of being away from my support network was quite terrifying – but I continued commuting into London. It's only since I left Greyworld last January that I'm back full-time.
Most of the work I've done since being based back here has been up at Alnwick Garden in Northumberland. I've done all sorts of things up there, including making three large book sculptures and I'm currently working on a giant.

Which leads us neatly to your most recent work: your commission for the Peterborough Celebrates 900 campaign. You've installed a 2.2 metre tall book outside the west entrance. It's a very commanding piece of artwork.
It all started when Mark explained what the Cathedral was doing to celebrate its 900th anniversary. All these events were planned but there wasn't a focal point, nothing really telling people what it's all about. He suggested that maybe we could do a book similar to the ones in Alnwick. Sure you could do a poster or something similar, but it's not very interesting is it? People crowd round the giant books at Alnwick because it's a bit different. So it made sense to bring the idea to Peterborough. We talked through the idea with the Cathedral and they were totally on board with it. It was a very painless process.
As you said just now, it's like coming full circle. Your career began in Peterborough and now you're a very visible part of the celebrations to mark this historic moment in the city's history. That must feel good as a local artist.
I've always wanted to do something in my hometown, and who wouldn't. To be able to do something that your friends and family can see without travelling vast distances is fantastic.
So what's next?
I have a broad range of skills. As well as sculpture I can do interactive artworks, window displays – pretty much anything I turn my hand to. I've got a couple of window displays on the go at the moment and some work at Blenheim Palace in Oxfordshire for their Christmas shows.
Being an artist certainly gives you variety, but it's an unpredictable way to make a living because you never know what you're going to make next. And I have to say you generally never make the same thing twice.
Before we let you go Neil, do you have any pearls of wisdom for the young or aspiring artists of Peterborough who are looking for their own breakthrough?
I'll pass on some very sound advice I received when I started out at the opera. That advice is to be yourself and to play to your values and your strengths. Don't try and take on things that you just can't do well.
Leave a Reply