A special 'thank you' from Vivacity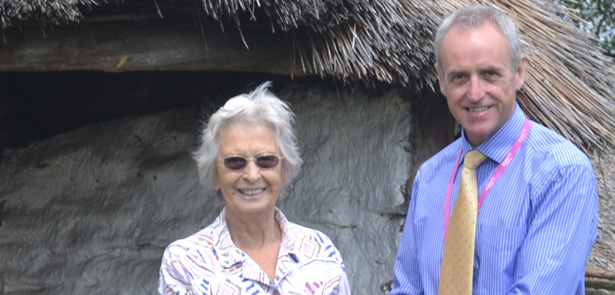 Vivacity Culture & Leisure would like to say a very special thank you to volunteer Elizabeth Peers, who has reached the grand milestone of 700 hours of volunteering for the not-for-profit organisation.
Elizabeth volunteers at Flag Fen Archaeology Park and helps at Werrington Library. Vivacity is delighted to recognise Elizabeth's significant milestone and the commitment she has given to the local community. Elizabeth contributes a lot to Vivacity, along with all the other volunteers who dedicate their time.
"The hours I spend at Flag Fen are a great privilege," says Elizabeth. "The friendly staff and volunteers, not forgetting the sheep, make it a truly wonderful place to be – whatever the weather!"
You too could become part of Vivacity's team of volunteers, who give up their time and share their skills. People volunteer for lots of different reasons: it is a great way to gain new skills, enhance your CV, improve employment prospects, meet like-minded people and help in your community.
No matter how much time you have, you can make a difference. Vivacity has lots of opportunities available, including in sport, libraries, history, fundraising, and even helping at one-off events, such as the annual Heritage Festival.
For more information, call 01733 864 775, email or visit www.vivacity-peterborough.com
Leave a Reply