Don't Try This At Home – Clarke's Restaurant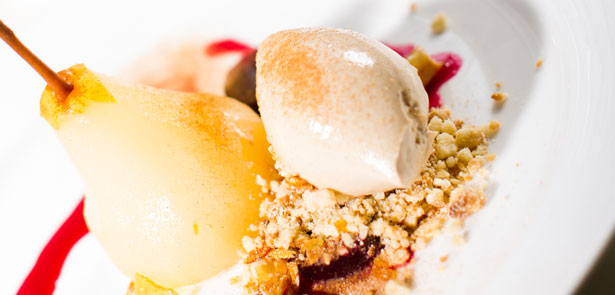 There are some restaurant experiences that simply can't be recreated in your own kitchen. With a reputation for providing imaginative food, at an affordable price, Lee Clarke of Clarke's Restaurant is fast developing a reputation as a culinary innovator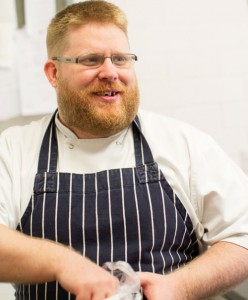 If there's a downside to celebrity chefs inspiring the nation to get more adventurous in the kitchen, it's that it becomes harder to find restaurants that offer something you can't create at home. After all, there's no great skill required in knocking up a lasagne, and just about anyone can rattle together a chilli con carne. But there are some restaurant experiences that can't be re-created, a situation that Lee Clarke is happy to rectify.
We really want to give people a night out and a food and wine experience that they simply cannot create in their own house. We want people to go away and think I would never have thought of putting that combination together. That was a really unusual flavour – how did they do that?
It's not just the creativity and inspiration behind it that makes Clarke's menu difficult to copy, the source material and specialist kitchen equipment used in its creation also plays its part. 'Not only do we make home-made bread every day, we even make our own yeast for our own bread' Clarke says. With this attention to detail, mirrored in a high specification kitchen, it's not surprising that Clarke's has developed a reputation for quality food at affordable prices.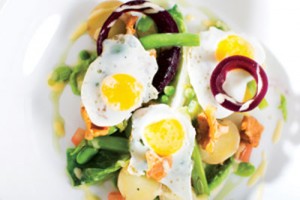 But sophisticated machinery alone does not guarantee great tasting food: knowing how to cook it obviously plays a big part and Lee Clarke has an impressive pedigree. He learned his trade from some of the most famous chefs in the business, including Marco Pierre White and the Roux brothers, and has worked in some of the world's most exclusive restaurants, including the Ivy, dining room to the stars.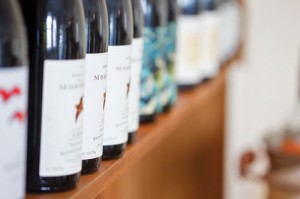 So what made him leave his celebrity world behind and return to his home town of Peterborough to open a restaurant? 'I had a family and just decided that I wanted a break from London. I'd been there 12 years and it seemed a natural decision to come home to Peterborough.'
It may be a dramatic change in scenery and lifestyle but the move also allowed Lee to achieve his ambition of running his own restaurant,
just the way he wants it, and that meant being very hands-on in every part of its creation. 'I don't actually own it – I'm a partner – but it's the first one that's felt like it's mine' he says. 'I mean, I did all the design, I created the menus, I bought the furniture, picked the artwork, I helped paint the place, so I've been involved in every aspect of it. It's been a lot of hard work but it's exactly what I wanted to do. When I first walked into the premises, there was plaster hanging off the walls and it used to be a strip club so there were pole-dancing poles in the corners – it was in a terrible state. But we managed to transform it into a really nice contemporary space which was exactly what we set out to do.'
Achieving the right sort of ambience is another major ingredient in creating the perfect culinary experience and it's something that Clarke has worked hard on.
We're trying to do fine dining but without the stuffy atmosphere. One of the things we've done to try and achieve this is to pick quite an eclectic music choice so we play quite up to date stuff from Adele, Joss Stone, Amy Winehouse, people like that. We're also looking at putting feature walls in and a new bar area so customers can see the wine being chosen by the wine waiters. We want Clarke's to feel special but we don't want it to feel uncomfortable
Clarke's is based in what used to be the old Masonic hall in Lincoln Road and some of the original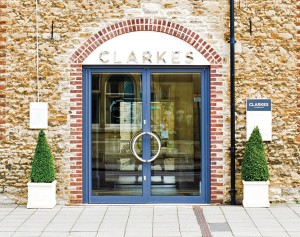 features of the building have been retained. 'We wanted to be sympathetic to the existing building because it had some nice touches – things like the radiators which we absolutely loved. They looked disgusting when we moved in but we had them stripped and painted and re-hung. They're amazing cast iron radiators that you just don't see any more. We also left all the original panelling in the ceiling but had it fully restored, but the biggest change was putting in the entrance doors where the fireplace used to be.'
Designing your own restaurant from the ground up sounds like fun but Clarke soon discovered there were limitations. 'To be honest, budget dictates a lot of it' he admits. 'You can be as imaginative as you want but I realised very quickly that the more imagination I used, the more expensive it was going to be!
Despite the fact that Clarke's Restaurant has been up and running for over a year,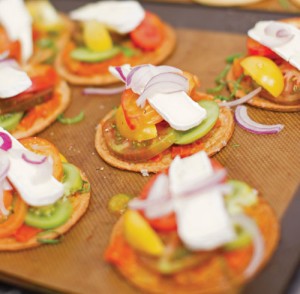 Lee says there's plenty more to come in terms of ambience and, in particular, what he refers to as 'theatre' – making the fine dining experience a more interactive affair. 'We've not got as far as I wanted to with this yet. We've started adding pre- starters and pre-desserts to the menu so that customers are getting little extras and I've spoken to the staff about explaining exactly what customers are being served. But the next stage will be getting the waiters more customer-involved. In this we're taking our lead from the Danish restaurant Noma which has been named as the best restaurant in the world by Restaurant magazine. We want more of that sense of theatre where the waiters do some of the presentation in front of the customers and the chefs come out to serve some of the courses, just to make it all a more interactive experience. That obviously couldn't be for every table – it would only be for special tables which are ordering from the tasting menu.'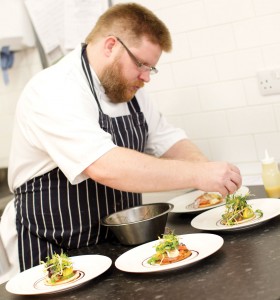 One thing you won't get at Clarke's is a shock when your bill arrives – an embarrassing and discomfiting situation that Lee very much wants to avoid. 'We only do set menus (for example, a two-course dinner costs £30 and a three-course meal costs £40) and we chose to do that so people know what they're going to spend before they walk through the door. The whole concept was that we didn't want people to be intimidated by the pricing structure. Don't get me wrong, on Fridays and Saturdays we do tasting menus that cost £60 per head, so that option is there if you want it, but we don't want people struggling to work out what the bill is going to be if they're on a budget because that can ruin the dining experience.'
But there is a way to experience the very finest food that Clarke's has to offer for less as Lee explains. 'We do a really great lunch menu where it's £20 for two courses and £30 for three. The reason that I feel the lunch menu is really good value is that we practice lots of our a la carte dishes (which are usually a lot more expensive) at lunch times, so it's a very good way to get a bargain! If we think a dish is getting very close to being on the a la carte menu we'll put it on at lunchtimes to refine it.'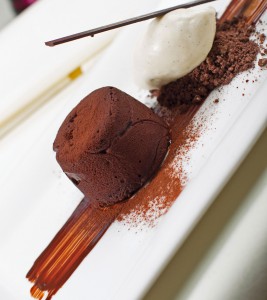 Regular diners at Clarke's will have noticed that the menu is never the same twice and this is another conscious decision on Lee's part and an indicator of just how fresh the food is. 'We get what ingredients we can locally but I'm not going to sit here any more and run the line about 'we only use local produce' because we tried in the beginning and it just proved impossible. There are people in this area who are growing and producing really good stuff but getting them to supply it in the volumes we need is just a nightmare. So what we do is we get a list of products from our suppliers that tells us what's good that week and we create our menu around those products. We don't dictate to our suppliers any more – we've learned that it's better to let them tell us what's good and what's in season and then we create a menu.'
Lee describes his menu as being made up of 'modern British food', as opposed to the more commonly advertised 'traditional' British food. 'Traditional British food is notoriously heavy and stodgy. We cook the same basic dishes but make them a lot lighter by using less butter and less fat. We've just cleaned it all up and tried to make the courses a bit lighter. So we still do things like lamb Wellington and hare and venison, but we don't make the dishes big and cumbersome – we make them refined and small and delicate so there's nowhere near as much fat content.'
Now that's something we could all try at home!
From The Menu
Although the menu changes every week, here's a sample of the kind of food on offer at Clarke's (a two-course set menu costs £30 and a three- course meal is £40)
STARTERS
Pressed terrine of ham hock and artichoke with pear and red onion
Duck egg, Portabello mushrooms, sage and haricot blanc
MAINS
Norfolk cod, ratatouille, potato terrine and Brancaster oyster cream
Slow-cooked corn-fed chicken, spring cabbage and champagne-infused pan juices
DESSERTS
Selection of strawberries, lemon-scented cream and basil sorbet
Lemon parfait, lemon drizzle cake. meringue and black raspberry cream
CLARKE'S RESTAURANT
17 Lincoln Road
Peterborough, Cambs
PE1 2RA
01733-892681
Leave a Reply