What's the story? | Thorpe Hall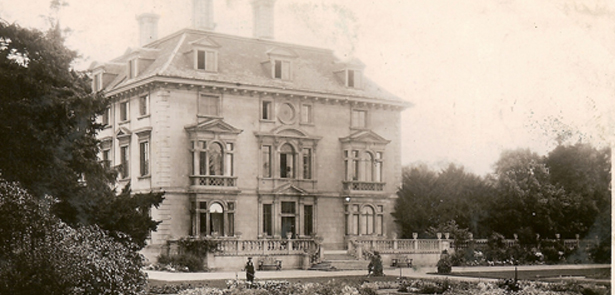 Local historians and authors June and Vernon Bull uncover the history of some of Peterborough and the region's iconic buildings.
In 1850, this imposing three-storey stone house was found derelict and decayed by the new purchaser, the Revd William Strong (of Longthorpe Tower), who bought Thorpe Hall estate in Longthorpe, Peterborough, from Earl Fitzwilliam of neighbouring Milton Hall. However, Strong's alterations and renewal in the Italian style didn't detract from its original Cromwellian mansion design by John Webb (nephew of architect Inigo Jones). The building dates back to Oliver St John (b.1598; d.1673), a Lord Chief Justice who supported Parliament in the Civil War, and who bought in 1653 the freehold on an area of Longthorpe – some 26 hectares. Oliver St John had Thorpe Hall built from 1650 onwards out of the ruins of Peterborough Cathedral's Bishop's Palace and cloister, plus stone from Barnack quarries. Thorpe Hall was finally completed in 1656 by the builder Peter Mills.
The mid-17th century architect, John Webb (b.1611; d.1672), went to great pains to vary both the design and the material of Thorpe Hall. Together with local stone he used various types of marble. The carpentry is also exquisite with scrolls ending the architraves and five panelled oak doors featuring abundant swags and scrolls. Although the dining room is less than 20 feet square it is filled with moulded fruit swags – both on the ceiling and on the oak wall panels and doors. The adornments are breathtakingly beautiful.
The Grade I listed house sits in five to six acres of garden and outbuildings and is enclosed by an ashlar wall. In the mid-19th century the Revd William Strong extended the walled garden to the west to create a large kitchen garden and he also added two new lodges. There were two entrance courts – one by road to the north and the other a water access to the south from the River Nene. Pairs of lead falcons used to adorn both sets of gates.
On the death of Revd William Strong the seat of Thorpe Hall was passed to his elder son Lieutenant Colonel Charles Isham Strong (b. 1838; d.1914). Upon Charles' death his elder son Brigadier-General Strong took over the running of Thorpe Hall from 1914 until 1927 when it was acquired by the Meaker family. They undertook modifications to the gardens and replaced many of the rose beds, plus other garden plants and shrubs, which had decayed over time.
The Grade II listed gardens were fully restored in 1989 and they retain the old urns and gates but the planting is post-1990.
From 1943 to 1970 Thorpe Hall was used as a maternity hospital; from 1986 it was acquired by the Sue Ryder Foundation and opened in May 1991 as a hospice, and remains so today.
In November 2011, the Sue Ryder Foundation, Thorpe Hall, was given full planning permission by Peterborough City Council and English Heritage to build a new state-of-the-art, single-storey hospice within the existing grounds. It will offer 20 single en-suite bedrooms within a landscaped garden that will be fully accessible to patients and relatives.
Thorpe Hall can also be hired for weddings and the gardens are open to the public all year round.
Thorpe Hall's First Resident: Oliver St John, Lord Chief Justice
Records show that Oliver was born illegitimate in 1598 but his father was thought to be the eldest son of the Earl of Bolingbroke. Oliver was educated at Queens College, Cambridge and became a lawyer.
His first wife was Joanna Altham, the great granddaughter of Sir Henry Cromwell of Hinchinbrook House. Oliver and Joanna's first child Joan became the grandmother of Lord Bolingbroke – the 18th century statesman and political writer (b1678 – d1751) who opposed Robert Walpole (our 1st Prime Minister).
When the Civil War broke out in 1642 Oliver was one of the leaders of those that challenged the rule of King Charles I and the Monarchy. Some ten years later Parliament ordered the demolition of cathedrals and the sale of materials thereof and this is when Oliver intervened at Peterborough as our cathedral had already been ransacked by a Roundhead army in 1643 and the Lady Chapel completely ruined.
During this period in history Parliament disposed of church property to raise money for the army and navy. Apparently contemporary documents show that Oliver Cromwell (born in Huntingdon) might have been interested in the materials from Peterborough Cathedral's Lady Chapel but Bishop White Kennett claimed that Oliver St John kept it from Cromwell by persuading the townsfolk to petition for the preservation of their cathedral. In Cromwell's absence the petition was accepted and Oliver St John was given building materials from the cathedral in return. It is probable that some of Peterborough Cathedral's stone was reused at Thorpe Hall with the carvings turned inwards. In more recent times some evidence has been found within the garden walls at Thorpe Hall to support this claim.
Oliver supported Cromwell and the army against Parliament in 1647 but he refused to take part in the trial of Charles I in 1649. Oliver was one of the commissioners who negotiated the union with Scotland in 1652. His friendship with Cromwell cooled during the Protectorate and he cooperated with General George Monck in the Restoration of the monarchy in 1660. Later in life, Oliver denied involvement in the execution of Charles I and the establishment of the Commonwealth and his account was upheld because his punishment was merely exclusion from holding office.
In April 1660 his son Francis lost the election as Peterborough's MP and due to fears of assassination by Royalists (King Charles II wanting punishment for the killing of his father Charles I) Thorpe Hall was made more secure and closely guarded.
In 1662, Oliver St John managed to escape to the coast travelling as "Mr Montagu". He first went to Basel in Switzerland but eventually settled at Augsburg, Germany and ignored an official summons to return to England in 1667.
Oliver died abroad in1673. His son Francis occupied Thorpe Hall and was in residence there at the time of the building of Peterborough's Guildhall in 1671, which understandably carries a declaration of loyalty by way of King Charles II's Coat of Arms.
The last of the St John line at Thorpe Hall was Oliver's great granddaughter Frances (a spinster) who was buried at Longthorpe in 1794.
Leave a Reply