Island Hall – another world away!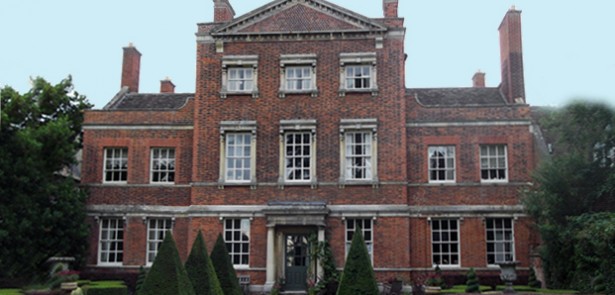 Christopher Vane Percy and Lady Linda Vane Percy are the current owners of Island Hall in Post Street, Godmanchester, and their home is the epitome of the classical early Georgian style... Local historians June and Vernon Bull investigate
Island Hall was built in 1749 for the Jackson family and is set in three acres of gardens. A Saxon-style ornamental island, in a part of the grounds connected to the River Ouse, provides a spectacular view of Portholme Water Meadow. The enclosed 18th century garden is connected by a Chinese-style bridge to the island. The bridge is a replica of the original.
Christopher's family, the Baumgartners (who anglicized their name to Percy during the First World War) owned the house from 1804 up until the Second World War when it was requisitioned by the WAAF and RAF (Pathfinders HQ). In 1977, the property was badly damaged by fire but bought and restored by the Herrtage family before Christopher (an award-winning interior designer) and Linda purchased it in 1983 and steadily furnished and decorated their family home for themselves and their two daughters and son, Grace, Maximilian ('Maxim') and Tryce.
It is interesting to note that after a break of 40-plus years that Island Hall is now owned by the same family who occupied it in 1804 and that Christopher is the seventh generation of his family to live there. Another interesting connection concerns MacDuff who slew Macbeth, Octavia Hill (co-founder of the National Trust), Henry Percy, King Charlemagne of France, Tom Hughes (author of Tom Brown's School Days) and Samuel Pepys – because they all appear on the family tree of Christopher Vane Percy!
Lady Linda's family is equally interesting as her father, Lord Ebury, was equerry to HM Queen Elizabeth II and her brother William, at the age of 11, was a page boy at the coronation in 1953. Her grandfather was awarded a DSO whilst Christopher's grandfather was awarded the VC. Lady Linda's long-time friend is Dame Zandra Rhodes.
The ten-bedroom mansion and gardens delight all who visit it. The owners have a wonderful enthusiasm for a house that offers a true example of Georgian country living, a world away from today's harsh hustle and bustle, and enables visitors to hark back to a more genteel way of life…
For more information visit www.invitationtoview.co.uk
Leave a Reply