PCYM – music matters in lockdown!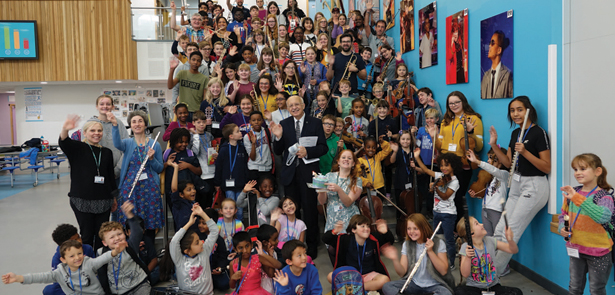 Along with the rest of the country, the Peterborough Centre for Young Musicians (PCYM) had to close its physical doors to students at the beginning of this period of social distancing and isolation. This is not the end of the story though, with the music living on through new and exciting avenues
Instrument lessons have continued for the majority, with lessons taking place online via video link. It allows students to continue with face-toface learning with their teacher and keep a routine of learning and progressing. Whilst a steep learning curve for parents and teachers alike, the response has been hugely positive.
One parent stated: 'That was brilliant! We thought it worked really well, happy for teaching his online lessons to continue!' It's not just online lessons that have taken place though. Ensembles, singing and musicianship have all continued with challenges and activities shared with students, and feedback readily available. A vast array of online resources has been compiled and shared with all to give limitless ideas for musicmaking at home. Even some music grade exams have taken place via video!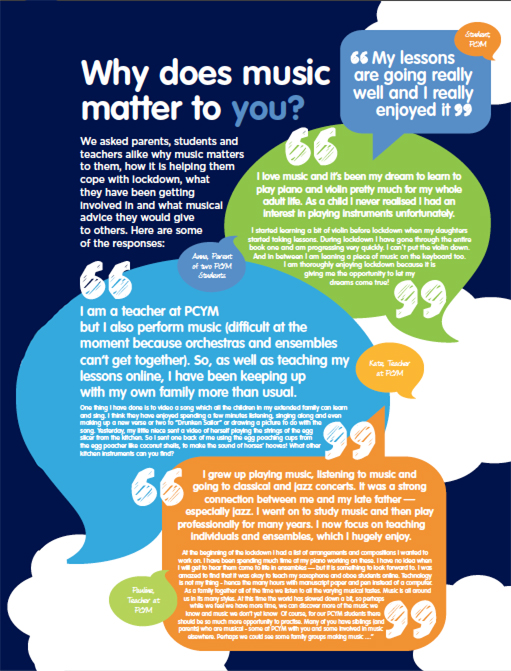 Teachers have created a forum to share and be inspired by sharing music that means something to them and discussing their love of different genres and styles. Many are spending the time at home creating new music, learning new instruments and dedicating time to some good old-fashioned practice!
Contact if your child is interested in finding out more about making music at PCYM either during or after the lockdown.
Leave a Reply