The night the bombs fell on Peterborough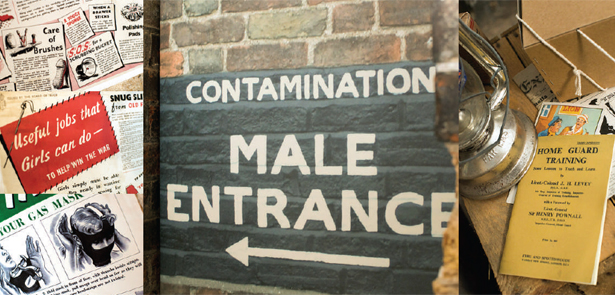 On 10 May 1941, Britain experienced the heaviest night of bombing of the entire Blitz. While Peterborough got off lightly compared to many other cities, that night saw bombs fall on the city and two firefighters lose their lives – a grim reminder of the realities of war. For the anniversary of the events on 10 May, Priestgate Vaults has organised a special evening for teachers, showing how a mix of modern technology, re-enactment and unique artifacts and resources from the period can bring the dramatic events of that night back to life. The Moment talked to Vivacity Education Manager Carol Law and Heritage Teacher and Education Assistant Andrea Guy about the event, and how Vivacity for Schools can help teachers and pupils learn more about the past
First of all, what happened on that night of 10 May 1941?
Andrea: Bombs hit in the vicinity of the Museum, across Priestgate and into Cowgate, where two fire officers lost their lives and several people were injured. By sheer luck, the Museum itself escaped with just shattered windows.
Carol: Looking out of the Museum building now, you can see there are Georgian buildings directly opposite, but beyond are modern brick buildings in between where the older buildings were hit. It was over on Cross Street where firefighters entered a building that was badly damaged. They went in after the all-clear to see if there was anyone trapped, and an unexploded incendiary device went off while they were in there. So they were actually killed after the all-clear.
How is this being brought to life for the anniversary?
Andrea: In Priestgate Vaults – which are the old Museum cellars – we have the air-raid shelter, which people really did use that night to shelter from the bombing. The shelter has been restored with a dramatic audio-visual experience that now forms but of the regular tour of the Vaults, and we want to use that to recreate events of night for teachers, partly to raise awareness of the Vivacity for Schools education services we provide around that theme and others. As you may know, there are projections in each of the Vaults rooms where a character from history tells the story of the Museum building and the city around, and in the air-raid shelter they'll meet a girl called Abigail, who explains what's going on, as well as experiencing the sights and sounds of that night.
Carol: Abigail is the fictional daughter of Mr Winter, the real caretaker of the Museum at the time who lived in the building and was also a volunteer with the Home Guard. On a school day, the children can meet a living history person as Mr Winter in his Home Guard role, and do some drill with him in the Museum garden. They also have a go at putting out a fire – not real! – with a stirrup pump.
Andrea: There will be some costumed interpreters on hand for the teachers' event, too – either an Air-Raid Warden or a Home Guard officer, who regularly work with school groups. And the teachers will also be put through drill practice! In the Georgian wine cellar there will be some 1940s themed refreshments, so they can mingle and network and share ideas there, with 1940s music playing. We're also planning some interactive activities to provide ideas to take back to the classroom, which means there is a CPD element for the teachers involved.
Carol: We'll be getting out some of our handling collection, too. There's a gas mask designed for a baby, and we have a firefighters helmet from that time which we pass around – exactly the same as one of those firefighters would have worn – which brings home the reality of that night. We're basically putting a local perspective on an international event – the World War – relating what was happening here to what was going on nationally and worldwide, to make it more immediate and relevant for teachers and students.
How do you achieve that for children who may not know much about WWII?
Andrea: We try to make it quite relatable. When children come in school groups we have lists of names of real evacuees to the area from the records of the time, and they take the identity of one of those children for a day. The Museum was a holding place for evacuees before they were sent off to local families. So, we try to give them a real experience of what it was like to be a child in WWII.
Carol: That experience really starts in the classroom, before they get here. We give information to the teacher in advance so the children learn about being an evacuee and what that meant, leaving families and going to a strange place. It's amazing how they really do take on those characters! This is also about increasing teachers' knowledge, because these are local events that they may not know about.
So, this service is designed as much to help teachers as it is their pupils?
Carol: We're trying to make things a bit easier for teachers, offering resources that will help them and also spark the imagination of the children. They don't have to study WWII in primary schools, but they do have to study a single historical event as part of the National Curriculum, and we're hoping to show that this particular event offers a lot – the actual space of the air-raid shelter on this one very specific night, which brings some of the bigger events to life. And even if they aren't doing WWII this year, it's something to think about for the future.
And can Vivacity for Schools cover other historical periods?
Carol: We do a variety of schools activities that relate to our Museum collection, and for every exhibition we'll have a schools programme. Prehistory is at Flag Fen, and we cover the Roman period at the Museum. We take them back 2,000 years ago, and the schoolchildren become slaves! They learn about Roman food and crafts, and they get to meet a Roman soldier or surgeon as part of their day. We specialise in these full, immersive experiences that take them back to the times. We also do one of these teacher sessions a term, each with a different theme, and we're keen to hear ideas from teachers about how we might adapt programmes to best suit them. We're here to help!
Your Vivacity needs you!
Vivacity volunteer Mandi Davis describes the volunteering experience…
'You can usually find me hard at work in Vivacity's Finance Department. During my free time, however, you can also sometimes find me volunteering as a tour guide in Vivacity's Priestgate Vaults. 'The Vaults was just something I really wanted to get up close with – I really love spooky stuff and, knowing all of the ghost stories that have been reported down in the Vaults, it seemed too good an opportunity to miss. I just love helping others and it does give me a sense of fulfilment. Being a tour guide also gives me the opportunity to learn – I really love history.
'I also love that Vivacity do so many things in the city and it's just nice to be part of helping make Peterborough a nicer place to live and to visit. But mostly I like to volunteer because I'm not often able to give as much money to charities as I'd really like so I think. But if I can give my time, that's just as good.
'I only do the Vaults once a month but whenever there's a big event on such as the Heritage Festival, Key Feste, The Tour of Colour I'll always be the first to put my hand up. I'm also going to help out with clean up at Flag Fen at the end of the season – I don't mind getting dirty!'
Want to get involved with some of Peterborough's vital services and have some fun in the process? Become a volunteer for Vivacity, Peterborough's culture and leisure charitable trust, and you could be helping out at the Key Theatre, Peterborough Museum, Flag Fen, Longthorpe Tower or Vivacity's libraries and leisure centres.
● Getting involved is easy – just email or visit www.vivacity-peterborough.com/vivacity/support-us/volunteering/ for application information.
● The latest opportunities can also be found on Twitter by following @VivacityVols
Leave a Reply