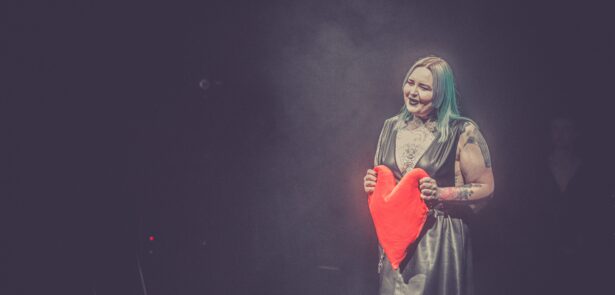 Jumped Up Theatre's Kate Hall on why stories matter.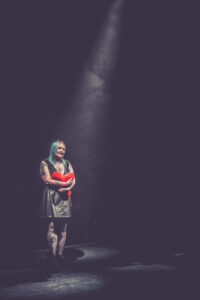 Making up stories and playing games" – that's what I would tell my young daughter that I did for a job, and why she had to go to the childminder. She thought I should take her to work.
The stories we tell about ourselves, the places we go, and the people we meet, are important. This daily transaction with each other, shapes how we move through the world, how we are perceived, and the futures we aspire to.
"How are you?" "How was your journey?" aren't an invitation for a detailed report on your health or of the vagaries of the Parkways. They establish an exchange of perspectives and contexts, which, if we have the grace and fortune to be responsive, shape what happens next – whether it's packing your shopping, a job interview, or a social event.
Taking time to listen to other's stories can feel like a luxury when time is tight, especially when it's online and there is the bark of many other voices to be glossed over. I have been fortunate enough to have been working on a lot of stories lately. Projects that unravelled and stalled, have restarted and been knitted back together, resulting in the output of a diverse collection of stories, for my company, Jumped Up Theatre, of a campaign film, a new play and a five-part radio play.
Fierce Talent is a campaign about Peterborough's young people and creativity. I heard one of Peterborough City Council's directors reflecting on how creativity had proven to be a source of solace during lockdown, especially for young people. It was music to my ears to hear a city leader acknowledge that creativity is fundamental to our existence.
I proposed a campaign based on the successful formula of our 1000 Moments project for Peterborough Presents. We sought out stories of young artists and performers, we interviewed youth arts leaders, and we started a conversation about what creativity meant to young people.
The result is the Fierce Talent film, funded in part by Youth Inspired, where the thoughts of young people were drawn together by poet Charley Genever, illustrated on film by Reckless Abandon Media, and underscored by the music of rising local star, Chloe Lorentzen.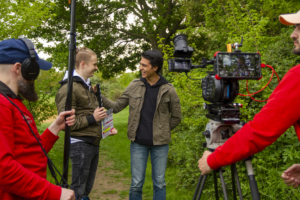 The film is powerful and provocative because it was fuelled by the young people who co-created it with the professional team who brought the elements together. The young people's message is that the struggle to be creative, the messiness and disappointments, is as vital as the "shimmer and shine." Love Island be damned – these young people appreciate that grit and graft is as exciting, and important, as a polished finished project.
And they took this message to London's Disrupt Festival, leading a live-streamed discussion about having their say and being truly listened to. They did Peterborough proud.
Rent Party by Darren Pritchard at The Key Theatre was a completely live affair, with plenty of glamour. Inspired by the Harlem rent parties of the 1920s, the premise of the show was that five local performers share their stories and talents in return for "Rent Party cash" from the audience.
We only decided in April that we would create the show this year (stalled from last summer.) It was a fast and furious process to find performers, rehearse (on Zoom, then staggered and then en masse), and stage the first local professional show in the city in 2021. It wasn't without its challenges – one actor got Tracked & Traced, I was constantly rechecking government guidelines, and we had to get very creative to make a safe yet interactive cabaret-style show.
But we got there, and we sold out. And everyone loved it. It was more than the joy of being in a room of people, sharing stories and watching exceptional performances; it was also that these were new stories, from the LGBTQ+ community and from women who don't conform to stereotypes. A marker was put down that if stories are to be told, especially at a time when it is hard to do so, that those who aren't always listened to (like the young people who made the Fierce Talent film) need to have a chance to shine. This value is vital as we open up and rebuild, if anything good is going to come out of everyone's sacrifices.
What's also exciting is that Rent Party Peterborough has now been picked up for a performance at London's Battersea Arts Centre – again elevating Peterborough's stories and artists.
And I am hoping for the same for our Northern Soul project. Our original finale for this local history project was to be a stomping, shuffling, spinning flash mob outside the Cathedral for the 2020 Heritage Festival. Instead, thanks to the flexibility of our creative team, especially writer Nick Wood and director Jason Webb, and the support of the staff and students at Peterborough College, we have created a radio play, Keeping The Faith – a semi-fictionalised story of Northern Soul in Peterborough, using the memories of those who were there, and lots of brilliant music.
The five short episodes (9 mins each) will be aired on BBC Radio Cambridgeshire in July, and then will be available, alongside the oral history interviews that inspired them, on the Jumped Up website.
It's not easy being an artist in Peterborough, it's a battle for space, for payment, for recognition. But it can be a joy to rise above the noise of bickering and moaning and to create high-quality platforms for voices that can actually rewrite a city's story.
I am still making up stories and playing games, but us theatre-makers, us artists, are also reinventing what is possible, building communities and creating space for new voices. All you have to do, to take the story on and build something new and better, is listen.
Kate Hall
Creative Producer
@JumpedUpTheatre @Platform8PBO
The Fierce Talent film, the Keeping The Faith radio play and news of Rent Party Peterborough are all available on Jumped Up's website and  socials.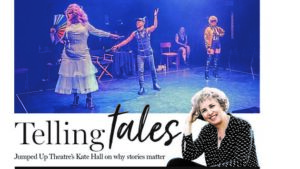 Leave a Reply