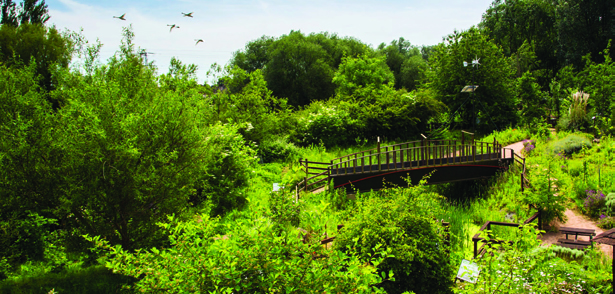 When Perkins employee Brian Pearce set out to transform a scrap of wasteland into a space for wildlife he estimated it would take no more than a year and £2,000. Two decades and many thousands of pounds later, his dream's finally been realised – but the result is worth every penny
The Wildlife Haven is a lush oasis at the heart of Peterborough. Sandwiched between the River Nene and East Coast mainline, the Haven forms part of Railworld, a collection of railway memorabilia that combines with the nature reserve to make for a very full day out. Incredibly, this wildlife-rich bolthole was once a coal yard.
The dramatic transformation from industrial to bucolic is down to the passion and determination of one man (with the support of many volunteers, of course): now-retired Perkins employee Brian Pearce – though 'retired' is a something of a misnomer. Brian is the sort of ebullient character who doesn't have an off button – and that's meant in the nicest possible way. From an early age he has had a non-stop attitude to life, getting things done and finding solutions to the most taxing conundrums.
One of 11 children, he gained his independence from an early age. 'As a young boy I'd often cycle with friends from my hometown of Grimsby over to Doncaster Works to look at the shiny new steam locomotives – over 100 miles there and back! It's what sparked my interest in engineering. We'd pedal off for the day and make sure we were back in time for a late tea.' At the age of 16, he cycled to London to see a friend and, in his typical can-do fashion, pedalled his home-made bike the 185 miles back home in a little over 11 hours, reaching his local chippy in time for a well-earned fish supper before bed.
Perkins connection
In 1965, at the tender age of 16, Brian applied for the only job he'd ever interview for – the start of his career at Perkins Engines here in Peterborough. 'My father made me go down to the library to research diesel engines beforehand. I protested but did as I was told, and I'm glad I did. During the interview I asked them, "how are you getting on with the weight problem in diesel engines because I think once you've got that sorted you'll be fitting them in cars".' This insightful question clearly impressed the interviewing panel as he secured his apprenticeship at the company where he'd eventually become a trainer himself.
During his time at Perkins, Brian met Reverend Richard Paten, a chartered civil engineer and all-round friend of his home city of Peterborough. Rev. Paten had bought a steam engine from British Railways in 1968 and Brian offered his help to restore it. Then, in 1975, Brian learnt of a dilapidated petrol shunter at Wansford that also needed a lot of work. It was re-engined with a new Perkins diesel to create a mobile powerhouse. All the work was carried out by Perkins apprentices and the resulting locomotive was handed over to the Nene Valley Railway.
The trustees' chairman Rev. Paten shared Brian's vision, later telling him that this was one of the best things they had done for their city
Rev. Paten went on to buy the site of the old Peterborough power station coal yard, developing the Railworld centre that stands there today. At the time, Brian recognised that the awkwardly-shaped parcel of land adjoining the centre had the potential to be turned into something special. 'Perkins had built two wildlife reserves on its own site in 1995,' he explains. 'These were made from scratch and the result was fantastic. However, due to security and health and safety concerns they remained inaccessible to youngsters. So I thought: "I'm going to find somewhere I can build my own wildlife reserve that everyone can visit." The old coal yard fitted the bill and I approached the Railworld trustees with my idea for the Wildlife Haven.' The trustees' chairman Rev. Paten shared Brian's vision, later telling him that this was one of the best things they had done for their city.
Hard graft
At first, the derelict industrial site was about as far removed from nature as it's possible to get. There were just two trees when ground works began in 1995. 'Initially all I was going to do was dig a few holes, make a few ponds and landscape it a bit.' But then Brian and his band of volunteers were donated three sections of an aqueduct that had carried the Raveley Brook over the Peterborough to London railway line for more than 140 years. 'We decided that these should be incorporated onto the site as bridges. In this way the landscaping could be made more interesting with hills and hollows.
The intention was to make it an intriguing and exciting place for children to explore and learn about nature,' explains Brian. A culvert that had originally run along the Wansford to Stamford railway line joined the aqueducts to form a fourth bridge – fitting additions given the site's railway heritage. Brian wanted the site to be accessible to everyone, even going as far as keeping the slopes of the pathways no greater than 1 in 20 to make it easy for wheelchair users to explore. Kevin Cage, who owned a Perkins-powered machine, was instrumental in the Haven's design and layout. With the additional help of the UK's Caterpillar Demonstration Teams, the habitat-rich home for nature gradually took shape. All the spoil from the excavations necessary to achieve this were piled high at the centre of the site, creating a raised viewpoint from which you can gain a fantastic overview.
The nascent Wildlife Haven won an impressive level of support, particularly from Brian's employer. 'I got a phone call from Brian Amey, one of Perkins' directors, who said I had half an hour to convince him to help with the project. He asked me how long it was going to take and how much it would cost. I reckoned on a year and about £2,000. I had no idea! 'To raise the money I charged friends to come to my birthday parties, each and every year for 10 years! The first one raised… [cont]
Leave a Reply