Walter Cornelius: The Bird Man of Peterborough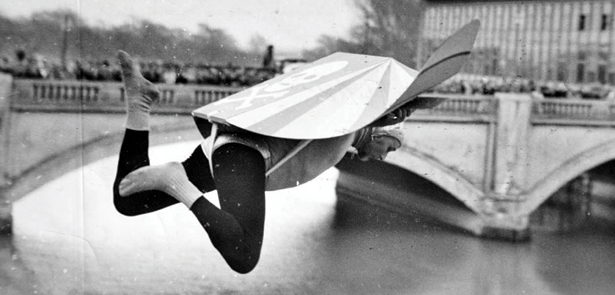 Walter Cornelius is a true local legend. He came to England as a teenager from his native Latvia in the 1940s, having escaped the Iron Curtain by rowing four hundred miles across the Baltic with a Russian bullet wound in his stomach. Safely settled in Peterborough, he worked as a lifeguard at the Lido for the rest of his days, teaching thousands of children to swim. But Walter was not one to live quietly... He became famous for the fearless strongman stunts he pulled, including flying (nearly...) over the Nene, walking on his hands for 153 miles and breaking over 50 World Records – raising thousands of pounds for charity in the process
Life-long friend Chris Allen describes the life and career of this incredibly colourful character – and how Vivacity, in partnership with the Council, and supported by donations from the public, aim to commemorate the great man at his beloved Lido.
How did you first know Walter?
I've been swimming at the Lido since about 1962, when I was four. My parents used to take me every morning before school, and Walter was one of the lifeguards there. In fact, my earliest memory of Walter is him getting me to swim. My dad tried to get me to learn and I was frightened to death. I wouldn't go. But Walter said: 'I'll teach him'. And within a couple of goes I'd done a width. I ended up working there myself – I was there for 23 years – and we'd help him with his strongman tricks. He used to get a towel out of lost property, put it on his head, put a full-size paving slab on top and then just give you a sledgehammer and say: 'Go on!' He used to come around my house on my birthday and do his strongman act on our lawn. Try to imagine, as an eight year-old kid, having the world's strongest man come to your party doing a full strongman act for your friends dressed as a Cossack… He'd do a bridge, supporting his body with his neck and his feet, and then he had this metal plate about two feet square which had knives all stuck on it. He'd hold that over his chest and get me and my dad with sledgehammers to smash it as hard as we could.
Why did he do these crazy things?
He loved being the centre of attention. And that's why he enjoyed being at the outdoor pool so much. In those days, in the 60s and 70s, you could have 2,500 people swim on busy days. And he was a local celebrity. By today's overblown, steroid standards he didn't look that big, but by God he was strong! He could break an eight inch nail in half, just using his hands, in under a minute. He also used to take a penny, put it in his mouth, bend it in his teeth and give it back. Quite a few people have said on Facebook they've still got those. If he could bring a bit of joy into people's lives, and give them a bit of a laugh, then he'd do it. He used his strength to do that. And he had a way with kids – they absolutely loved him. He really was a pied-piper and youngsters would be spell-bound by his exploits.
His most famous moment, seen worldwide, was his attempt to fly…
When he tried to fly over the Nene – well, he knew he was never going to fly… He wasn't stupid, by any means, but he knew he could get a lot of publicity for it and make a lot of money for charity. I helped him make those wings, and they weighed as much as a small village – there was no way he was going anywhere but down! Unfortunately, on the way down, he hit a bit of drift wood and what everyone remembers him for, though – they remember that picture of him mid air.
He must have raised a great deal of money for charity in his lifetime…
All the stunts he did, he did for charity – or just for a laugh. He lived really frugally. He tried living in a flat at one point and didn't really like it, and went back to living in this old Ford Transit which he used to have parked next to the Lido. He made his own flip-flops out of tyres. He hardly ever ate a hot meal. He used to have garlic sandwiches – he'd put a few drops of olive oil on some brown bread, put three or four cloves of garlic in and eat it, just like that.
But with the skills he had, could he have been a wealthy man?
Oh, certainly. In the 50s and 60s there was a muscle control course called Maxalding which was worldwide, and Walter was the world champion in 1964. That trophy was presented to him by Elizabeth Taylor. He was on Blue Peter. He was on Opportunity Knocks – the X Factor of the day – doing his muscle control act, and won it. He nearly killed himself that night, because he'd painted himself gold for the show, but nobody told him that you have to leave a patch for the skin to breathe, so afterwards he collapsed and had to be taken to hospital!
He seems to have had little regard for his own safety…
When he pushed the pea for charity he took all the skin off his nose, his knees were ripped to shreds, and he could hardly walk. When he broke the world record for eating raw sausages – and these were big fat things – he used to take a drink of olive oil, and then he could swallow these sausages whole. He just pushed them straight down into his stomach. But the problem was, when he'd done it he had to go to hospital and have his stomach pumped! I occasionally used to say to him: 'Are you sure about this..?' But he'd always say: 'Yeah, yeah, it'll be all right…' The stuff he did was endless. We'd just be sitting there having a cup of tea, and he'd say 'Ring up Graham Lowndes…' – Graham Lowndes was the local Anglia TV cameraman – 'I've got an idea. Have you got your motorbike here?' The bike was a 1959 AJS which must have weighed about a quarter of a ton. So the cameraman arrives and Walter says: 'I'm going to pick up that motorcycle with my teeth…' So he got two old oil barrels and some rope out of the pool store, tied the rope around the bike, stood on the barrels and picked it up. But as he lifted the bike off the ground, the rope broke and he slid backwards down the stucco wall. Graham laughed, and Walter stood up and chased him out of the Lido, blood pouring down his back…
Do you think Walter changed people's lives?
He certainly changed mine. He got me into the whole physical fitness thing. I'm now head of PE at Priory School, Spalding, but before I went into teaching I had a successful career in London as a model because of the physique I had. So, I've got him to thank for that. I've also done two channel relay swims, and it's because of him teaching me to swim.
Now he is to be commutated at the Lido… Tell us about that.
There was just a little bit in the paper when he died in 1983, no big outcry. He didn't even get a grave stone until about ten years later. He was in an unmarked grave in Eastfield Cemetery, so a few people clubbed together. But since he died the Council had been considering honouring him in some way, with Cllr. John Fox leading the campaign. Well, there used to be a weather vane on top of the clock tower – a lady leaning back on a beach ball – and as I was walking into the Lido one day I looked up and realised the answer had been staring me in the face. Why not have Walter flying as a weather vane? For the thousands he taught to swim and who knew him, it would be perfect – and it's the place he loved more than any other in the world. I mentioned it to Jon Marsden at Vivacity and he thought it was a fantastic idea. Jon worked for many years with Walter and simply agreed this had to be done! The Council loved it, and a friend of mine, Ian Graham, who is a graphic artist said 'I'll send you some ideas…' Well, the first idea was just brilliant. So now, with the support of ongoing donations from the public, Walter is hopefully going to be commemorated in gold – which he often used to paint himself – with the unveiling scheduled for opening day, 28 May 2016, in the Lido's 80th anniversary year. So, Walter will be flying up there forever!
Get Walter flying! If you would like to show your support, please go to crowdfunding.justgiving.com/waltercornelius to make a donation. Vivacity are also asking those who remember Walter to post their favourite memories on the official Facebook page set up by life-long friend Chris Allen at www.facebook. com/groups/waltercornelius For more information see www.vivacity-peterborough.com/waltercornelius
Leave a Reply