Burghley House: Elizabethan magnificence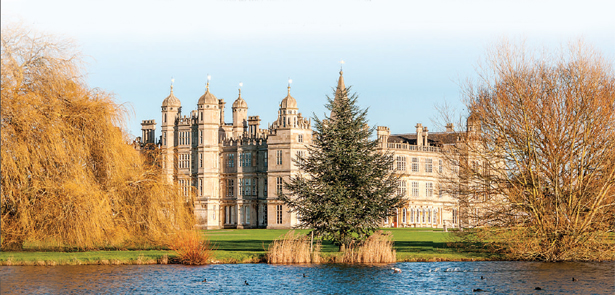 The new season at Burghley House promises more reasons than ever to visit this remarkable Elizabethan gem, proudly resplendent in the glorious Lincolnshire countryside
Burghley House, located on the edge of Stamford, is undeniably one of the largest and grandest houses of the Elizabethan Age. Built by William Cecil, Lord High Treasurer to Queen Elizabeth I, in the 16th century, the house is truly capacious, with 35 major rooms and 80 further rooms, plus numerous halls, corridors, bathrooms and service areas. The roof itself extends to three quarters of an acre – this is architecture on a grand scale! History comes alive on any visit, whether to enjoy a guided tour, take a dog for a walk in the park, the children to paddle or see the teddy bear's picnic in the gardens of surprise, or simply to take time out over lunch in the Orangery restaurant.
The extensive parkland offers a stunning array of walks, all within the historic setting as laid out by world-famous landscape designer Lancelot 'Capability' Brown. Admire the parkland's herd of fallow deer, drink in the sweeping vistas down to the spires of Stamford, or explore the beautiful gardens, including the contemporary Sculpture Garden.
More reasons to visit
New for 2017 is Burghley's added-value tickets offering free return visits throughout the same year. From the new season launch this March, visitors buying a House and Gardens ticket costing £18 for adults or £9 for children will be able to upgrade to an annual pass, giving them unlimited return visits during the year, excluding special events. Gardens-only tickets will also available as annual passes and cost £12 for adults and £7 for children. These new added-value tickets will allow visitors to come back and visit the Lincolnshire historic house as many times as they like during the same year of purchase. That means plenty of reasons to visit throughout the year to explore every magical corner of this one-of-a-kind Elizabethan treasure.
Busy season
The new season begins on Saturday 18 March when the house and gardens reopen. This year welcomes a host of family events, along with some fresh experiences for the discerning visitor. New for 2017 will be a chance to experience a floodlit Burghley by Twilight when the House will open at night for the first time, offering a new perspective of the Tudor building during a special event from 4-7 October. Visitors will be able to walk through the State Rooms as darkness descends, travelling back in time to when the house would have seen endless evenings of entertainment, from supper parties to balls.
Of course, firm favourites are back too, including Burghley's Fine Food Markets staged in the cobbled courtyard with the house as its spectacular backdrop. The first market runs over the weekend of 8-9 April, from 10am to 4pm. Admission is free, so come along and meet around 30 local suppliers in a celebration of local produce – everything from handmade cheeses, artisan breads, organic vegetables, luxury sweet treats to rare breed meats. Also in April is the popular Burghley Easter Egg Hunt, which takes place in the Gardens of Surprise from 11am to 5pm on Sunday 16 April. Follow the treasure hunt and solve the riddle to claim your full-sized chocolate egg from the Easter Bunny. Parents are also invited to test their Easter knowledge in a bid to win a family Season Card. And all entries will go into the prize draw for a giant chocolate Easter Bunny!
As the weather warms up in May, Burghley hosts the Rat Race Dirty Weekend. Quite simply the world's biggest assault course, with 200 individual obstacles to tackle, energetic thrill seekers can choose to enter the Full Mucker assault course at 20 miles or the Half Mucker (13 miles) for those who want most of the obstacles without the full distance. It's an exhausting but fun day, with an after-party of festival proportions! The Dirty Weekend is on Saturday 6 May.
Summer highlights
The Battle Proms is one of the most popular annual events of the year and returns with an evening of soul-stirring classical music on 8 July. This premier picnic prom will feature a Spitfire display, cannons, cavalry and fireworks in an unforgettable event – one you'll want to return to year after year. Later in the month (26-30 July) it's time to sit back and relax in what has to be one of Britain's most picturesque outdoor cinemas. The Burghley Film Festival will once again feature classic movies, Hollywood blockbusters and children's favourites, alongside barbeque food, themed cocktails and family entertainment. Film titles will be revealed imminently, as tickets go on sale.
Summer is rounded off with the Land Rover Burghley House Trials from 31 August to 3 September. The trials are the premier equestrian and social event in the international sporting calendar and a focus for the best horses and riders in the world. The parkland at Burghley offers the perfect setting for the four-day event competition – and a stunning location for the popular shopping village of more than 600 exhibitors, tempting all ages and tastes.
Awesome autumn
Things don't quieten down as autumn arrives! As the autumn colours take on their fiery tones the pace at Burghley continues to hot up. Fresh on the heels of the Burghley at Twilight evenings, the hugely successful Spooky Tours (18-31 October) will be revealing plenty of spooky surprises. Join local ghostly expert Martin Tempest on a scary but fun evening tour. Or if you prefer something a little less spook-tastic, hit the Burghley Pumpkin Trail (18-31 October) when you can tread through the crispy autumn leaves of the Sculpture Garden to hunt out and admire the hidden pumpkins.
While house and gardens close for the year at the end of October there's still time for Christmas at Burghley, which will build on last year's line-up with lots more seasonal stalls and, of course, plenty of belly-warming festive fare. There's a lot to see and do at Burghley throughout 2017 – so take advantage of the new annual passes and make this simply splendid Elizabethan gem your favourite hangout!
Eat and shop
Whether you fancy a leisurely lunch with friends or a spot of retail therapy, Burghley has it covered. The Courtyard and Garden Shops offer a tempting selection of unusual and exclusive gifts along with award-winning foods, many of which have been inspired by the beauty of Burghley House, its collection and gardens. The Orangery Restaurant and Garden Café offer a full range of meals and snacks, from coffee and homemade cakes, to a gourmet lunch. The shops and restaurant can be accessed free of charge throughout the year without having to visit the house and gardens – and there's plentiful free parking.
Visiting details For full details of opening times, all events and to book online tickets at discounted prices, visit www.burghley.co.uk or phone 01780 752451.
Leave a Reply