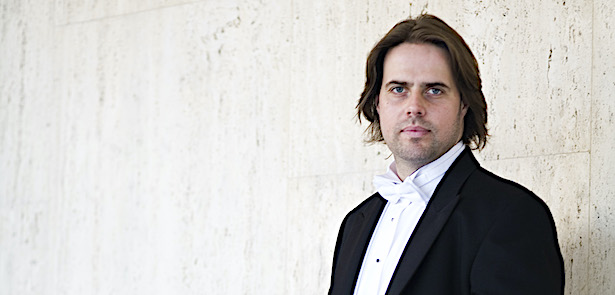 This Autumn, Bjorn Bantock takes up the baton as new Musical Director of the City of Peterborough Symphony Orchestra. Here, we chat to him about his musical career as both performer and conductor, and how he sees amateur musical groups moving forward in the current climate.
When did you first learn to play the 'cello and what/who inspired you to play?
I was lucky enough to grow up in a creative and musical household and was continually exposed to all the classical arts. At age 5 or 6 I knew that I wanted to be a professional cellist and began lessons with Micu Szigetti, age 6. I went on to study at the Conservatoire of Music in Stellenbosch with Magdalena Roux on a scholarship and was already performing professionally as a soloist in South Africa before I was awarded the International ABRSM Scholarship to study at one of the Royal Colleges in the UK. I chose to attend The Royal Northern College of Music to study with Emma Ferrand and later Ralph Kirshbaum before going to Amsterdam to learn from Gregor Horsch at the Royal Concertgebouw Orchestra. Unfortunately, at age 26 an unexpected accident with a glass door injured my left arm and forced me to abruptly stop professional 'cello playing. I turned, reluctantly, to conducting and was advised to study with Colin Metters at the Royal Academy of Music with whom I studied intensely for 5 years.
Do you get many opportunities to play the 'cello now or does your music centre largely around conducting?
I am now devoted to conducting and teaching and enjoy my role as Head of Strings for Bedford School, working with an inspired professional team of string teachers and talented boys of all ages.I have an extensive freelance career as a conductor and am the Principal Conductor for the Irish Memory Orchestra, Huntingdonshire Philharmonic and Open Strings Festival in Denmark. I am also in charge of the Conductor's Course for the National School's Symphony Orchestra Course and often return to South Africa to work with the Cape Town Philharmonic Orchestra and the Stellenbosch International Chamber Orchestra.
Do you have a favourite piece of music to play, listen to or to conduct?
That's an extremely difficult question to ask a musician! To be honest when rehearsing, but most especially when performing good music, the mental, physical and spiritual involvement is so total that even the idea of any other existence except the moment of the sound you're in is impossible.I am a romantic at heart and love Rachmaninov, Scriabin, Schnittke, Messiaen, Khachaturian, Richard Strauss, Ravel, Berg, Shostakovich, Debussy and Bruckner. I also have soft spots for Chopin (especially the Preludes for piano) Miles Davis, Charlie Parker and Liadov. But if I had to choose one or two to take to a desert island it would undoubtedly be the collected works of Beethoven and J.S. Bach.
Besides making music, what are your other interests?
I am learning the electric bass at the moment and have a funk band with some colleagues called 'Funk Tank'. I love the voluptuous tactile sensuality of baking sourdough bread at the weekend for the family and then seeing my boys devour it, and I also particularly love the rush of skimming over water in a sailing boat; I also had a Laser for many years. I have always read prolifically and am currently engrossed in Camille Paglia's latest masterpiece of sardonic spicy wit and fierce intellectual courage, Provocations and an unexpected find, the gem, The Peregrin by J.A. Baker.I also enjoy picturesque and windy 'green-laning' on my Royal Enfield Classic motorcycle when I have free time.
How do you think that amateur music groups can best move forward from the pandemic?
Things are beginning to look more positive after some very worrying months.I have colleagues who have lost the majority of their teaching and performing income and the creative industries have been savagely decimated, at least in the short term, by this pandemic. Honestly,I believe that an effective vaccine is the only long-term solution. As musicians we need to find creative and innovative ways to continue to come together to make music. Currently, string playing seems to be definitely possible and we are planning a string programme for the coming season with the CPSO.I have also seen some promising studies recently that indicate wind and brass players may also soon be safely included, so I remain positively optimistic.
Speaking as an experienced teacher – as Head of Strings at Bedford School – would you say that music education in the UK looks to be in a healthy or somewhat precarious state at present?
Definitely precarious! Very precarious! The government and councils have made drastic and exponential cuts to the funding for state schools, orchestras, ballet and opera companies, galleries, theatres and most alarmingly in education, across the board in all the arts, for more than 20 years now. Orchestras, opera and ballet companies, art galleries and theatres simply do not make a profit without huge subsidies and private sponsorship. Unfortunately, in our increasingly fast-paced world, classical art is poorly supported by the mainstream media. I remain very positive about the fantastic work, generosity of spirit, integrity and musical passion thatI find working with children and also amateur orchestras where music is made for music's sake.
Your great-grandfather, British composer Sir Granville Bantock, was a prolific writer whose works are performed at the Proms. He was a friend of Elgar and Sibelius and he played a major role in the formation of the City of Birmingham Orchestra – the immediate precursor of the CBSO. Do you think that your newest charges, the CPSO, will be bringing any of your great-grandfather's music to life with you as their Maestro?
Sir Granville also invited Sibelius to the UK as he was so impressed with his music and Sibelius dedicated his 3rd Symphony to Bantock, who was then Principal of the Birmingham Conservatoire (but you can read all this on Google…). To be honest, I always tried not to 'ride on any coat tails' whilst at music college not performing any of the Bantock works for 'cello and preferred to find eclectic concertos and sonatas that were not being performed by my peers. As a conductor though, I have performed the Hebridean and Pagan Symphonies and Prometheus Unbound. I would love to do the epic and magnificent Song of Songs for Orchestra, Choir and Soloists and there are a considerable number of large-scale symphonic works which the CPSO might be tempted to try. I do prefer, however, for the choice of repertoire to be a collaborative process with programs that meet the needs of the musicians involved with stimulating and varied surprises along the way.
Leave a Reply