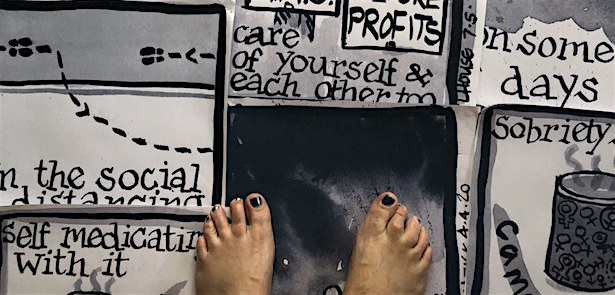 At the end of March, we closed the doors of Chauffeurs Cottage to the public, cancelled our scheduled residencies, and moved the team to home working. Like many we quickly had to get to grips with the joys of video conferencing and consider how we might sustain our relationships with artists and the community through digital means.
We were fortunate that we didn't need to furlough any staff and have spent the last few months moving many of our programmes online, re-imagining how we might be able to support and sustain artists remotely.  This has included running online training sessions, re-purposing our international programme to support local artists, using our social media platforms to showcase talent and commissioning new work.  It has been a very busy period and we have learnt a lot. At the moment we are working toward a phased return, and hopefully will re-open the building in September. In the meantime, there are lots of exciting projects to engage with:
We have commissioned 50 UK based artists to create artworks for a new publication called 'In Other Words'. Through essays, poetry, photography and drawings the book explores the hopes and fears of artists for the future. Contributors include Barby Asante, Travis Alabanza, Dean Atta, Jo Bannon, Claire Cunningham, Noemi Lakmaier, Priya Mistry, Selina Thompson and Scottee.  It is published by Unbound in partnership with Live Art Development Agency and will be available to purchase from September.
Rivers of the World schools programme and public competition
Over the last 18 months we have been working with 12 Peterborough schools, Thames Festival Trust, Nene Park Trust, and British Council on a programme linking art and environmental education. Artists were due to be running workshops in six primary and six secondary schools including a skills exchange trip to Rabat in Morocco for teachers. The trip and work in the Primary schools has been postponed until the autumn term. However, we are running a competition in the participating secondary schools, asking pupils to create a new art work inspired by the River Nene. Twenty designs from each school, will be used to create flags which will be displayed outside the Tate Modern (London) and along the River Nene in September/October 2020. We have also launched a public competition to enable all young people aged 11-18 years in Peterborough to take part.
Future Network Shorts
Future Network Shorts is our new digital monthly showcase.
On the last Thursday of each month Metal's social media platforms are taken over by six artists from across the UK. The event runs as a mini online 'festival' across the day. These 15-minute slots are open for artists to test out ideas, perform, showcase work, hold conversations, experiment and take risks hosted live by artists from their homes.
The best place to get all the info and watch the shorts is by following @MetalCultureUK on Instagram, Facebook and Twitter.  Look out for our next shorts on Thursday 30th July and 27th August.
Consequences
Working with artist Kate Genever, our drawing and conversation project Consequences continued online with regular community Zoom sessions, downloadable activities available from the website and posted worksheets. The sessions proved to be an invaluable way for women to stay in touch during lockdown, often breaking feelings of isolation and going beyond chit chat. Themes explored have included the personal, the political and the universal.
"Sometimes it has been light, sometimes dark but always thought provoking and often hilarious" Consequences participant
From 1-31st August we have an online exhibition planned that showcases the women's drawings, questions and conversations and we're inviting you to join in. You can visit the website and access the free resources and activities. You can download or have beautifully designed personalised packs posted to you that include paper, discussion questions and drawing prompts. Then add your own responses to the website for others to enjoy. whataretheconsequences.com
Remote Residencies
In response to the impact felt by many freelance artists and creative practitioners as a result of Covid-19, we reframed our usual, annual programme of Artists in Residence to create 18 new Remote Residencies – an offer to our local creative communities in Liverpool, Peterborough and Southend-on-Sea. Each residency is awarded £1,000 to help develop the artist's practice.
The remote residencies allow artists to continue to work from their own home or studio but access the support, networks and resources available from Metal.
To date we have welcomed multidisciplinary artist Madu Manipatruni, visual artist Wanja Kimani and spoken word artists Charley Genever and Oliver Dedman.
Impact on artists in their early careers
We have also been taking some time to find new ways of supporting artists who are about to embark on further education and those who are in the first four years of their artistic careers. These are people whose courses may have been deferred / changed or who are not able to access government initiatives. We have been offering training, networking events and supported residencies at Metal; and are currently working closely with partners to see where we can offer more. Check out our website metalculture.com/artists-area/early-career-artists/
As you can see, it has been a busy and critical time for us – one spent trying to help artists to sustain their careers alongside maintaining opportunities for community engagement to stay connected, creative and occupied. We've had to adapt quickly and find new ways of working. We are evolving, listening and learning all the time which is never a bad thing.
For further details about any of the above programmes visit our website metalculture.com
Leave a Reply