Twelfth Night – first time!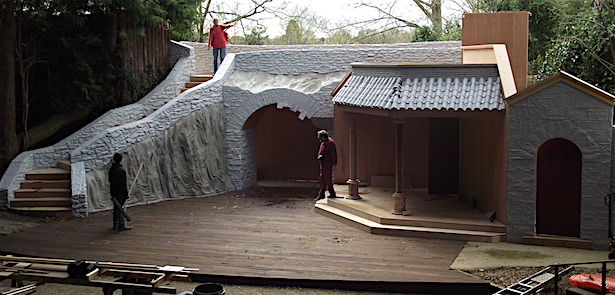 Directing an open air production for the Stamford Shakespeare Company's annual summer season is no easy task. This year, Liz Cullum has risen to the challenge and is currently directing her first production for the Company, one of Shakespeare's greatest comedies, Twelfth Night.
Liz first saw the SSC perform in 1996, after she returned from spending 11 months in Saudi Arabia, where her husband Eric was working as a structural engineer. Although Liz had always loved performing, she hadn't acted since she was at school, forever being told she was too tall. However, thinking "What have I got to lose?" she plucked up courage to audition for the following season and landed a role in 1997's production of Macbeth. It became something of a family affair with Liz's son and daughter, William and Harriet, joining her on stage.
In 2009, after several years acting with SSC and other local companies in a range of plays, Liz directed her first play, Noël Cowards classic comedy Blithe Spirit (also being produced at Tolethorpe this summer) for Stamford Shoestring Theatre. Liz followed it up by directing a variety of productions for both Stamford Shoestring Theatre and Kings Cliffe Players. Liz felt the desire to direct at Tolethorpe bubbling away inside her for a few years until she finally felt the huge challenge would be manageable. "I drive past Tolethorpe Hall, look at the striking building, so quintessentially English, see the canopy of the auditorium and think – I need to try and fill that big space. It's scary. It is a huge mountain to climb and shouldn't be undertaken lightly and without total dedication. I couldn't do it without Eric. He's always there, supporting me." Husband Eric is also designing and operating the sound for the show.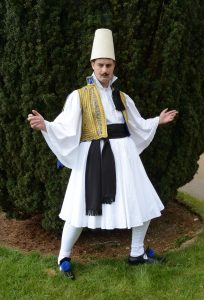 Liz is setting her version of Twelfth Night in early 19th century Albania. "I was inspired by the Byronesque portrait on the set of last summer's production of The School for Scandal. I also wanted to set the play far enough away from England to feel like another world. Shakespeare sets the play in Illyria (an area of the world now covered by Albania, Slovenia, Croatia, Montenegro and Bosnia) and when I realised the vast range of amazing and varied costumes there were in that part of the world in the early 1800s I knew I had found the right setting for me." She has taken on an extra challenge by using live music in her production. The small band will include keyboard, double bass, flute, clarinet and percussion instruments. The music will consist of classical pieces and also some composed especially for the show. Having directed the musical Honk! for Kings Cliffe Players last year, she's confident about working with musicians and incorporating them into the show.
Something Liz relishes when directing is bringing the best performance out of an actor. "My aim is to generate performances full of pace, energy and commitment. Most importantly, I wanted to create a show which the audience enjoy and understand. Shakespeare is completely comprehensible to a modern audience if it is spoken with understanding and conviction."
Liz has a real passion for theatre. "I saw many wonderful productions at Stratford when I was 17. I was at a boarding school there for a year and we went on school trips to the RSC. I was lucky enough to see Peter Brooks' radical 1970 production of A Midsummer Night's Dream. That same year I saw Hamlet, directed by Trevor Nunn and The Tempest, with Ian Richardson playing Prospero. All three were completely inspirational."
When asked if Liz would direct at Tolethorpe again she replies "There is a weird masochism in wanting to direct a play, such is the hard work and stress involved. I don't want to submit a play next year, but will in a few years time. If they want me back of course!"
The booking line is open for this summer's season of plays:
William Shakespeare's Twelfth Night & Julius Caesar
Noël Coward's Blithe Spirit
Box office: 01780 756133
For more information and to book online: www.stamfordshakespeare.co.uk
Main photo: Twelfth Night set under construction
Leave a Reply