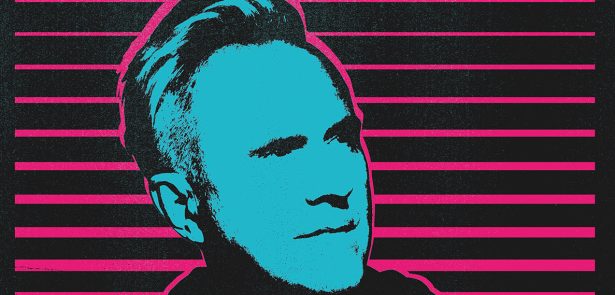 He's been described as one of the defining figures of mid-80's synth-pop and has had ten top 40 hit singles including What Is Love?, New Song and Like To Get To Know You Well. His double platinum 1984 album Human's Lib went to number one in the UK, and he had five top 20 hits in America. He also played a small gig in 1985 called Live Aid. Howard Jones is about to tour the UK with the Howard Jones Acoustic Trio, comprising himself, Nick Beggs (former bass player for Kajagoogoo) and Robin Boult (who has played guitar for Roger Daltrey and Fish, amongst many others).
How did the Howard Jones Acoustic Trio project come about?
Nick and Robin have been in my electric band for decades and we've become incredible friends, so this just felt like a natural progression. I've got a side to my work that is much more song-based and
less electronic, so, this is an outlet for that, really. We get on so well as friends and musicians that it's such a pleasure to play together. Even with the big band set-up we tour with, the three of us do a spot in the middle of the show and it always goes down well with audiences. It's a way of me being able to show my song writing side. That's the genesis of it.
You first became known for synth music – is this tour a conscious effort to offer something radically different?
I've been stripping my songs back for decades now. Sometimes I do solo piano tours, I've done tours with just me and Robin, and now it's the three of us. I always try to present something a bit different each time. We toured in the States as a trio just before COVID struck, and we enjoyed it so much that we thought we must bring it to the UK.
How well do your classic songs work within an acoustic setting?
I think my most famous songs work really well acoustically. And it offers me a chance to delve into some of the lesser- known parts of my catalogue as well. On this tour I'll be playing at least one song from my new album, which is an entirely electronic album. There's a song called "Formed
by the Stars" that I've been working on, and I think it will work well with the trio. Some of the songs you think will never work acoustically. I compose a lot at the piano, although many of my early songs were composed on my electronic rig, but I would always go back to the piano to check the chords and work things out. So, I could do an acoustic version of pretty much any track I've written. It's sometimes a challenge. I have a song called Specialty that I thought would never work with the trio, but we tried it and we worked up a really new interpretation of the song. And I love giving my songs new clothes!
Will you feel a bit naked on stage without the support of a full band?
No, it's what I do – I've been a musician since I was seven years old. I love doing acoustic gigs because anything can happen. Someone can shout out from the audience and prompt you to tell a story, or you go off in a different direction. And, because of the rapport I have with Robin and Nick, I can go off-piste in any of the songs, and they'll be with me, because we know each other so well. And that is such an incredible thing to build up. I would feel a bit more vulnerable doing a one-man show, but with Robin and Nick there, it feels very comfortable.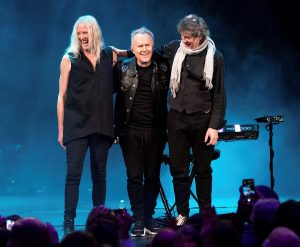 What kind of material will you be playing?
Obviously, I'll be playing all the hits, so people don't have to worry that they're not going to hear their favourite songs! But I'll also be including songs from each and every album, right from the beginning, through to the new album, Dialogue.
Did you enjoy being as famous as you were in the 80's, or are you happier now that hysteria has died down a bit?
It was wonderful to have that experience. I mean, so many people would love to be in that position. It was fantastic, but I couldn't have handled that level of attention for my whole life. I just want to get on with being a musician and a writer and developing what I do. And, in a way, that's easier to do when you're away from that massive spotlight. I'm just grateful that I'm exactly where I should be, and I really enjoy being in the position I'm in now.
You've been described as one of the defining figures of mid-80's synth- pop. Do you feel you're getting a bit more recognition now for what you did back then?
Well, I certainly didn't get any recognition at the time! I was pioneering something new – I was a one- man electronic band, and nobody had ever done that before. And when you stick your head above the parapet and do something new, you become a target, and I realised how very set in its ways the music industry actually was. I was kind of shocked, really, because I thought it was all about innovation and moving forward and challenging the status quo. But that wasn't the case at all. It's great now though. TV series like Stranger Things have an entirely electronic 80's soundtrack, and that's exposing a whole new generation to that music. They used one of my songs in Season 3 and, honestly, I've got a whole new audience now, as well as those fans who have stuck with me for forty years. So, I think it's now being recognised just what a great decade for music the 80's was. Maybe even Glastonbury will have 80's bands on the bill one day!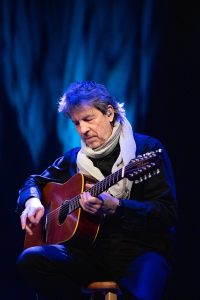 You started out in a prog rock group. Why did you choose to go down the synth route with your music?
I've always been crazy mad into keyboards. I started playing the piano when I was seven and then I went to music college. I was in a band at school when I was fourteen, and I used to hang out at the local organ shop in High Wycombe, begging them to let me play their keyboards! So, as soon as I could afford any kind of synthesiser or drum machine, I would get hold of it and start working out what I could do with it. I just had a mad desire to make new sounds and do new things with the equipment that was emerging at the time, and I was pleased to be part of that generation that took on new ways of doing things.
Gigs don't get much bigger than Live Aid. Is that still the largest audience you've ever played to?
Yeah, I think there was two billion people watching, so I don't think anyone will get to play a bigger gig! It was amazing. I never got to sing on the record of Do they Know It's Christmas?, but Midge Ure is currently touring with me in America, and we do an acoustic version of the song together, so it's great to finally be able to sing the song.
What are your memories of that day? Were you nervous because it was such a massive global audience?
Oh God, I was absolutely terrified! I really was terrified, because of the company I was in. A lot of my musical heroes were playing that day, and I was one of the new boys on the block. I decided to do the most extreme thing, which was to just play a song on the piano. I don't think people knew that I could play the piano – they thought I pushed buttons with one finger! But the big moment for me was when I got to the chorus of Hide and Seek and the whole of Wembley Stadium joined in. All the nerves just disappeared at that point, and it just became pure joy that I was part of this amazing event, and that people were recognising my music. I got to meet David Bowie that day, and I had a half-hour chat with Paul and Linda McCartney. I met so many amazing people, so it was one of those days that I'll never forget.
Is it nicer to work with a more intimate audience?
I love doing the big festivals with the full band but, even now, with the full band shows, we have a little section in the middle where we do some songs as the trio, and it just connects you with the audience more. I like people to feel like we're playing in their front room, and I like not having a barrier between the stage and the audience.
What can people expect from your new tour? It's more than just songs, isn't it?
There are always stories that crop up, because every song I play has so many associations for me – like the story of Hide and Seek at Live Aid, or how a song was written, or who recorded it with me, or what the song's about. I try not to make it scripted, so every night I'll have a different take on things and will respond to who's in the room that night. Telling stories and making people laugh has become a real fun part of the show.
Where are you with your recording career?
During the pandemic I wrote a new, fully electronic, album called Dialogue, which will be released in September. The other thing I did during lockdown was to mix a live gig we did as a trio at the Union Chapel in London. People always ask when they can get a recording of us as a trio, so we'll have that live album on sale at the gigs.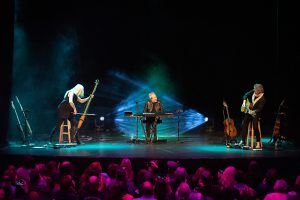 How much has the music industry changed since the 1980s?
It's incredible how much the music industry has changed since the 1980s. We started off releasing records on vinyl, then moved to tapes and CDs, and you had to be signed to a major label to get a foothold in the industry. Now, we have streaming, and we have access to practically every piece of music on the planet – all on our phones! And young bands can actually launch their careers without a record label now. It's so different, but I think that creative people find ways to make it work for them, no matter what era they're in. And that's what I've had to do – adapt and change and work with the changing landscape of the industry.
The Howard Jones Acoustic Trio will be performing at The Cresset Theatre on Sunday, October 23. Tickets cost £32.50. To book visit cresset.co.uk or call the box office on 01733 265705.
Words: Stuart Barker
Leave a Reply