In the Night Garden – Live!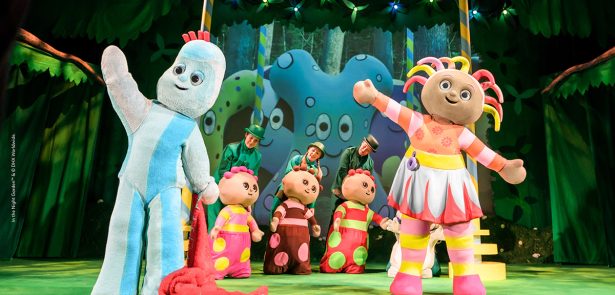 Now in its thirteenth year, In the Night Garden Live has been seen by over 1.2 million kids and counting. This is pre-school theatre at its very finest, and your kids will love the calming, relaxing atmosphere, the music, and the nursery rhymes. They will also love helping Igglepiggle to find his friends in the Night Garden by following the funny sounds they make!
All your kid's favourite characters will be brought to life on stage, including Upsy Daisy, Pinky Ponk, Makka Pakka and, of course, Igglepiggle himself.
A magical mix of puppets, costumes, and enchanting music, Igglepiggle's Busy Day lasts just under an hour and The Independent has called it "The biggest family event this summer." The Guardian added that "It's hard to imagine a show more likely to engage little ones and give them a sense of the magic of theatre."
So why not introduce your young ones to the magic of theatre and set them on a path that will bring joy for the rest of their lives?
In The Night Garden Live will be at the New Theatre on Saturday, September 17, and Sunday, September 18, with shows at 1pm and 4pm on the Saturday and 10am and 1pm on the Sunday. Tickets start at £19.50. To book visit newtheatre-peterborough.com or call the box office on 01733 852992.
Leave a Reply