Sensational Shoestring Theatre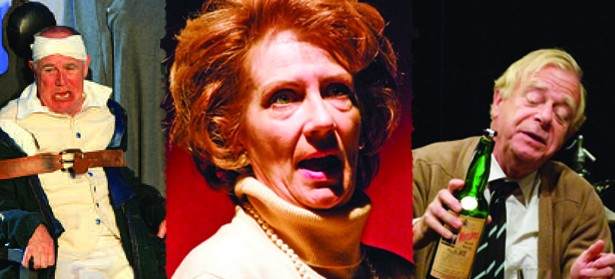 The Stamford Shoestring Theatre Company started life in 1943 with its first performance Man of Destiny. Sixty-two years on and 229 performances later and the group is more active than ever with a pool of talent every bit as awe-inspiring as the professionals. The Moment talks to two long-term Shoestring stalwarts, Philippa Massey and current chairman Ken Walsh to discover what makes this remarkable company tick 
The Stamford Shoestring Theatre Company has a rich and illustrious history. Tell us a bit about how it evolved.
PHILIPPA MASSEY (PM): We started life in 1943 as the Stamford Music and Drama Club. It's quite extraordinary that it began right in the middle of the Second WorldWar, but I guess it served as a welcome distraction from all that was going on at the time. Then in 1959 the music and drama sections went their separate ways and the drama group became Stamford Amateur Stage. The final name change came in 1963, in recognition of the fact that every play really was done on a shoestring! Things really moved on in 1978 when we became the resident theatre company at the Stamford Arts Centre. Being based in a proper theatre meant we no longer needed to scrabble around to find suitable venues for our productions. It gave us some much-needed stability and the company received a real boost socially too.
Do you think that the new 'resident company' status meant you were taken more seriously – or maybe you took yourselves more seriously?
PM: You could say that to a certain point. It certainly felt that we had a home we could work from. Practically it meant a big deal: we had a scene store and a wardrobe cupboard, so more could be reused from one show to the next. It also allowed us to do the scene painting on site, instead of having to go off to somebody's garage to do it. So logistically things became an awful lot easier.
Philippa, a little dicky bird tells me you've been with the company for quite a long time.
PM: I joined as a young teenager in 1966. I did take time out to go to college and so on. But then when my husband and I returned to Stamford with our family in the mid-eighties I joined once again.
And what about you Ken?
KEN WALSH (KW): I've been a member for more than 20 years. That's one of the lovely things about the Shoestring Theatre Company – there are a number of long-term members like us.
It must be testament to the obvious satisfaction and fun that members get from being in the company.
KW: Absolutely. We're very pleased with how many members we have – there are currently more than 130. But we're recruiting all the time and welcome auditions when each new play comes around. In fact, this spring we will be running a workshop to encourage new members. Part of the aim is to diversify both the membership and the sorts of productions we put on. It's all part of a balance between staging the real classics and more experimental plays. The workshop will offer anyone interested in joining the opportunity to come along, talk to us and maybe show us what they can do.
Will you be asking them to show what they can do?
KW: They might bring along a piece they've chosen to perform, though we don't want to put people off – we're not testing them! But, certainly, it will be a workshop-type morning where people can take part and meet some of the current members.
And presumably you're always after extra hands backstage too?
KW: That's right. We're keen to attract anyone interested in the technicalities backstage because we're continuously working with the Arts Centre to improve the facilities for actors there. We've worked on sound, lighting and at the moment we're installing some cameras so we can monitor productions backstage.
PM: Just about everything for each of the company's productions is done by its members: sound, set design and construction, costumes, lighting – the lot! There tends to be a central core of members who are called on time and again – for example set construction requires very particular skills such as carpentry. But we're always in the business of training people up. And that's a big point for us; we're not just actors. Somebody who has had a starring part in one play will probably be selling programmes for the next. For example, I've done… [cont]
Black actors needed! Shoestring's 2016 calendar includes Good People by David Lindsay- Abaire. It's a tough, tender play about the insurmountable class divide between those who make it out of a working-class Boston 'neighbourhood' and those who are left behind. Stamford Shoestring Theatre would like to recruit an able black amateur actress, preferably aged between 25 and 35, for the part of Kate. Rehearsals begin 18th July and the production runs for five nights from Tuesday 13th September. Contact Shoestring to find out more.
Leave a Reply