Lord of the Flies: TYD Theatre Makers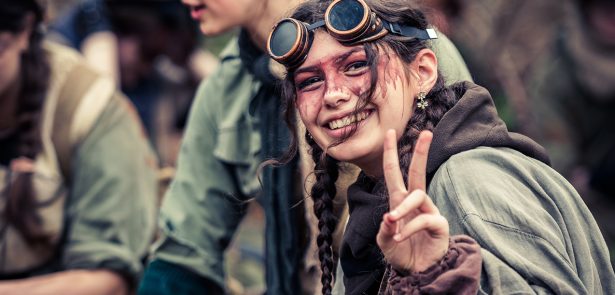 Tolethorpe Hall is famous for its summer season of open-air productions by Stamford Shakespeare Company. But it is also home to Tolethorpe Youth Drama (TYD), which provides a full, immersive programme of drama and acting training for 5–18-year-olds. In 2020, an ambitious and exciting new programme for young people aged 16 – 22 entitled Theatre Makers was launched to expand the possibilities further, building to a full production of William Golding's modern classic Lord of the Flies.
TYD Principal, Mary Benzies, who brings over 25 years' experience of making innovative theatre with children and young people throughout the UK and Ireland, explains why she created this new programme: 'Over the years we've had people who've really wanted to go on into the profession, or are looking to audition for drama schools and who need some experience before they go. We wanted to provide that. We also wanted to create a group that wasn't just about performance. Performance is obviously a big part of it, but it's also about the broader experience of making theatre – sets, costumes, lighting and developing ideas in workshops before we even got into rehearsing and casting. Some are interested in getting involved with stage management, some want to be involved with proper set building; so, we're giving them the opportunity to get hands-on experience with all those things. The reality of going into the business is that you must be willing to roll up your sleeves and get involved and be more than just an actor saying your lines on a stage. That's really the aim of the group; to give an insight into how a whole company works.'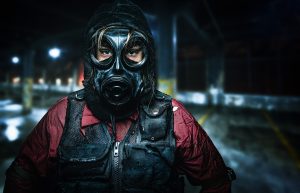 Building creative partnerships with secondary schools is a major aspect of the project. Earlier this year the team at TYD delivered free workshops in schools to gain valuable input from students studying drama and to share the creative process together. Auditions were held and the play was cast, bringing together a group of talented young people from all over the East Midlands. In addition to the public performances of the play in July, the Company will also host large-scale school's days, which will see secondary school groups come from all over the region to watch the play and take part in pre-show workshops. The hope is to bring in a new, younger audience, introducing them to the wonderful venue.
Mary explains what made her choose Lord of the Flies: 'It's a young person's story, but it's universal in its themes. It's also part of the curriculum – which is important when you're working with schools. The original is set on a desert island, but even though we're going for a kind of dystopian setting, the open-air setting greatly influenced what we were doing with that. When we first went into schools in 2019, we asked what they thought the reasons might be for these children being evacuated, and got all kinds of answers – Brexit, climate change, overpopulation – but behind it all is the theme of war, which, three years later is suddenly incredibly topical. We came up with the idea of them landing on an old army base, which could almost be from any time. Initially,
it's like a playground to them, and they find lots of army equipment that they dress up in, and gradually, as it progresses, it becomes scary… That transformation has to be scary!'
The booking line is open for the 2022 summer season of plays: William Shakespeare's Romeo and Juliet, Noel Coward's Hay Fever, Agatha Christie's Spider's Web, William Golding's Lord of the Flies. Box office: 01780 756133. For more information and to book online: www.stamfordshakespeare.co.uk
For Information, visit www.tolethorpeyouthdrama.co.uk and click on 'Theatre Makers'.
Leave a Reply