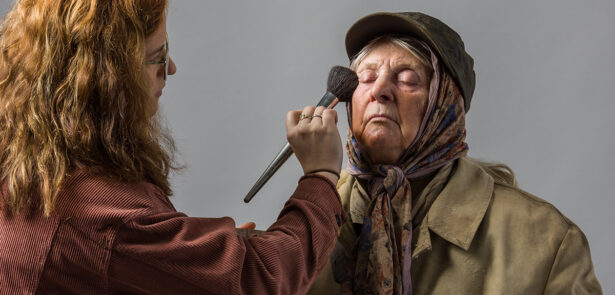 Stamford Shakespeare Company (SSC) are gearing up for a summer season of fun. The Company are presenting two of William Shakespeare's comedies, the perennial favourite As You Like It and the lesser-known Measure For Measure. Alongside the Shakespeare plays will run one of renowned playwright Alan Bennett's much-loved plays, The Lady In The Van. Rehearsals began in January, set construction is well underway, and the wardrobe team is a hive of activity creating all the fabulous costumes ahead of opening night on the 6 June. This year, Wardrobe has been extra busy getting costumes ready for an early photo shoot.
SSC sets aside three days in April/May to carry out a photo shoot for each production, taking images for the souvenir programmes and for marketing purposes. However, this year, the Company conducted a much earlier shoot to capture a defining image for each play: well ahead of opening night. Marketing Manager, David Fensom, who joined SSC in 1999 (and from 2016 has worked in the offices of Tolethorpe Hall where the Company is based) understands the importance – and lure – of great promotional photography. In preparation, David and Wardrobe Mistress Miriam Spring Davies focus on pulling the required threads together, ready for the shoot.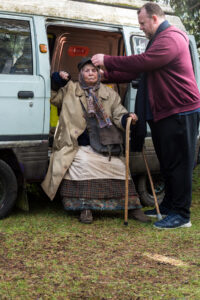 Miriam graduated from LIPA (Liverpool Institute for Performing Arts) with a First Class Honours in Design for Performance, specialising in costume design. Her first role with SSC was in 2013 as part of the voluntary wardrobe team. She returned to help with costume in 2016 and again the following year; then in 2018 was appointed as the Company's Costume Designer & Maker.
For the shoot, David and Miriam discussed characters and costumes and selected those which would best reflect each production. They chose one character from both As You Like It and The Lady In The Van, and two characters from Measure For Measure.
For As You Like It, which has been reimagined as a story from the Summer of Love, the court fool Touchstone was selected. Miriam wanted Touchstone to have the look of a flamboyant character from the sixties, and so in this incarnation his appearance very much resembles the writer and raconteur Quentin Crisp. Touchstone is played by Martin Lander from Stamford, in what is only his second role for the Company.
Measure For Measure has been transposed to Vienna in the early 1900s, where the upper classes danced to the music of Strauss while the Habsburg Empire began to crumble, and the underclasses relied on crime to survive. The two characters very much at the centre of the action in this dark comedy are the chaste and merciful novice nun Isabella, and the despicable and authoritarian deputy Claudio. Miriam created authentic costumes from the era for these two characters, played by Lucy Hobbs from Grantham, who joined the Company last year, and Thomas Dorman from Bourne, who first acted with SSC in 2013.
When it came to The Lady in the Van, it had to be the cantankerous and foul-smelling titular character Miss Shepherd. Miriam sourced and created clothing appropriate for the play's seventies setting and then spent many hours distressing it all to create a very well-worn look. Miss Shepherd is being played by Angela Harris from Little Casterton, who joined the Company in 2004.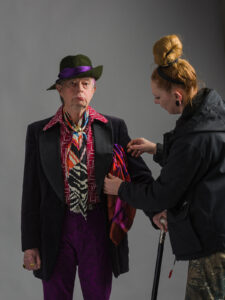 Local photographer Nick Farka started taking photos for the Company in 2019. With a Masters in computer science and software engineering, Nick's photography had only ever been a hobby, starting when he was a teenager. However, five years ago he took the leap and went professional. Nick now runs a commercial photography company, Red and Round, and counts The National Trust and Teenage Cancer Trust amongst his clients. SSC are lucky to have Nick creating stunning images for all three plays each year.
At the shoot, Miriam was on hand for helping the actors into costume and for any adjustments that needed to be made. Also present, advising with hair and makeup was Fay Wilkins. Fay joined the Company in 2014 as an Assistant Stage Manager. Since then, she has taken on a variety of roles both on stage and behind the scenes. In 2015, Fay enrolled at Stamford College and began a four- year course in Media Makeup and Hairdressing. She now lectures part time at the College and runs a beauty and makeup business from a studio in Sleaford.
These photographs, along with those taken at a later photo shoot, will find their way into magazines and newspapers and onto websites and social media. They also go into the thousands of souvenir programmes produced by SSC each year. Many audience members cherish these programmes and have formed a collection over the years – a testament to the quality of the photos.
THE BOOKING LINE IS NOW OPEN FOR THE 2023 SUMMER SEASON
WILLIAM SHAKESPEARE'S MEASURE FOR MEASURE & AS YOU LIKE IT
ALAN BENNETT'S THE LADY IN THE VAN
JESSICA SWALE'S BLUE STOCKINGS
BOX OFFICE: 01780 917240
FOR MORE INFORMATION, VISIT: WWW.TOLETHORPE.CO.UK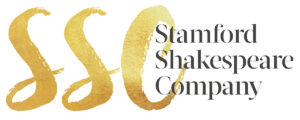 Leave a Reply