Key Theatre spring season 2016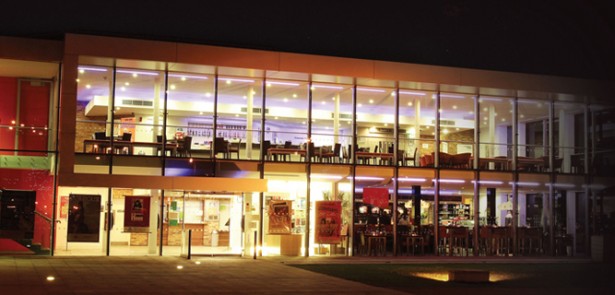 Drama, music, comedy, dance, community, family and live screenings – the complete new season at the Key Theatre!  
Thur 28 Jan, 7pm
National Theatre Live presents Les Liaisons Dangereuses (Live Screening)
Josie Rourke's revival of the play based on Choderlos de Laclos' 1782 novel of sex, intrigue and betrayal in prerevolutionary France. 12A age restriction.
Fri 29 Jan, 7.30pm
Johnny Cash Story
Roger Dean has been playing Cash's music most of his life. With the Lazy Boys he will keep you spellbound with classic numbers such as 'Big River,' 'Ring of Fire,' 'I Walk the Line' and 'Hurt.'
Sat 30 Jan 7.30pm
Islands in the Stream
Celebrating the queen and king of country, with the awesome vocals and gentle humour of Dolly and Kenny's legendary live shows.
Sun 31 Jan, 2.00pm
Royal Opera House presents: Rhapsody-Two Pigeons (Delayed Live Screening)
Frederick Ashton double bill featuring his setting of Rachmaninoff 's Rhapsody on a Theme of Paganini, and the delicate, deceptively comic The Two Pigeons – a work rarely performed and a treat for ballet fans everywhere.
Wed 3 Feb, 7.30pm
LipService & Oldham Coliseum presents: The Picture of Doreen Gray
LipService take Oscar Wilde's Dorian Gray and give it a modern twist. Featuring film, fun and LipService's own unique blend of the surreal and downright silly! 12+ age guidance
Thur 4 Feb, 7.30pm
Lee Nelson: Suited and Booted
Experience the world through Lee's eyes as he takes on the big issues: family, fatherhood, politics… and the true value of the Cadbury's Creme Egg.
Fri 5 – Sat 6 Feb, 7.30pm
Motown's Greatest Hit's – How Sweet It Is
Featuring The Formations and now in its 13th successive year, this ultimate celebration of the sweet sound of MOTOWN is back, with songs from legendary artistes.
Sun 7 Feb, 2pm
Royal Opera House presents: La Traviata (Delayed Live Screening)
Beneath the surface glamour of Violetta's Parisian life run dark undercurrents… Giuseppe Verdi's classic opera follows her doomed love affair and the tensions the lovers encounter when they break society's conventions.
Thur 18 – Sat 20 Feb, 10.30 am & 3pm
Around the World in 80 Days
Join Phileas Fogg and his faithful servant Passepartout in their audacious plan to navigate the globe in a high-speed, madcap, transcontinental race against the clock! Recommended age 6+
Fri 12 Feb, 7.30pm
Supreme Queen
Scott Maley plays a uncannily realistic 'Freddy' with an enormously talented band, including Nathan Mathers who brings all the electric guitar virtuosity of Brian May to the stage.
Fri 12 Feb, 7.45pm
Key Comedy Night: Jarlath Regan
Rip-roaring Irish stand-up comedian and the host of the global hit podcast, An Irishman Abroad. As seen on Russell Howard's Good News, The Apprentice You're Fired and Comedy Central's Standup Central. Plus support from BBC New Comedy Award winner Steve Bugeja.
Sat 13 Feb, 7.30pm
Gerry Cross the Mersey
Join in this musical journey through the life and times of one of our greatest 60s icons – Gerry Marsden of Gerry & the Pacemaker.
Thur Sun 21 Feb, 8pm
Chris Ramsey: All Growed Up
Critically acclaimed comedian, Celebrity Juice regular, star of BBC2's Hebburn, and the man who once got pizza delivered to a moving train…
Thur 25 Feb, 7pm
National Theatre Live presents As You Like It (Live Screening)
With her father the Duke banished and in exile, Rosalind and her cousin Celia leave their lives in the court behind them and journey into the Forest of Arden – and Rosalind experiences the liberating rush of transformation.
Fri 26 Feb, 7.30pm
The Blues Band
2016 sees The Blues Band Celebrate their 36th year together, with a reputation around the world as one of the finest exponents of the blues tradition in all its forms.
Sat 27 Feb, 7.30pm
Yolanda Brown
Join double MOBO Award Winning saxophonist YolanDa Brown on an infectious journey of Reggae rhythms from the Caribbean, peppered with supreme jazz flavoured inflections and sensibilities.
Sun 28 Feb, 7.30pm
Martin Carthy and John Kirkpatrick
National treasures Martin Carthy (guitarist/vocals) and John Kirkpatrick (squeezebox/vocals embark) on a rare UK duo tour interpreting English folk traditions.
Tue 1 – Wed 2 Mar 7.30pm (plus 2.30pm Wed Matinee)
The Birthday Party
Directed by Michael Cabot. By turns, cryptic thriller and macabre comedy, The Birthday Party was Harold Pinter's first major work. London Classic Theatre presents the first significant touring revival of the twenty-first century, bringing this ground-breaking classic to fresh and exhilarating life.
Thur 3 Mar, 7.30pm
An Evening with Barry Fry and Ron Atkinson
Hear about the dressing room fights, funny anecdotes about team selection and training – everything you would want to know about what goes on behind the scenes of a successful football club.
Mon 22 – Fri 24 Feb, 7.30 pm
Shafted!
John Godber stars in his own new play, tracing what happened to miner Harry and his wife Dot in the thirty years after the the Miners' Strike.
Fri 4 Mar, 7.30pm
A Passion for Opera
A Passion for Opera takes you on a fabulous tour of the operatic and musical theatre world with singers who are all Heritage Opera regulars and professional soloists, accompanied by grand piano.
Sat 5 Mar, 7.30pm
Claire Martin OBE & Ray Gelato's 'A Swinging Affair'
Multi award-winning vocalist Claire Martin OBE and legendary saxophonist and vocalist Ray Gelato combine their love of all things 'Swing' and join forces for their first show together, 'A Swinging Affair'.
Tue 8 Mar, 1.30pm
Digitopia
Visually stunning integration of live dance, electronic music and digital art for the whole family – accompanied by MOKO Dance creative dance workshops and foyer activities. Suitable for 5-10 years and their families.
Fri 18 – Sun 20 Mar, 7.30pm (Plus 2.30pm Sat Matinee)
Wizard of Oz
West End Wildcats present The Wizard of Oz. The troupe of talented youngsters are well rehearsed in treading the boards of the West End but this year they are heading for the yellow brick road as they present the classic story…
Mon 21 Mar, 7.15pm
Royal Opera House present Boris Godunov (Live Screening)
Richard Jones and Antonio Pappano renew their creative collaboration with this new production of Musorgsky's historical masterpiece, with Bryn Terfel in the title role.
Thur 24 Mar, 3pm
The Nose that Nobody Picked
One day Christopher, a keen but unorthodox gardener, finds a living nose raised by slugs in his garden. The quest to find Little Big Nose a face is on… Expect mountains of mucus, toe tapping tunes and two nostrils full of magic.
Sat 26 Mar, 7.30pm
The Simon and Garfunkel Story
Direct from its success in London's West End, The Simon&Garfunkel Story is back with original film footage, full live band and all the hits including Mrs Robinson, Cecilia, Homeward Bound and many more.
Wed 30 Mar, 7.30pm
Letz Zep
2016 is the 45th anniversary of the release of the iconic fourth album by Led Zeppelin. Letz Zep, the official number one tribute to Led Zeppelin, will be performing songs from this historic album, including Black Dog, Rock and Roll and Stairway to Heaven.
Thur 31 Mar, 7.30pm
The Three Degrees
Formed in 1963 in Philadelphia, Pennsylvania, The Three Degrees has remained a trio with two original members since Sheila Ferguson left many moons ago, and have been continuously touring for over 40 years.
Mon 28 Mar – Sat 2 Apr
Pygmalion
Professor Higgins teaches Eliza, a flower girl, how to speak properly and in an unexpected twist, she becomes something that no-one expects. Is this transformation a good thing for Eliza or not?
Fri 1 Apr, 7.30pm
The Syd Lawrence Orchestra
Chris Dean and The Syd Lawrence Orchestra deliver another full-throttle performance featuring the music of Glenn Miller, Count Basie, Tommy Dorsey, Quincy Jones, Billy May, Frank Sinatra, Ella Fitzgerald and many more.
Sat 2 Apr, 2pm, 4pm & 6pm
The Tortoise and the Hare
Following the sell-out successes of Ugly Duckling, Three Little Pigs, Elves & the Shoemaker and the TV adaptations for CBeebies, Northern Ballet bring another opportunity for your little ones to enjoy live ballet, music and theatre!
Tue 5 Apr, 7.30pm
Stacey Kent
Featuring music from her latest album Tenderly which sees Stacey return to familiar ground with her first album of standards since the release of her breakthrough album of 2003, The Boy Next Door.
Wed 6 Apr 7.30pm
Jenny Éclair
Professional grumpy old woman, Splash survivor, amateur soup maker, and novice knitter, Jenny Eclair is younger than Madonna but eats crisps and likes wine. Eclair puts middle age under the microscope and decides whether to laugh, cry or buy a dachshund!
Thur 7 Apr, 7.30pm
Rodgers and Hammerstein
An international cast present a spellbinding homage to Rodgers & Hammerstein, featuring songs from musical classics such as: The Sound of Music, South Pacific, The King and I, Carousel and Oklahoma!
Fri 8 Apr, 7.30pm
Elio Pace – The Billy Joel Songbook
Elio Pace delivers this sensational tour celebrating the phenomenal music of Billy Joel. Featuring the massive hits, Uptown Girl, Just The Way You Are and My Life as well as fan favourites.
Sat 9 Apr, 7.30pm
Lee Memphis King
Lee Memphis King, Europe's most successful Elvis Presley tribute artist presents the ultimate tribute to the King, celebrating the epic career of this musical legend, accompanied by his world class orchestra and singers.
Sun 17 Apr, 7.30pm
Ruby Turner
Directed by Michael Cabot, Ruby Turner is regarded as one of the greatest voices the UK has ever produced. Likened to Aretha Franklin and Janis Joplin, Ruby continues to win the hearts and minds of an ever-growing and diverse fan base.
Tue 12 – Sat 16 Apr, 7.30pm (plus 2.30pm Matinee)
The Wedding Singer
Westwood Musical Society return to the Key after last year's sell-out run of Sister Act. It's 1985 and rock-star wannabe Robbie Heart, who still lives in his grandmother's basement, is New Jersey's favourite wedding singer…
Sun 17 Apr, 1.30pm
Delayed Live from the Royal Opera House Giselle (Delayed Live Screening)
Ballet's quintessential Romantic classic – a love affair that begins in the real world and continues beyond the grave.
Wed 20 Apr, 7.30pm
The Mozart Project Live Ensemble
DeNOTE present a live stage show of the multi award-winning digital book, The Mozart Project, combining live performance, classical dance and a guided tour of The Mozart Project presented by top Mozart expert, broadcaster and fortepianist, John Irving.
Fri 22 Apr, 7.30pm
Counterfeit Stones – 25 X 5 l
The Counterfeit Stones celebrate their 25th anniversary with a skillfully mixed cocktail of classic hits, retro costume and humour to intoxicate young and old alike!
Sat 23 Apr, 7.30pm
Roy Orbison and the Travelling Wilburys
The late 80s saw the birth of one of the most famous super-groups of all time – The Travelling Wilburys, featuring five artists who were icons in their own right. The Wilburys never actually toured so this is the closest thing to experiencing a piece of history.
Sun 24 Apr, 7.30pm
Talon – Best of Eagles
This stunning production begins with an in-depth look at the 'early Eagles roots'. The second half brings a complete change of mood and pace featuring those classic Eagles greatest hits from their timeless back catalogue.
Tue 26 Apr, 8.15pm
An Audience with Ian Waite and Natalie Lowe
Strictly Come Dancing favourites Ian Waite and Natalie Lowe perform a dance showcase spectacular. In addition to the performance there are higher-priced tickets for a meet and greet opportunity with Ian and Natalie for photos and autographs.
Wed 27 Apr, 7.30pm
Stones in His Pockets
A quiet Irish village community is turned upside down by the arrival of a Hollywood film crew, looking for the 'real' Ireland for their latest schmaltzy blockbuster. Two actors play a vast array of eccentric characters in this universally loved comic theatre sensation. Suitable for ages 12+
Thur 28 Apr, 8pm
Joe Lycett: That's TheWay, A-HaA-Ha
Joe Lycett The self-proclaimed 'absolute lad' is back with an all new stand-up show, following appearances on Live at the Apollo, 8 Out of 10 Cats Does Countdown anda wine tour of the French Riviera.
Fri 29 Apr, 7.30pm
DaPaul
A singer, songwriter and musician with a passion for performing with roots in a Caribbean church in London where he found and nurtured his love for the piano and singing.
Sat 30 Apr, 7.30pm
Pasadena Roof Orchestra
This fun-packed show features timeless classics from the great American song book and which made household names of singers such as Bing Crosby, Al Bowlly, and Fred Astaire.
Sun 1 May, 2pm
Royal Opera House present Lucia di Lammermoor (Delayed Live Screening)
The story of an ongoing feud between two families in 17th century Scotland that has terrible consequences for two young lovers.
Wed 4 – Sat 7 May
Legally Blonde
Following the successful production of Little Women, Inspirational Productions return with this fabulously fun musical based on the adored movie, Legally Blonde, with an original score of unforgettable songs.
To book, call 01733 207239 or visit www.vivacitypeterborough.com
Leave a Reply