The Ukulele Orchestra of Great Britain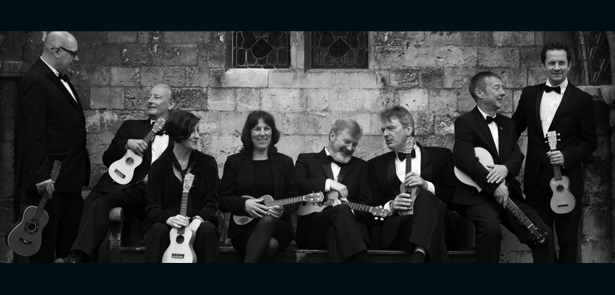 The celebrated group bring their musical shenanigans to the New Theatre Peterborough this spring. The Ukulele Orchestra of Great Britain will play music from across the genres, ranging from movie themes, to disco, classical and punk!
The Ukulele Orchestra of Great Britain are the masters of the unexpected performing re-imagined folk songs, twisted classical favourites and an awesome obituary of rock-n-roll all on the "bonsai guitar". The programme will include music from their recent studio album, The Only Album by The Ukulele Orchestra You Will Ever Need. Vol 3 – a selection of fan favourites that ranges from Nirvana's Smells Like Teen Spirit to the Shaft theme song.
The all-singing, all-strumming Ukes of GB have played everywhere from pubs and village halls to iconic venues such as Carnegie Hall and the Sydney Opera House. They've performed at Windsor Castle for the Queen's private 90th birthday party, and have been featured on international TV from Asia, Europe, North America, to even the Arctic. From Saint-Saëns to Lady Gaga, the group delivers a virtuosic collision of classical, post-punk, and toe-tapping oldies with their completely original arrangements.
● The Ukulele Orchestra of Great Britain
9 May, 7.30pm New Theatre, Peterborough
www.newtheatre-peterborough.com
Leave a Reply