#SummerFun | Hampton Folk Tales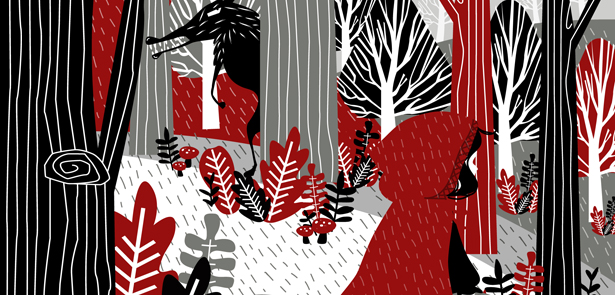 Hampton is a thriving area full of people from all walks of life. It has schools, shopping centres, churches, parks, even the Undercroft theatre. But it's so new, it has no myths, no legends. Well, all that's about to change… This year, thanks to a commission by Peterborough Presents, Eastern Angles and Peterborough's Lamphouse Theatre are joining forces with the residents of Hampton to create their own folklore for the area. The Moment talks to Tom Fox of Lamphouse Theatre about what's stirring to life in the Tump...
How and why did the project first come about?
A commission came up for Hampton, through Peterborough Presents and we started to think about how we could come out into the community a bit more and also how we could get the community into the theatre – because the Undercroft is quite a new space. So we researched Hampton. It's 20 years old this year. It was built on brick pits. They found a few dinosaur fossils. And that's about it! So we thought: 'Why don't we create our own stories? Why don't we create some myths and legends?' The surrounding area has a plethora of stories and folklore – legendary giants, Black Shuck – and we wanted to make Hampton part of that.
Who is going to create these stories?
We wanted to spread the net widely, to engage as many people as possible, because there's quite a wide demographic in Hampton. You get families and retirement homes, but also we really wanted to tap into the young professionals, who probably live there because it's an easy commute to where they work and who perhaps don't have as much time to engage in what's immediately around them. We wanted something, too, that didn't feel like it was just for children – or, indeed, any single group. It had to be for everyone. So we've commissioned loads of different artists to react to the idea in different ways – a photographer, a visual artist, a puppet maker, storyteller, musician…
How can local people get involved?
There are going to be things people can sign up to – creative walks, workshops, talks about local folklore. We're going to build a shack in the middle of Serpentine Green and invite people to tell stories with us. If you're a young person you can also come to our summer school at the Undercroft, where we're going to create a performance. We're doing work with schools, telling stories and creating puppets with primary school children, and we're creating a song for Hampton with secondary schools which will be performed at Hampton Festival on Saturday 16 September. It all leads to Hampton Festival! All the work, all the stories and everything else from the project will be presented there, which will start with a procession from the Tump, the big hill in Hampton. There's actually a story developing at the moment about a giant that lives in the Tump. Of course! The Loch Ness Monster has kind of been our inspiration. We want to make a Loch Ness Monster for Hampton.
Do the stories that are emerging tap into ideas that are already there, even though Hampton's history is short?
I think so – and that's what we want; we don't want to just plonk stories on top of Hampton. But those stories can come out of the smallest things. We had some young people look around at things they'd never noticed before and make something out of them. They came up with the most amazing stories based on those – like the bridge from Orton to Hampton… They imagined that the two areas had once been at war. Orton was full of humans and Hampton was full of witches and giants, but in the end they came together and could live happily, so they built the bridge. It's about people's real stories as well – such as how their hanging baskets keep disappearing, or are replaced by different hanging baskets…
Why are folk tales like these important?
Folk tales can be important for a sense of belonging. And I've learned that that is important in Hampton. It's a wonderful, quiet, idyllic place, but also many people commute to work elsewhere, and bringing everyone together in a place like that can be quite hard. I hope these stories can be the start of something that connects everyone – so everybody knows about the giant in the Tump!
● Events will take place throughout the summer – featuring artists Tom Fox, Kerry Devine, Luke Payn, Rosa Douglas, Tom Davies, Francis Young and Becky Owen- Fisher – building to the Hampton Festival on 16 September. ● All workshops and events are free of charge (except the Summer School) and you can sign up at www.easternangles.co.uk/hampton ● Follow the fun on twitter at #HamptonFolkTales
Image: www.freepik.com/free-vector/little-girl-in-red-hood-walking-in-forest_1176597
Leave a Reply