Steve Jason: Live from the Met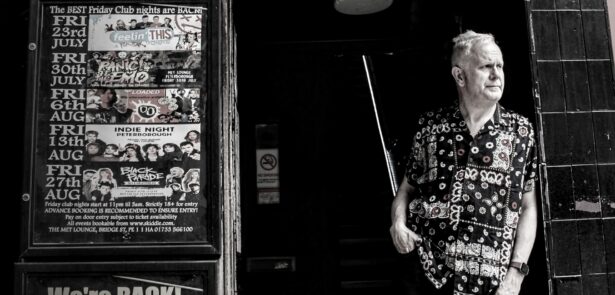 There's been much in the news about the plight of the city's theatres during lockdown – but what about the smaller venues? At the end of June, just after the government announced the extension of the lifting of restrictions to 19 July, we caught up with local club owner and promoter Steve Jason. Steve runs Peterborough's Met Lounge – a grassroots live music venue with Alternative Club nights every Friday and Saturday – but also promotes bands playing the bigger venues, nationally and internationally. The Moment talked to him about coping with COVID and making Peterborough a 'Premier League' city for live events…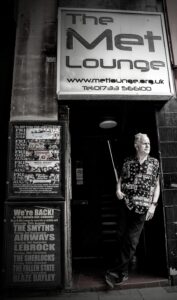 What has life at the Met Lounge been like during lockdown?
Well, it's been frustrating. Obviously, we haven't been able to run the Met properly since March last year. There have been a couple of periods where we've done gigs; we did a few socially distanced gigs in October. And then we were shut down for November. We managed to open for three weekends in December, and then we were shut down again. And then, we were allowed to reopen the Met in May, which we've done for five weekends of socially distanced gigs. Those were all confirmed back in March and promoted from March onwards. Then we had club nights scheduled from 21 June to the end of July. Five of those nights had pre-sold out, 200 tickets a night, because they were specialist club nights with various genres of music. Obviously, with the end of restrictions being put back to 19 July they had to be rescheduled, because we couldn't operate the club, and you can't just suddenly conjure up socially distanced gigs at a week's notice that are going to sell. With the best will in the world, you know, the socially distanced gigs with between 50 and 60 people – good as they are – don't make money.
Does that mean socially distanced gigs just aren't viable for this size of venue?
If that was the model going forward, then we might as well close the doors now – unless you've got a Noel Gallagher tribute band, which gets an audience that spends a good bit at the bar every weekend. The average spend for the Noel Gallagher tribute band night, over three hours, was £21. But that's the best one. Mark Morriss last week, from the Bluetones, that was ten quid a head. But it's not just about the size of the audience.
From a staffing point of view, in pre-COVID times, if I had a gig where I knew I had 60 people coming I could have done that with one doorman, one person on reception and one bar staff – and I'd be floor walking just to make sure everything's OK. When you do it for a socially distanced gig, you've got to have two doormen – one's on the bottom stairs, one walking the club to make sure people are not dancing around the place. But you also need four bar staff, because there's table service only, so you need two waiters, and then two people making the drinks behind the bar as they bring the orders back. So, your staff costs are doubled straight away. And those numbers just don't work. You can't make money being a 60-capacity venue open six nights a week. With the lifting of restrictions, we all need the people of Peterborough to come out and support what's on, and the one thing it has taught us is that we should be using the Met for different genres of music.
Your other businesses outside the Met Lounge provide an insight into the world of the bigger venues too. How have they been faring?
Our second business is promoting concerts. We look after the soul band Shalamar, and they should have been on tour right now. They had festivals lined up and we should have been doing Shalamar at the London Palladium three weeks ago. That got moved to November of this year, and now it's been moved to May next year. So you're constantly putting shows on and then having to rework them. If you're not careful you're spending that much money on announcing rescheduled
shows, that your advertising budget just goes out of the window. And then the third business is looking after Iron Maiden for their fan club for trips abroad. Last year we should have been going to Japan, Gothenburg and Barcelona. The Japan leg of the tour got totally cancelled. Then they rescheduled Barcelona and Gothenburg for this year, so we had to roll everybody over for that and redo all the hotel reservations. Now this year's been cancelled till 2022, so we have to do all
that again. So, yeah, it's frustrating.
Is there just a general reluctance for people to go out, even if the gigs are there?
In Peterborough – and across the country, actually – ticket sales for shows that we had lined up in the autumn were bubbling along quite nicely up to the last few weeks. As soon as there were rumours of lockdown not finishing on June 21, ticket sales just died. And this is frustrating, from a business point of view. Promoting is a gambling game anyway, but we're having to do this with one hand tied behind our back. Everybody is saying that when we finally do get freedom, it's all going to go ballistic, but I'm not convinced. If somebody wasn't interested in a band pre-COVID, I don't think they're going to be interested in seeing the same band after COVID. It's not going to conjure up extra appeal.
The other issue that nobody's really talked about is the effect of the rescheduling. If you take The Cresset, they have a lot of tribute shows, and rely on them to a certain extent. But if, for example, they usually have a Frankie Valli and the Four Seasons tribute band four times a year, but they're rolling over the bookings, suddenly they might be having those same four bands in a six month period. There is a finite amount of money in people's pockets, and if a venue goes from three shows a week to six shows a week, there isn't double the audience suddenly in Peterborough, and the audience that's already there don't have double the money in their pocket. Until we actually get back to normal, we're not going to know that effect.
Has this hiatus, with the reassessment that inevitably involves, pointed the way to possible opportunities in the future?
You mentioned diversifying the music genres… I'll give you an example of that. On the Noel Gallagher night, there was a couple, both in their mid 40s. He's reliving his mid-1990s and she's come along for a night out. And she stops me and says 'Do you ever have any folk music here?' I said, 'No, we don't. It's not that we don't want to do folk music, but if I'm honest with you, I know nothing about folk music. I wouldn't know who to book. Why do you ask?' She says 'I'm a big folk music fan, and this is a perfect venue for folk music…'
She said she goes to a lot of folk gigs locally, and normally they're in the back room of pubs – the PA is rubbish, there might be one light on stage, if there is a stage. One of the things the Arts Council said when they gave us a grant back in October was 'Can you try to expand the cultural offering of what you do?' So, that's an obvious opportunity. But, you know, there's no point in me trying to suddenly become an expert on how to book Country and Western, Americana or folk music because I just don't know enough. So, I joined three or four local Facebook groups and put messages on them asking if there were any folk promoters in the area looking for a proper venue, with in-house PA, in-house lighting, in-house stage. But nobody came forward. And this is what I find so strange and disappointing. You often find people moan that these gigs don't happen in Peterborough… Well, they can happen.
Another example: up to last March we had several Polish promoters from outside the area who used to hire the Met on a Friday night for a show. And they would bring in these rappers from Poland, flying them in on a Friday afternoon to Stansted, then the general circuit would be Peterborough on the Friday, Birmingham or Leeds on the Saturday, and Leeds or Birmingham on the Sunday, and then they'd fly home on the Monday. These guys would get between 150 and 200 people in at £25 a ticket – no problem at all. Great! But I would never in a million years put on a Polish rapper because I wouldn't have a clue who to book. We've also had the local Lithuanian community come to us with acts who are massive in Lithuania – who play big stadiums there. So, we set the show up and put the tickets online and it shifted 200 tickets in three days at £25 a ticket.
So you can do it – the venue is there – but you need people like this. You need those people who, instead of moaning nothing happens, get off their backsides and make it happen.
COVID aside, what's stopping people doing that?
Our way of thinking is the problem. Until we change that, we're always going to have this issue. People always say 'Big bands should come to Peterborough'. Well, why should they? And until we change this way of understanding how and why bands play certain cities, we're never going to change Peterborough. The only way we're going to change Peterborough to be a Premier League city is for the audience to change.
So, why don't the big bands come to Peterborough?
If promoters thought they would sell tickets in Peterborough, they would bring them to Peterborough. Simple as that. But the promoters don't think they will, or they've tried and it didn't work for them. Let's say a promoter has a band, and is looking to book five provincial cities for a tour. Same size venue – around 1000 capacity. Those five cities, give or take 10,000 people, are all the same population. They spend the same amount of money promoting the show in every city, at the same ticket price. In theory, that band should do the same numbers in every city, because all the factors are the same. There's only three things to an event: the venue, the band, the audience. So if the venue is the same, and the band is the same, but the audience in the fifth city is half the rest, then you've got to blame the audience. What else can you blame? So, if you've got a band to promote that's similar to the band I've just described, and you're looking to do five similar shows with your band, where are you going to put those five shows? Well, you're going to try and book the four venues that you know did 1000 people, and bypass the fifth city where the audience was just 500. You'll think 'I'll try and find another city that I think can do better…' A promoter has got to sell 80% of the tickets to break even, so they aren't going to take too many gambles. And if you've got a city that continually punches above its weight for ticket sales, it will get the shows.
An example of that is Southend. Southend's population is 5,000 less than Peterborough, but it's got a venue there that holds 2,200 standing for concerts and 1,654 seated. If a band is doing a 10 day tour of the country, that will always start with the biggest cities – with London, Manchester, Birmingham, Cardiff, Newcastle, Bristol – but if they add a few dates to that tour, nine times out of ten, Southend will be on the schedule because their promoter knows they can sell tickets there.
Another example: in the 80s I built a business up taking coaches to concerts, because no big names came to Peterborough. The first was Kid Creole and the Coconuts who were playing in Leicester. I got a £200 loan and bought 50 tickets for a pound a go. I hired a bus, charged £4 for the ticket and £4 for the travel, and sold them all. So, I went back and bought another 50 tickets, and sold all those too. I'd filled two buses – basically taking 100 people to that event. I made £150 profit and thought 'This is good – I have a business here!' We expanded out to Wisbech and King's
Lynn. King's Lynn is a quarter of the size of Peterborough in terms of population, but we used to sell as many tickets there. If we sold a bus in Peterborough, we sold a bus in King's Lynn. That shouldn't happen. But they promote themselves well. They have made better use of their waterfront, with thriving bars and restaurants, and they accept that they are a provincial town and really get behind any decent acts that come. The people there support and go to shows.
There is so much that could be done in Peterborough, but the bottom line is that if we want to get on the circuit for shows, first of all, Peterborough people have to up their game. They have to go to the shows that are happening to convince promoters this city is worth it. If we want Peterborough to be a major city on the touring circuit then we need to look at ourselves first.
Are we showing promoters that the demand is here by being the first city to sell out an existing tour show? When we do that on a regular basis, promoters will be more confident of bringing in bigger acts where their financial risk is far greater. Support what we have at the moment first instead of knocking everything. This is what we have to get across to Peterborough people.
For more information about The Met Lounge, visit:
https://www.facebook.com/TheMetLounge
Leave a Reply