Sing For Life supports Thorpe Hall hospice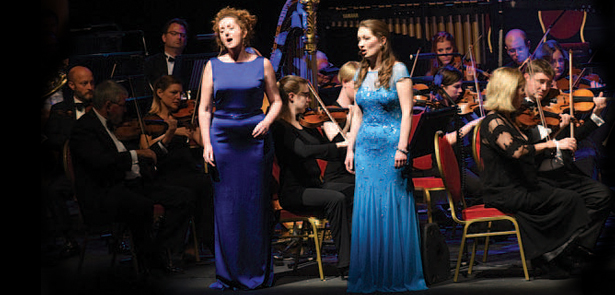 Of many highly successful charity fundraising projects run by Peterborough Male Voice Choir and Peterborough Voices in the last five years, Sing for Life 2014 was one of the very best, involving more than 100 local women, raising many thousands of pounds for Sue Ryder's Thorpe Hall Hospice Appeal, and featuring on ITV Anglia news to boot 
It's Sing for Life time once again, and the project will once more be supporting Sue Ryder's Thorpe Hall Hospice, which celebrates its 25th anniversary this year. Having opened a fantastic new state-of-the-art facility last July at a cost of £6m, the hospice needs to raise a staggering £7,500 a day just to cover running costs, providing incredible care for patients and their families.
Launching in June, Sing for Life 2016 will engage 40 local women in a 12-week popup project which will see them perform live on stage in a charity fundraising concert at Peterborough's much-loved Broadway Theatre in September. Absolutely no previous experience is needed, just a willingness to come along and get stuck in!
Will Prideaux – Director of Sing for Life – says 'singing is such a life-affirming activity, and to come together for such a fantastic cause creates a real buzz. It doesn't matter if your previous singing experience has only been in the bath, come along and have a go! We've got a fantastic team of professional vocal coaches and mentors who will have you feeling confident in no time!'
Jo Marriott, Senior Hospice Fundraiser at Thorpe Hall says: 'We're absolutely thrilled that Sing for Life will be supporting us once again. This is a wonderful initiative to encourage people to try something new – members of Thorpe Hall staff have been involved in the past and they have enthused about the whole experience and the confidence it has given them. We look forward to following the progress of the project and to working together to fundraise for Thorpe Hall.'
In previous years the project has been inundated with singers, many of whom have gone on to join Peterborough Voices and never looked back! Since 2011 the women have performed with musical greats including Blake, Bernie Nolan, Grimethorpe Colliery Band, Black Dyke Band, the King's Singers, the Royal Philharmonic Orchestra and the Band of the RAF Regiment, not to mention touring to Italy, where they sang mass in Siena Cathedral, and – in October – to Barcelona to compete in the Canta al Mar International Choral Competition. There's never a dull moment!
Jo Cheung – who joined Sing for Life in 2012 – reminisces 'after singing a few scales I was informed I should go and join the Soprano 1 section. I had no idea what a soprano was, but it didn't matter, because from that point on, I was part of something amazing! Without doubt my most memorable moment came last year when I was given the unbelievable opportunity to sing a duet in front of an audience of over 1,000 people with the Royal Philharmonic Orchestra. If someone had told me four years ago I'd be doing that I'd have thought they were nuts!
'I've made some great friends doing something I love and that I still find exhilarating, challenging, hard work and utterly rewarding…long may it continue!'
So go on, give it a go, who knows where your journey will lead!
For further information contact Jo on 01733 425194 or email • Introduction sessions will be at the Broadway Theatre, Peterborough on Thursday, 16 and Friday, 17 June from 7-9pm.
Leave a Reply