SEASON4 PLATFORM8: A festival of theatre for Peterborough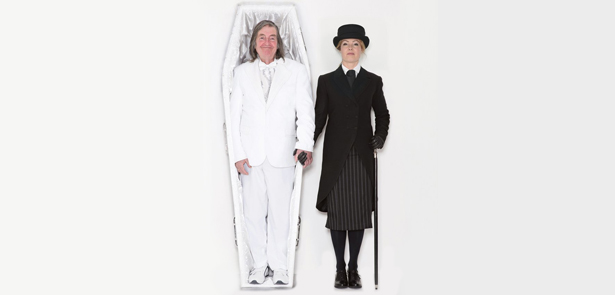 Platform8, the Festival of Theatre for Peterborough, produced by local company Jumped Up Theatre in partnership with London's award-winning Battersea Arts Centre is a fantastic example of how Peterborough's arts and culture scene is flourishing
The first three seasons have seen internationally acclaimed shows reaching hundreds of people in venues across the city from Pyramid Centre in Bretton to The Undercroft Theatre in Hampton to The Brewery Tap and of course, The Key Theatre, plus a special bonfire night events at The Green Backyard and the Virtual Reality project The Dreamcatcher.
Platform8 is produced by Jumped Up Theatre's creative producer, Kate Hall who proudly describes how for Platform 8's fourth season, from 19 March-22 April 'There will be six shows popping up around the city covering experiences as diverse as travelling the world, finding happiness, a dance show for under 4's and attending your own funeral, and not liking what's been arranged.' These shows shake preconceptions as to what theatre should be like and offer great entertainment by fantastic performers, such as Victoria Melody's show Ugly Chief.
Ugly Chief is a comedy based on true-life events, performed by a real-life father and daughter. Artist and performer Victoria Melody teams up with her dad, TV antique dealer Mike Melody, for her most ambitious show yet. In 2013, Mike was diagnosed with Motor Neurone Disease and given five years to live. Victoria was put in charge of planning the funeral (complete with eulogies, a New Orleans jazz procession and a congregation dressed in Blackpool FC tangerine).
But a year later the doctors realised they had misdiagnosed Mike. Victoria and Mike decided to go ahead with the funeral anyway and Victoria went to Port Talbot to train as a funeral director. Ugly Chief plays out two funerals – the one Victoria planned and the one her dad really wanted. And Mike is guest of honour at both.
As the show unfolds, it unpicks the complicated relationship with a parent whose opinion you don't always agree with. Mike will be running his own version of the Antiques Roadshow during the show. The audience are invited to bring along their heirlooms, curiosities and collectables for him to value during the show. No promises but if he likes it, he might even buy it!
Ugly Chief is at The Key Theatre, Fri 20 + Sat 21 April.
ALSO IN SEASON4 OF PLATFORM8
● Tues 20 March: Live Before You Die – Byron Vincent's sharpwitted quest for happiness – can friendships be stronger than hopelessness?
● Sat 24 & Sun 25 March: According To Arthur – Paddleboat Theatre's charming show for children aged 3+
● Sat 24 March: Headwrap Diaries – three feisty women struggle with beauty, culture and most importantly hair.
● Thurs 19 – Sat 21 April: Sponge – families with under 4's dance with sponge creatures to a disco soundtrack
● Sun 25 March + Sun 22 April: Anonymous – immerse yourself in young performers' take on social media.
Leave a Reply