Ruth Robotham at Squire's Coffee House: Air and Atmosphere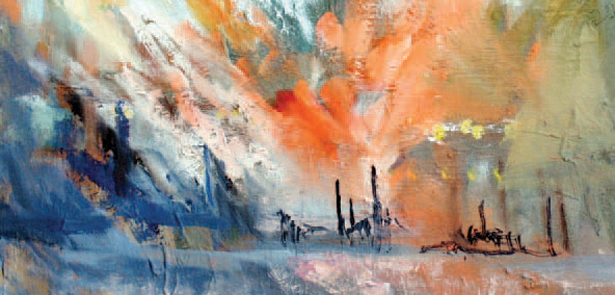 A new exhibition of landscapes at Squires Coffee House, in Peterborough Museum, celebrates the open spaces and big skies of the region. Toby Venables talked to Vivacity's Exhibitions Assistant Julia Habeshaw about the art and remarkable life of Peterborough-based painter Ruth Robotham
Many already know Squires as a place to relax and refuel when visiting Peterborough Museum – or perhaps as a hidden gem away from the hurly burly of the city centre where you can sit, unwind and enjoy a coffee and a snack – but fewer people know that it also hosts exhibitions of its own, often with the artworks for sale. Currently showing amongst the lattes and pastries is a stunning exhibition of paintings by locally-based artist Ruth Robotham. Although clearly landscapes, these big, richly colourful works have something of the abstract and impressionistic about them – and if that happens to remind you of another artist, it's probably no accident.
'Ruth's big inspiration is Turner,' explains Vivacity Exhibitions Assistant Julia Habeshaw. 'She likes to create a feeling of space, so quite often with her landscapes there is a lot of sky. It's not exactly abstract, but they have that abstract quality, very much like Turner. She uses similar broad brushstroke techniques with big areas of colour.'
Born in 1930 in Stoke-on-Trent, Ruth has lived in Peterborough for most of her life – but it was those first experiences that initially inspired her. 'Where she came from, among the potteries in Stoke, it was very hilly, and as a girl when her bus headed down the hill she would have this vast industrial landscape spread out before her with the chimneys and smoke and sky, and at night all the lights of the potteries. Those early experiences are what made her decide to be a painter.' Ruth pursued her art, studying first at Burslem School of Art, Stoke-on-Trent, and then in the early 1950s won a Moreland Lewis Scholarship to Chelsea School of Art, where she studied under Ceri Richards. She also studied alongside the sculptor Elizabeth (later, Dame Elizabeth) Frink, who she describes as 'a big character'.
She met her husband – an architect – whilst working as an art teacher in London, and when he landed a job with a major architectural firm in the newly expanding Peterborough, the pair moved to the city. One might think the ironing-board flat fens a very far cry from the landscape of her youth. In fact, she felt an immediate kinship.
'When she came to Peterborough for the first time and saw the chimneys at Whittlesey she felt really at home. It reminded her of the potteries.' She also fell in love with the big open skies that her new surroundings afforded.
'A lot of her paintings refer to the fens – a very flat landscape with a lot of sky above. So her love of painting landscape has really been fuelled by the Peterborough area.' These are the kinds of paintings you can really lose yourself in – that have a windswept, sometimes wild quality and an unfathomable depth that fans of Turner will immediately recognise.
Achieving this is no swift process, however. Having done the initial work on a painting, she will sometimes put it away for six months or even a year, then take it out again to reassess and work on it again.
'She's very thoughtful about looking at her work with fresh eyes,' says Julia – and Ruth has used some interesting techniques to trick her eye and her brain into seeing it afresh. 'Sometimes she'll even turn the painting upside down or look at it in a mirror, to see how it looks.' The paintings – which are also for sale – might make you see the landscape differently too. They certainly provide a perfect view while you enjoy your afternoon flat white. And who knows? If you fall in love with Ruth's work, you may even end up taking some home with you.
Squires Coffee House is a locally run coffee shop within Peterborough Museum which sells a range of hot food and drink with a 10% discount available to Vivacity card holders. It also regularly houses exhibitions of work by local artists as well as a children's story corner which runs regular story times for families (11am on the last Wednesday of each month). Every time you buy drinks or snacks at Squires it helps Vivacity to continue exhibiting artworks such as these and, in turn, supports the local artists themselves. 
Air and Atmosphere: Moods of the Sky Paintings by Ruth Robotham 13 December 2016 – 19 March 2017 Squires Coffee House, Peterborough Museum
Leave a Reply