The Ronnie Scott's All Stars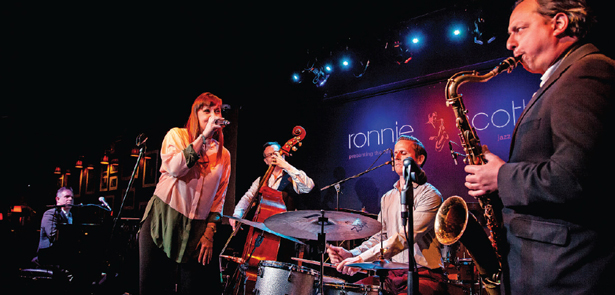 'The Ronnie Scott's Soho Songbook'
Direct from London's world-famous jazz club and combining world-class live jazz, narration and rare archive images and footage, The Ronnie Scott's All Stars take to the Stamford Arts Centre Ballroom stage to celebrate 'The Ronnie Scott's Soho Songbook' on Saturday 25 August at 7.30pm. Tickets are £20 and concessions are available for £19. The Ronnie Scott's All Stars complete a massive season of live music that saw Kiki Dee, Carmelo Luggeri and Fairport Convention gracing the Arts Centre's stunning Georgian Ballroom.
Since its humble beginnings as a basement music bar where musicians would jam, through to the internationally acclaimed music venue it is today, Ronnie Scott's Jazz Club has showcased the music of some of the world's greatest and most influential Artists. Hosting landmark performances from the likes of Nina Simone, Ella Fitzgerald, Miles Davis, Dave Brubeck and Michael Bublé – and not forgetting surprise appearances by the likes of Jamie Cullum and Stevie Wonder!
Featuring classic music from the jazz greats who have performed at Ronnie Scott's, alongside narration and projected archive images and rare footage from the club, 'The Ronnie Scott's Songbook' is a glimpse into this unique world and its incredible musical history. Hosted and performed by the award-winning Ronnie Scott's All Stars, led by the club's Musical Director, this is a unique evening celebrating the music and history of Ronnie Scott's and is a must for any music fan. Stamford Arts Centre has a really strong reputation for bringing some of the biggest names and best talent in live music to the area. The venue is a delight to visit, staff are always welcoming and exceed expectations with their customer service.
● Tickets, also, couldn't be easier to get. You can ring the box office on 01780 763203, visit in person or buy online at www.stamfordartscentre.com
Leave a Reply