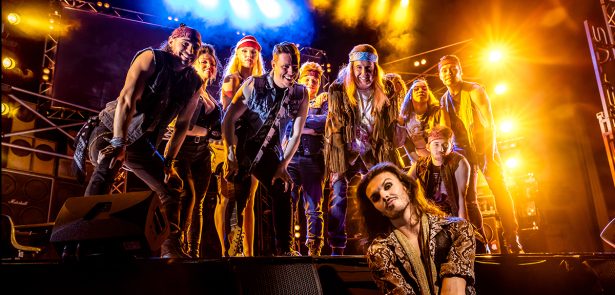 Embrace your inner rock god, as the craziest show of the year comes to town!
It's been a Hollywood blockbuster, and a massive hit on Broadway and in London's West End, and now one of the best feelgood musicals of all time is coming to the New Theatre in Peterborough.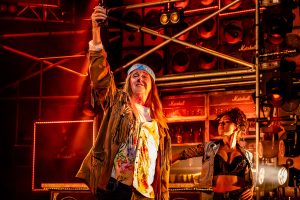 Rock of Ages is a hilarious musical comedy, lavished with over 25 classic rock anthems, including We Built This City, The Final Countdown, Wanted Dead or Alive, Here I Go Again, Can't Fight This Feeling and I Want to Know What Love Is – all played loud and proud by an awesome live band on the night.
Now a global smash, with hit seasons on Broadway, London's West End, and Las Vegas – as well being the subject of a star-studded Hollywood movie – this show promises you the best party night out around.
Rock of Ages stars Kevin Kennedy as Dennis Dupree. Kennedy is probably best known for his portrayal of Curly Watts in Coronation Street, but his West End theatre credits include Amos in Chicago at the Adelphi Theatre, and We Will Rock You at the Dominion Theatre. Kennedy has played both Caractacus Potts and The Child Catcher in the hit musical Chitty Chitty Bang Bang, making him the first actor to have played both roles. He appeared as Dennis Dupree in the 2018 UK Tour of Rock of Ages and has also appeared in national tours of the musicals The Rocky Horror Show, The Commitments and Kay Mellor's Fat Friends.
Having played in many bands, as well as performing on stage and screen, Kennedy has the perfect musical credentials to play Dupree (a part that was played by Alec Baldwin in the movie version). We asked him for his thoughts on combining his two passions of acting and music, all in one dazzling, feelgood show.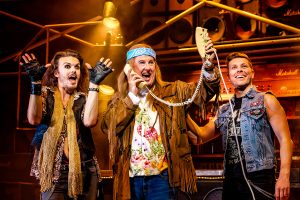 You're not just an actor, you've also been part of many bands over the years. Have you been enjoying indulging your musical side in Rock of Ages?
Oh yes, it's incredible to be able to put your two passions together – one being, of course, acting and the spoken word, and the other being music, which is something I've loved throughout my life. To put those together is a perfect marriage, and in a vehicle such as Rock of Ages it is a whole lot of fun as well!
For those who don't know, could you tell us a bit about the story of Rock of Ages?
Rock of Ages is set in Los Angeles, California, in the mid-1980s. It's about a rock club called The Bourbon Room, which is absolutely legendary – every single band you could think of has played there. It's an icon of rock'n'roll, and absolutely the place to be, but the local council are attempting to close it down, so we are fighting them. Alongside all of that there's a beautiful love story, lots and lots of jokes and, of course, some of the most incredible music from the '80s like Here I Go Again, The Final Countdown and I Want to Know What Love Is.
And how does your character, Dennis fit into this?
So, Dennis is the owner of The Bourbon Room, and he's an absolute rock guru. He's given all these now legendary bands their starts, and he's been in bands himself. He's also embraced the drug culture and intense sexuality of the 1980s, with much enthusiasm and regularity! He's a very interesting man to play – he's got a good heart at his core, but he's a child of his culture and loves his sex, drugs, and rock'n'roll! He's a lot of fun to play!
Audiences may know you best from your time on television, particularly as Curly Watts in Coronation Street. What are the biggest differences between working in TV and theatre?
TV is a totally different skill and technique to theatre. Not least because you may put something in the can after filming and not get the payback of that for months or even years. You can almost film it, and then forget about it. With theatre however, it's obviously live, and live theatre is one of the last true shared experiences you can have – along with football! In the theatre, you are all together and sharing one experience which is happening live, right in front of you, and there's not a lot of that left. That in itself generates its own energy and excitement, as no two shows are the same. The show that you come and see will never be exactly the same as that ever again, which is quite an exciting thought.
Rock of Ages boasts some of the biggest hits of the 1980s as its soundtrack. Were you a fan of '80s rock music?
I was a young-ish man in the 1980s, and not a huge fan of some dance music, so the last refuge of guitar music, to a certain extent, was that brilliant American glam rock that we showcase in Rock of Ages. They play their own instruments and perform live on stage, so I had a huge respect for that.
Are there any challenges to performing this style of music on stage? Have you drawn from your experience as a musician?
It requires a lot of energy! However, once the show gets going, it's so much fun and no longer feels like work. Once you've done the hard work of learning the lines and where to stand, we've been allowed to just have so much fun with it. Audiences are absolutely loving it because it's just bonkers.
Do you have a favourite moment or number in the show?
Numerous moments! Although, what I really enjoy is watching the other members of the cast doing their big solo numbers, because they're all so incredibly talented and it's great to watch and learn from them. It's been so lovely to see them grow into their characters, from the first rehearsal through to our performances on tour now, where it all comes to fruition.
Finally, what can audiences expect when they come and see Rock of Ages?
They can just expect to have a great time. If you're a seasoned theatre-goer, or you've never been to a show before, you will have a lot of fun. If you want to come dressed in your leather trousers and embrace your inner '80s rock star, then do that! Even bring along an inflatable guitar if you want – everything is just a whole lot of fun.
Rock of Ages is at the New Theatre from Tuesday, January 31, to Saturday, February 4. Tickets from £18. To book visit newtheatre-peterborough.com or call the box office on 01733 852992.
Words: Stuart Barker
Leave a Reply