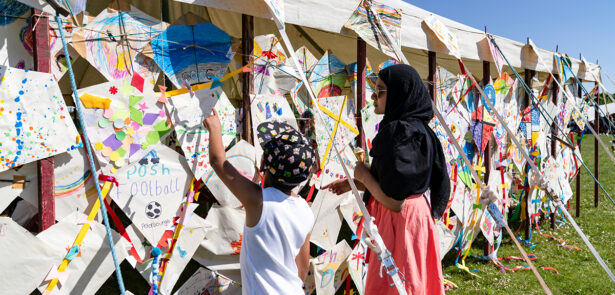 Peterborough Celebrates returns on 19-21 May for three days of family- friendly, community-led festival fun. Nene Park's Head of Visitor Engagement Steph Peachey gives us a taster of what to expect over what promises to be a weekend filled with joy and good times!
This is Peterborough Celebrates' second year, following 2022's hugely successful launch. What can we expect this time 'round?
Last year's event was very much a response to emerging from Covid. There was a lovely atmosphere with everyone coming together to celebrate all the amazing people and communities who had been supporting each other during that difficult time.
Our big theme for this year is health and wellbeing. We want to celebrate what makes people happy. We want to create an event that fills people with joy and give the city something to feel truly joyful about!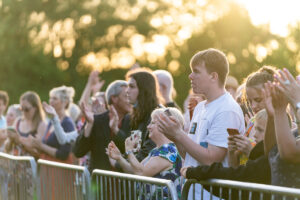 What a fantastic theme! How will Peterborough Celebrates get off to a joyful start then?
The festival site opens to schools on the Friday for singing. Lots of evidence connects singing to wellbeing. For example, when you sing in a choir your heart rate synchronises with those around you, which is probably why it's such a therapeutic experience.
And so we are welcoming 60 children from different Peterborough schools into the Park for the afternoon. They will learn some new songs and come together to perform in the Big Top at the end of the afternoon. The Big Top seats 1,000 and we hope to be able to fill it.
This will be a chance for the students to take part in some fantastic workshops with fabulous musicians. It will be a great day for those schools as we make the most of all the festival infrastructure on site. It's rare for schools to come together and do something collectively like this. We would love to do more of this in the years to come and hope to grow the number of schools that join us on the Friday.
Saturday is already shaping up to be an incredibly lively day. Can you share a few of the highlights?
We've got some great performances planned. Motionhouse will join us with their energetic performance on top of a scaffolding tower! Their show is all about the connection between nature and being active. There will be lots of walkabouts taking place – for example, Lamphouse Theatre are doing a new piece for the festival, where you get to star in your own Hollywood movie. Then we've got Eastern Angles coming to perform their Miracle Plays, and a lovely company called Autin Dance Theatre who use large- scale puppets for their performances.
Like last year, we also want to hold on to that vibe that comes with having professional and community performances run alongside each other. So we are, of course, celebrating local Peterborough talent alongside visiting talent as part of the programme. We are excited to be welcoming rap artist Xidius Pain to the lineup and we have a section from Peterborough Pride who are commissioning some activities for the stage. Visitors can expect a real mix of community talent, professional talent from within Peterborough, and then those amazing visiting organisations too.
Including that community involvement seems to be a big part of Peterborough Celebrates.
It is! We want to shine a light on the fantastic richness of Peterborough's community. So even though we've got those visiting guest performers, what makes Peterborough Celebrates what it is, is that celebration of what the city has to offer. Our partners across Peterborough are incredibly important to us for this reason – we are very keen to profile the breadth of organisations that exist and to celebrate all those community groups that make our city so great.
One of the ways we're celebrating communities this year is through our Colour Cube Project. Community groups are invited to build a colour cube to demonstrate what makes them happy, brings them joy, and what's important to them. It's a bit like the Selfie Factory in the O2, with the aim that visitors will be able to visit all the colour cube boxes around the site and find out more about the community groups that were involved with them. It should be a really Instagrammable trail that celebrates the richness of what Peterborough has on offer and how connected our communities are.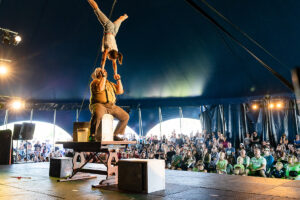 There's rumour of a mass participation event on the Sunday that will bring communities and people together. What's happening?
Punjabi Roots, an amazing drumming organisation, is going to help us make lots of noise! Expect drumming with perhaps a parade thrown in as well. It may incorporate our Fields of Colour community project, where we are asking communities to make flowers out of recycled bottles. These will be installed on site, and I expect the whole effect to be rather beautiful, much like the tulip fields of Holland. We want to fill an area with all the flowers that people have made, then perhaps have the mass participation event use it as a base, taking people on a trip through the flowers. It still hinges on what the uptake is from communities for this project, but we would love it if that was possible.
What else is on offer around the festival site?
One way we are looking at wellbeing is through the psychology of colour. The festival will be made up of different zones, each with its own allocated colour. So, for example, green will be our sustainable zone. Other zones will include a Be Active zone, a Be Creative zone,a relaxation zone and, of course, a food and drink zone. There will also be a Connect zone that brings Peterborough's many communities together.
The Be Active zone will have activities going on all weekend, including our climbing wall. There will be a big funfair for families and all sorts of sporting activities to try. Nene Outdoors down at Lakeside will be open as usual too, so people will still be able to hire equipment such as the pedalos, especially if the weather is beautiful, though we have wet weather options too.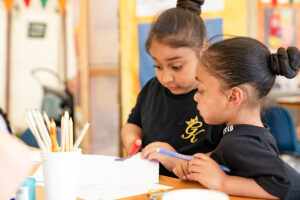 The Be Creative zone should have plenty of creative opportunities for people to get involved in, including making flowers for the Fields of Colour. I'm also excited about a project Peterborough Presents is doing with Orton Makers to make huge birds of paradise. We'll be creating our very own Peterborough Celebrates bird of paradise over the weekend. So there will be some really lovely creative activities for people to get involved in.
Visitors will work up an appetite with all this, so we are arranging some superb food and drink options, with all tastes and dietary requirements catered for, including vegan food and a range of world foods.
There's so much going on! How will you draw the festival to a close?
The mass participation event takes place around lunchtime and the festival will be closed at 4pm by our headline act – Motionhouse's performance of Wild. This nature-themed performance closes the festival and seems appropriate given the natural setting of this family-friendly festival. It should be a really positive and uplifting end to what we expect to be a truly joy- filled three days!
We need you!
There's still time for community organisations, groups and businesses to come forward to support the event through either exhibiting, sponsoring, or volunteering.
Fancy being a festival maker? Volunteer to make Peterborough Celebrates extra special!
For more information about the festival, please visit peterboroughcelebratesfestival.co.uk
Peterborough Celebrates Festival 2023
Ferry Meadows, Fri 19 – Sun 21 May
Completely FREE to attend!
Visit peterboroughcelebratesfestival.co.uk for more information.
Leave a Reply