Planet B arrives in Peterborough!
Planet B arrives in Peterborough! 1 2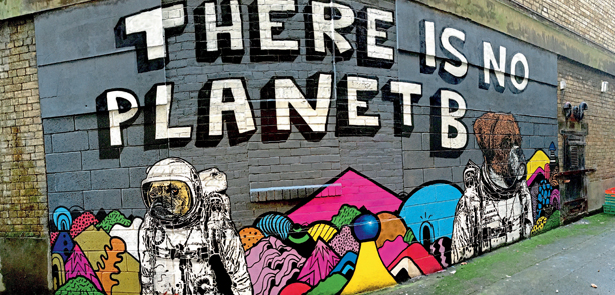 The charity PECT, together with arts organisation Metal and The Green Backyard, with funding from Arts Council England, is bringing together a collective of artists, activists, community groups and organisations this summer in a bid to celebrate, discuss and debate sustainability. The result is: Planet B!
Do you want to get involved with helping the  environment and your local community in  Peterborough? Do you want to help create a better and more cohesive city to live in?  Donald Trump may have pulled the US out of the Paris climate agreement but here in Peterborough organisations, individuals, and communities are coming together to show that understanding and caring for the environment is vitally important.  Peterborough is home to one of the longest running and largest Green Festivals in the UK, and this year it takes on a new life as 'Planet B'. Planet B encompasses a two-week programme of events, performances, film screenings, workshops, commissioned artworks, and a day gathering – all around encouraging discussion and debate on the environment. Planet B runs from Saturday 29th July through to Saturday 12th August at venues and outdoor locations across the city.
The environment is a huge subject that can often feel hard to get to grips with, but Planet B is asking: 'What needs to happen for people to understand the issues, become more resilient together and take positive actions?'  Looking at the key themes of how communities can become more adaptable, what lifestyles and habits we need to change, and how we can learn from the past, Planet B will offer plenty of activities  for residents to get involved with!  'We want Planet B to be both relevant locally to Peterborough, but also to engage with wider contemporary environmental thinking and really positive response to our Harvest Festival and exhibition, which brought the arts and environment together, so it is great to continue this with Planet  B, deepening our partnerships with PECT and The  Green Backyard.'
Artist Claudia Friend will be working with recycled materials to highlight issues of waste and environmental damage. She says: 'The combination of art and sustainability is an ideal one. By dispensing with dry facts and figures and tapping into our imagination, which is where change can take place, art takes concepts around the themes of sustainability and makes them interesting and accessible, allowing for a wider view.'
Theatre maker and poet, Talia Randall's work has been called "playful and fascinating' (Sabotage Reviews),  'absolutely sublime' (dig.com) and 'distinctive' (The Upcoming). 'We need humour, art and integrity in order to be able to deal with difficult thorny issues,' explains Talia.'Artists aren't necessarily the ones to come up with the answers to our big problems, but we should reflect things that are happening and we should facilitate people engaging with these ideas.'  When thinking about why commissioned artworks  are so vital to the Planet B programme, artist Francis  Thornburn says: 'People respond to art. Some people love it and some people hate it. But it's an open, challenging and diverse space to discuss any subject. The problems we face in climate change will require active engagement on a global scale. Art is a good way to get people thinking about the issues realistically and creatively.'
Here is a taster of what is to come… 
Planet B kick-starts with the International Friendship Festival and Smugglers Festival, a day of connectivity, folk music, workshop activity and discussions on climate change that take you through into the evening. If you are more of a film buff then there are several peppered throughout the fortnight, many of which have discussions afterwards, from I, Daniel Blake to Beasts of the Southern Wild.  For the hoarders amongst us, visit Emily Tracy's Clutter Bank where you are invited to consider the 300,000 objects we each have in our homes and perhaps donate one to the project yourself.
Claudia Friend welcomes you to her Museum of Future Now, set in 2525, viewing objects excavated from 2017. What might our future generations make of our waste?  Often, the best conversations, even the best ideas, come about whilst sitting together over food. Scottee invites you to his commune at Chauffeurs Cottage for any of four meals – exploring the housing crisis, perceptions of Peterborough, Brexit boredom and whether or not we should stop having  children. Controversial they may be, but Scottee will help us navigate some tricky but pertinent issues.
It also turns out that there is such a thing as a free lunch. In Feed the 1,000, PECT has been chosen to be a Sainsbury's 'Discovery Community' as part of the supermarket's Waste less, Save more campaign. PECT invites you to a lunch made from items that often get thrown away from our homes. The Waste Less, Save More team will be on hand to serve up advice and recipe ideas for using leftovers and cutting food bills.  Brexit is never far from our minds at the moment and several events and activities explore the role of migrant workers in the city. You can climb aboard the Pickers, Packers and Pluckers bus with poets Keely Mills, Charley Genever and six new female Peterborough poets for a look at seasonal work in the city.
The poets will also perform at a Planet B themed Write Club at the Stoneworks. Francis Thorburn's The Beast procession embodies the romance of epic journeys, depicting tribes of  travellers, yet highlighting  the reality of the immigrant  experience.  In Question Time Cabaret Talia Randall brings us an evening of hilarious, gut-wrenching performances slammed together with a panel of Britain's foremost journalists. 'They Dragged us through to the cells one by one. Sitting opposite each other on the cold floor, his eyes found mine and smiled deep into me, his lips made the shape of the words 'I Love You'.' Intrigued?
Then the theatre performance Generation Zero, about our ambiguous future world, is a must. Over the last month, artist Eric McLennan has been inviting residents of the city to take out shares in the Earth. The shareholders convene for a performance called 'A Drop in the Ocean', harnessing the collective effort.  Taking a more hands-on approach are Poly-technic who will help you to make your own protest poster or PHACE with a creative workshop for 15-19-year-olds exploring the future of housing, litter picks with Soul Happy or  Drink and Draw at the Ostrich Inn.  Rounding off the fortnight is 'Relinquishment:  A Planet B Day Gathering' at Anglia Ruskin University. Less of a conference, more of a gathering, with contributions from Tony Juniper, professor Dom Kniveton and Maddy Harland,  the event will be a mix of talks, world café style  sessions and panel discussion.
For full event details, including booking information, please see www.pect.org.uk/PlanetB. (These details are correct at the time of going to print, please check details  online before travelling and ensure you make any necessary bookings.) 
Call out for  volunteers
We need  you! Planet  B is seeking  volunteers to  support the  two-week  programme of  events, activities,  performances,  talks, debates  and film  screenings. There  are lots of roles  to have a look  at, ranging from  Event Assistants,  Parade Marshal,  Exhibition  Assistant, Artists  Assistants,  Assistant Chefs,  Waiting / Serving  Volunteers and  Front of House. Please visit www.pect.org.uk/  PlanetB for full  details or call  01733 866441/893077.
Discover more 
Call 01733  568408
Twitter: #PlanetBPeterB
Facebook: @PlanetBPeterB
www.pect.org.uk/PlanetB
Look out for  the Planet B  newspaper,  published and  distributed  throughout the  city in July, and  containing full event listings.
 Continue onto the next page for detailed list of festival highlights!
Planet B arrives in Peterborough! 1 2
Leave a Reply