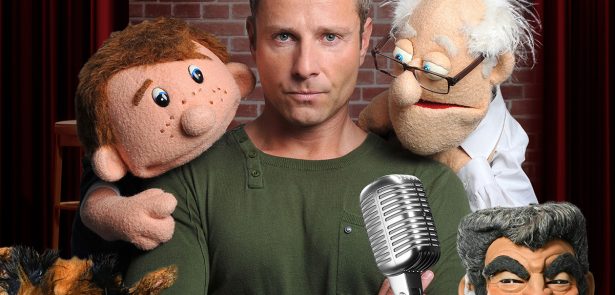 He's won America's Got Talent, played for the Queen on the Royal Variety Performance, starred in the West End and played a residency in Las Vegas. And now, he's coming to the New Theatre in Peterborough.
Paul Zerdin has been described as 'a ventriloquist for the South Park generation' by The Stage and is one of Britain's most unique entertainers. Although he uses five puppets and has taken the art of ventriloquism and voice-throwing to a whole new level, Zerdin sees himself first and foremost as a stand-up comedian.
'I don't even remember watching any ventriloquism acts on TV when I was a kid – I just remember watching The Muppet Show and Sesame Street,' Zerdin says. 'I would call my act a stand-up comedy show with puppets, so don't let the word "ventriloquism" put you off!'
Zerdin got his big break in 1996 when he won ITV's The Big, Big Talent Show hosted by Jonathan Ross. 'After winning that I got put on lots of variety shows,' he explains. 'But all those variety shows were being phased out in favour of reality TV. That's when I went into the comedy circuit and did The Comedy Store, and while I didn't exactly reinvent ventriloquism, I did realise that I could do different things with it.'
Using puppets means London-born Zerdin can get away with saying things on stage that he wouldn't be able to if he were speaking for himself – and that's where the heart of his comedy lies.
'Puppets can get away with being more outrageous than a straightforward stand-up comedian, in the same way that, say, a drag act or a character comedian can.'
Since winning The Big, Big Talent Show Zerdin has been in huge demand, starring in a wide variety of shows, from Tonight at the London Palladium to a four-month residency at Planet Hollywood in Las Vegas. He admits that cracking the Vegas crowd was the toughest gig of his life. 'I had performed in front of American audiences on cruise ships for years, so I knew that my humour worked for them and that gave me a huge advantage when I performed on America's Got Talent. But Las Vegas was a tough learning curve – stuff that had worked everywhere else just wasn't landing there, so I had to keep re-writing material to get it working. But a Vegas audience is a real mish-mash – you get a lot of drunk people, you get people who have free tickets but don't know what the act is, and you get people who have just lost their life savings on the blackjack tables – and it's never going to be easy making them laugh!'
Zerdin's routines are so quickfire it seems impossible that he's doing it all by himself. 'I'm in the process of learning a new routine for the tour which is a four-way exchange between me, Sam, Albert – the old man on his mobility scooter (which is radio-controlled) – and Baby, who's in a highchair. It's so fast that it will take me about a week of rehearsing just for two-and-a-half minutes of stage time.'
While he's happy doing family shows, Zerdin's live stand-up shows are slightly more adult orientated, so he plans to have a lot of fun on his 45-date tour. 'You can get away with more edgy material live,' he says. 'This is a 14+ tour so I can say pretty much say what I want.'
Like everyone else, Paul Zerdin has missed live performances and is thrilled about the prospect
of getting back on the road.
'The last 18 months has been a very strange time for everybody and people in the live entertainment industry have taken a real beating,' Zerdin says. 'So, I'm genuinely excited about getting back on tour and just seeing people's reactions again. It's good for the performer and it's good for the audience – and it makes you realise just how much we need each other.'
Words: Stuart Barker
Leave a Reply